Glaukos has Glaukos -Announces-First-Patient-Enrolled-in-Phase-2-Clinical-Trial-for-D ry-Eye-D isease/default.aspx" target="_blank" rel="noreferrer noopener">announced the first subject enrolment in the Phase II clinical trial of its investigational drug candidate GLK-301 to treat dry eye disease (D ED ) signs and symptoms.
Free Case Study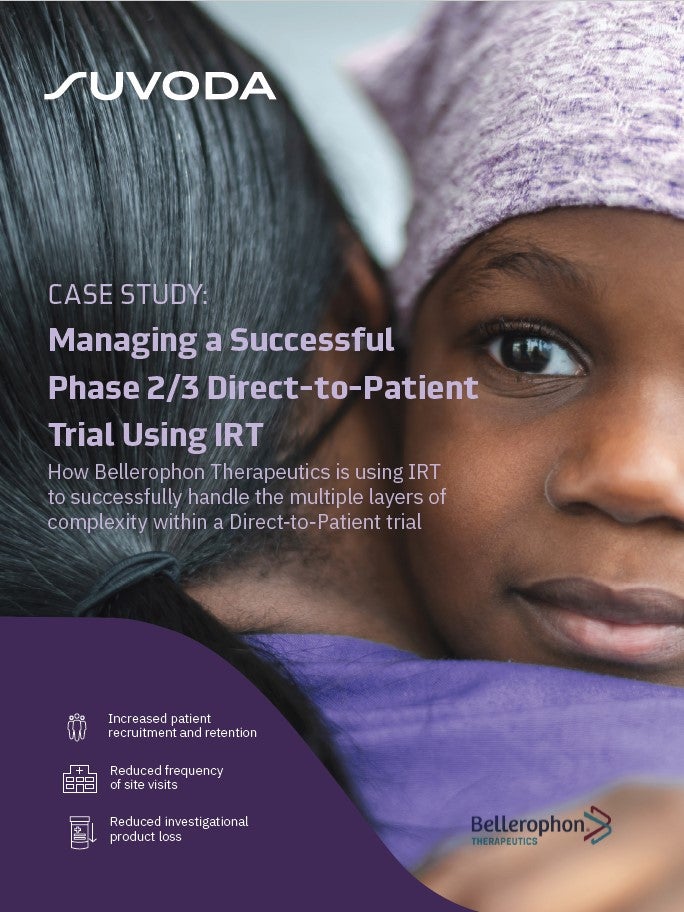 Direct-to-Patient Trials: How IRT Plays an Important Role in Bellerophon's Direct-to-Patient Trials
As the industry strengthens its focus on patient centricity, Direct-to-Patient clinical trials have emerged as a popular trial design that have the potential to increase patient recruitment and retention. IRT plays a crucial role in the success of a Direct-to-Patient trial. Because drug supplies are being managed and shipped from distribution facilities directly to patients' homes, a sponsor must have a high-quality system in place to accurately track the chain of custody, ensure patient-blinding and handle other logistical challenges. What You Will Learn Benefits and challenges associated with the Direct-to-Patient model Bellerophon's top considerations when implementing this trial design How IRT can equip study teams to successfully track chain of custody, ensure patient blinding, and handle logistical challenges
by Suvoda
Pilocarpine is the active pharmaceutical ingredient of GLK-301, which uses the cream-based drug formulations of Glaukos ' iLution platform.
Applied to the exterior surface of the eyelid, these formulations are intended for dropless transdermal pharmaceutically active compound delivery to treat eye ailments.
The sterile ophthalmic topical cream formulation serves as a depot permitting delivery of pilocarpine to the eye via the eyelid dermis.
The placebo-controlled, randomised, multicentre, double-masked trial will assess the safety and efficacy of three dose levels of GLK-301 given two times a day to the eyelids in D ED patients versus placebo for 28 days.
Trial subjects will be followed up for another 14 days.
Standard D ED signs and symptoms will be the endpoints of the trial.
The company will enrol nearly 200 D ED patients in the study across clinical sites in the US.
Additionally, approximately 20 patients with a D ED diagnosis due to Sjogren's Syndrome will be enrolled.
Glaukos president and CEO Thomas Burns said: "D ry eye disease is a common ocular inflammation condition with high unmet clinical need, representing one of the world's largest ophthalmic markets worldwide. 
"We believe our iLution platform has the potential to address the major unmet need for patients suffering from dry eye disease and other chronic eye diseases by providing an effective, easy to administer, safe, dropless transdermal therapeutic."
Separately, Glaukos enrolled the first participant in a Phase II trial of GLK-302 to treat presbyopia.
The second investigational drug candidate, GLK-302, uses iLution platform's cream-based drug formulations.
Free Case Study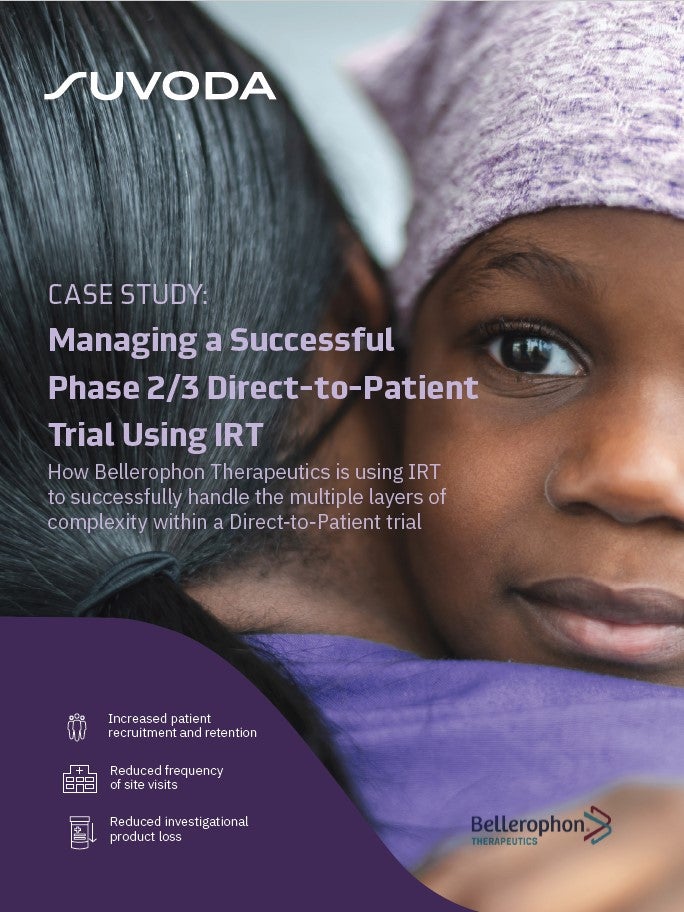 Direct-to-Patient Trials: How IRT Plays an Important Role in Bellerophon's Direct-to-Patient Trials
As the industry strengthens its focus on patient centricity, Direct-to-Patient clinical trials have emerged as a popular trial design that have the potential to increase patient recruitment and retention. IRT plays a crucial role in the success of a Direct-to-Patient trial. Because drug supplies are being managed and shipped from distribution facilities directly to patients' homes, a sponsor must have a high-quality system in place to accurately track the chain of custody, ensure patient-blinding and handle other logistical challenges. What You Will Learn Benefits and challenges associated with the Direct-to-Patient model Bellerophon's top considerations when implementing this trial design How IRT can equip study teams to successfully track chain of custody, ensure patient blinding, and handle logistical challenges
by Suvoda