Gradalis has started a Phase lll clinical trial of Vigil in combination with irinotecan and temozolomide for the treatment of patients with Ewing's sarcoma (EWS).
Free Case Study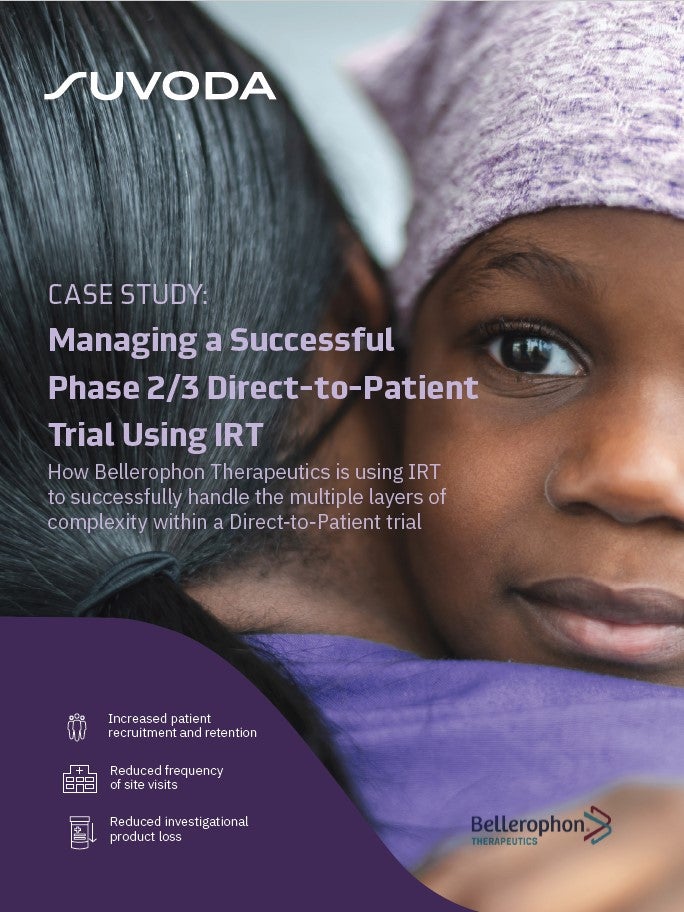 Direct-to-Patient Trials: How IRT Plays an Important Role in Bellerophon's Direct-to-Patient Trials
As the industry strengthens its focus on patient centricity, Direct-to-Patient clinical trials have emerged as a popular trial design that have the potential to increase patient recruitment and retention. IRT plays a crucial role in the success of a Direct-to-Patient trial. Because drug supplies are being managed and shipped from distribution facilities directly to patients' homes, a sponsor must have a high-quality system in place to accurately track the chain of custody, ensure patient-blinding and handle other logistical challenges. What You Will Learn Benefits and challenges associated with the Direct-to-Patient model Bellerophon's top considerations when implementing this trial design How IRT can equip study teams to successfully track chain of custody, ensure patient blinding, and handle logistical challenges
by Suvoda
The multicentre, randomised, open-label trial intends to analyse the study drug combination as a second-line regimen for EWS, a rare form of pediatric cancer that originates in bone or soft tissue.
Caused by genetic mutation, EWS is currently estimated to affect around 1,000 individuals across the globe every year.
The Phase lll trial is expected to enrol around 140 patients with metastatic Ewing's sarcoma family of tumours (ESFT) refractory/intolerant or recurrent to one prior line of chemotherapy.
The enrolled patients will be randomised in 1:1 ratio to receive daily oral dose of temozolomide 100mg/m² and daily oral dose of irinotecan 50mg/m² for five days.
They will also receive Vigil 1.0 x 10e6 cells/injection cells/injection, intradermally on day 15.
"For patients affected by Ewing's sarcoma, our most recent trial has shown positive results with minimal side effects."
The trial's primary endpoint is progression free survival (PFS), while its secondary endpoints include overall survival (OS) and radiological tumour assessment.
Gradalis chief medical officer John Nemunaitis said: "For patients affected by Ewing's sarcoma, our most recent trial has shown positive results with minimal side effects.
"We believe Gradalis' approach of exploiting the patient's existing, highly adapted immune system by presenting the entire neoantigen matrix and induced T-cell responses against their cancer has great promise."
In addition, Gradalis is conducting a number of other clinical studies for Vigil for the treatment of various types of cancer.
Vigil is currently being evaluated as a cellular immunotherapy technology that combines genetic engineering with immuno-oncology.
Free Case Study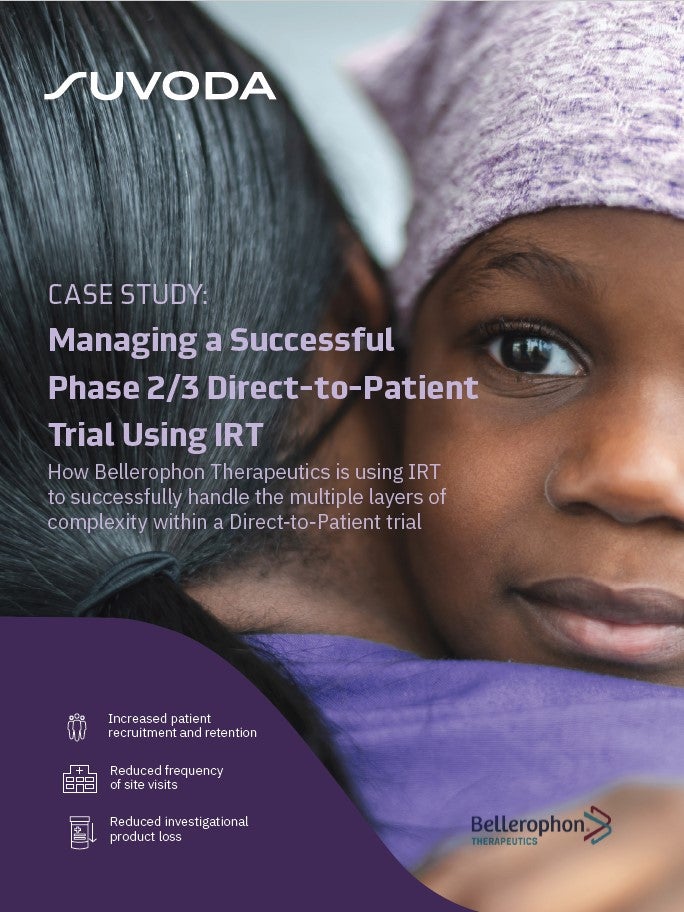 Direct-to-Patient Trials: How IRT Plays an Important Role in Bellerophon's Direct-to-Patient Trials
As the industry strengthens its focus on patient centricity, Direct-to-Patient clinical trials have emerged as a popular trial design that have the potential to increase patient recruitment and retention. IRT plays a crucial role in the success of a Direct-to-Patient trial. Because drug supplies are being managed and shipped from distribution facilities directly to patients' homes, a sponsor must have a high-quality system in place to accurately track the chain of custody, ensure patient-blinding and handle other logistical challenges. What You Will Learn Benefits and challenges associated with the Direct-to-Patient model Bellerophon's top considerations when implementing this trial design How IRT can equip study teams to successfully track chain of custody, ensure patient blinding, and handle logistical challenges
by Suvoda