Graphite Bio has dosed the first subject in the Phase I/II CEDAR clinical trial of investigational gene editing therapy, nulabeglogene autogedtemcel (nula-cel/ GPH101) in sickle cell disease (SCD) patients.
The multicentre, single-dose, open-label trial will analyse the safety, initial efficacy and pharmacodynamics of nula-cel in nearly 15 severe SCD patients.
Furthermore, engraftment success, gene correction rates, total haemoglobin and various other clinical and exploratory endpoints will be analysed in the trial.
At present, the trial is enrolling subjects at various US sites.
The preliminary proof-of-concept findings from the trial are expected in the middle of next year.
A gene editing autologous hematopoietic stem cell (HSC) therapy, nula-cel is created to directly rectify the genetic mutation that leads to SCD and cure the ailment.
It leverages a well-differentiated gene correction method to accurately correct the mutation in the beta-globin gene.
This aids in lowering the production of sickle haemoglobin (HbS) and restoring the expression of adult haemoglobin (HbA) to potentially cure SCD.
Previously, nula-cel obtained Fast Track and Orphan Drug designations from the US Food and Drug Administration (FDA) for treating SCD.
Graphite Bio CEO Josh Lehrer said: "We continue to make tremendous progress with the development of nula-cel, which in preclinical studies successfully corrected the sickle cell disease mutation, directly reducing sickle haemoglobin and restoring healthy adult haemoglobin to potentially curative levels.
"We believe nula-cel could be a definitive cure for sickle cell disease, with the potential to address all complications associated with this life-threatening disease."
SCD is a fatal inherited blood disorder and impacts millions of people, making it the most common monogenic disease globally.
In November last year, the company enrolled the first participant in the CEDAR trial of GPH101 to treat SCD.
Cell & Gene Therapy coverage on Clinical Trials Arena is supported by Cytiva.
Editorial content is independently produced and follows the highest standards of journalistic integrity. Topic sponsors are not involved in the creation of editorial content.
Free Whitepaper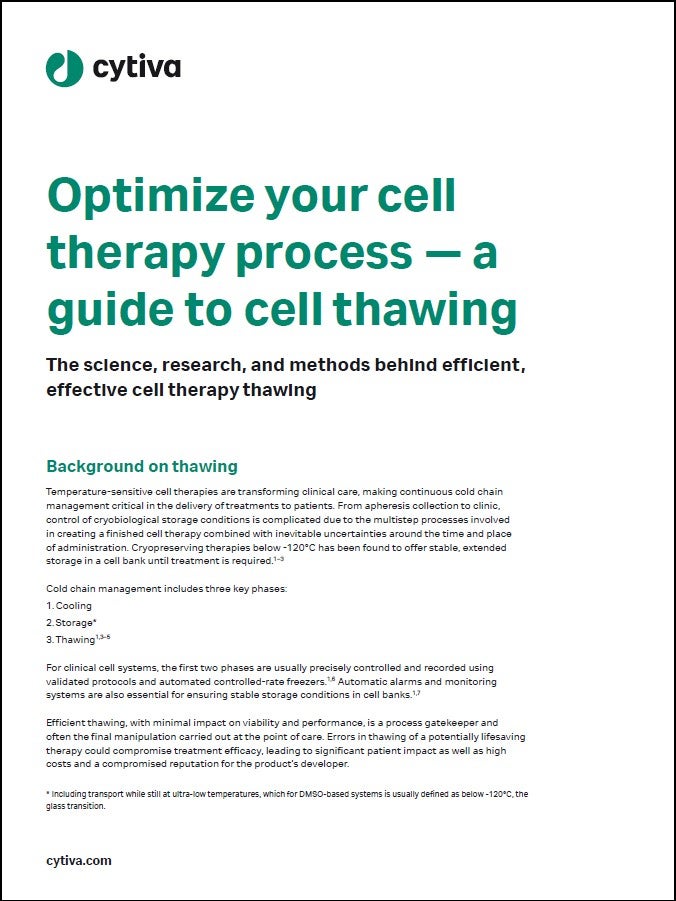 Optimise your cell therapy process: a guide to cell thawing
Typically carried out at the point of care, errors in cell therapy thawing could compromise treatment efficacy, leading to significant patient impact as well as high costs and a compromised reputation for the product's developer. This guide addresses how cell thawing has historically developed into the new techniques used today, along with the physical and biological implications of key metrics and components such as warming rate and ice structure. Also included are reviews of key studies from scientific literature and a consideration of the interactions between cooling and warming rates, as applicable to cell and gene therapies.
by Cytiva Thematic
By clicking the Download Free Whitepaper button, you accept the terms and conditions and acknowledge that your data will be used as described in the Cytiva Thematic privacy policy By downloading this Whitepaper, you acknowledge that we may share your information with our white paper partners/sponsors who may contact you directly with information on their products and services.

Visit our privacy policy for more information about our services, how we may use, process and share your personal data, including information on your rights in respect of your personal data and how you can unsubscribe from future marketing communications. Our services are intended for corporate subscribers and you warrant that the email address submitted is your corporate email address.