GSK has said that its chronic hepatitis B treatment candidate GSK'836 (GSK3228836) showed promise in a Phase IIa clinical trial.
Free Case Study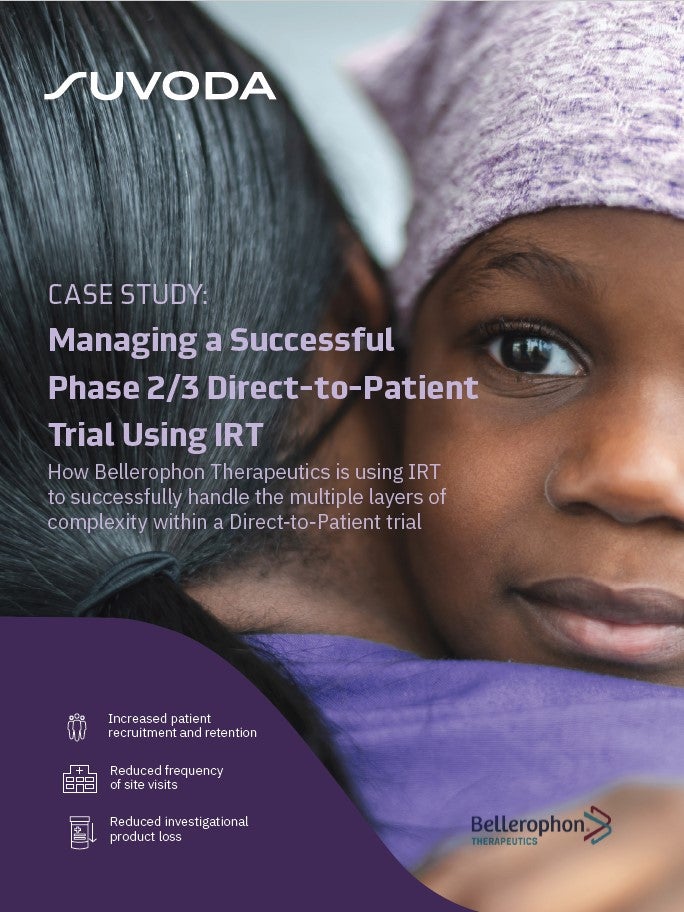 Direct-to-Patient Trials: How IRT Plays an Important Role in Bellerophon's Direct-to-Patient Trials
As the industry strengthens its focus on patient centricity, Direct-to-Patient clinical trials have emerged as a popular trial design that have the potential to increase patient recruitment and retention. IRT plays a crucial role in the success of a Direct-to-Patient trial. Because drug supplies are being managed and shipped from distribution facilities directly to patients' homes, a sponsor must have a high-quality system in place to accurately track the chain of custody, ensure patient-blinding and handle other logistical challenges. What You Will Learn Benefits and challenges associated with the Direct-to-Patient model Bellerophon's top considerations when implementing this trial design How IRT can equip study teams to successfully track chain of custody, ensure patient blinding, and handle logistical challenges
by Suvoda
The drug candidate led to a decrease in hepatitis B surface antigen (HBsAg) and hepatitis B virus DNA, compared to placebo, following four weeks of treatment.
These data are based on analysis of 31 chronic hepatitis B patients who were on stable nucleoside or nucleotide analogue (NA) therapy and those who were NA-naïve.
GSK will virtually present the data at The Digital International Liver Congress (ILC) 2020.
GSK development senior vice-president Christopher Corsico said: "Chronic hepatitis B affects around 260 million people globally and, despite existing treatments, can lead to nearly 900,000 deaths per year due to liver failure and liver cancer.
"We have observed promising early-stage results showing antiviral activity with our anti-sense oligonucleotide, a key investigational medicine in our growing infectious diseases portfolio."
GSK'836 leverages antisense oligonucleotide technology to suppress the virus and the viral proteins to offer a functional cure for chronic hepatitis B.
With functional cure, the virus is not completely destroyed but is at low levels that can be addressed by the immune system without medication.
The Phase IIa dose-ranging trial evaluated 150mg and 300mg doses of GSK'836 given subcutaneously over a four-week treatment period.
Following the last treatment dose, all patients were administered tenofovir or entecavir, first-line monotherapies for chronic hepatitis B, for six months.
The primary endpoints were safety and tolerability, while the main efficacy analysis assessed the change in serum HBsAg and plasma hepatitis B virus DNA from baseline to the end of four weeks treatment.
Additional endpoints included other antiviral parameters and pharmacokinetics.
Based on the positive data from the Phase IIa trial, the company will advance the drug candidate in a Phase IIb clinical programme.
The Phase IIb programme includes B-Clear, B-Fine and B-Together studies across Europe, Africa, North America and Asia.
Earlier this month, GSK dosed the first participant in a Phase III clinical programme of its 5-in-1 meningitis vaccine candidate, MenABCWY.
Free Case Study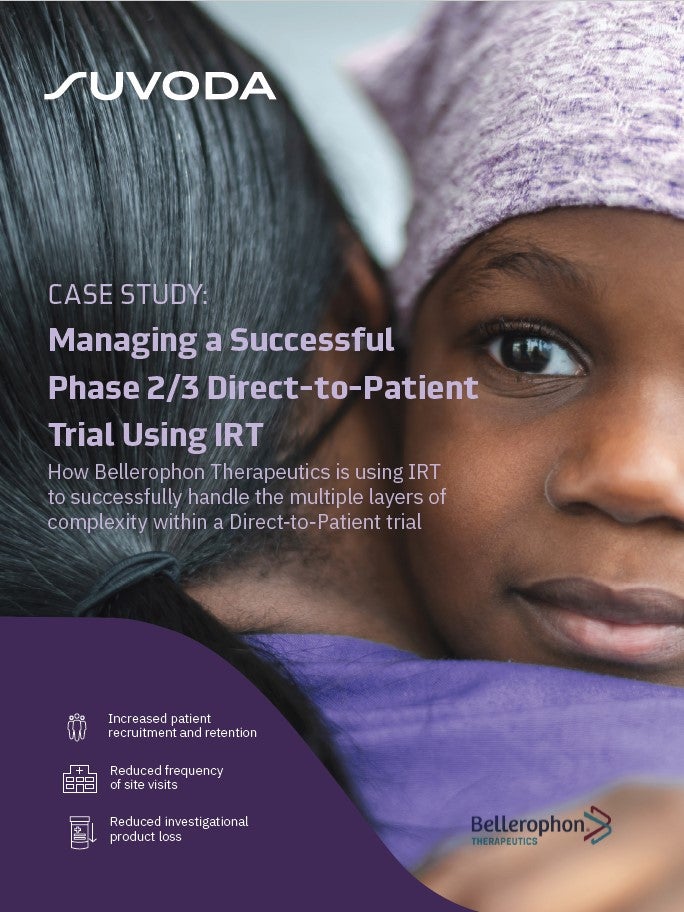 Direct-to-Patient Trials: How IRT Plays an Important Role in Bellerophon's Direct-to-Patient Trials
As the industry strengthens its focus on patient centricity, Direct-to-Patient clinical trials have emerged as a popular trial design that have the potential to increase patient recruitment and retention. IRT plays a crucial role in the success of a Direct-to-Patient trial. Because drug supplies are being managed and shipped from distribution facilities directly to patients' homes, a sponsor must have a high-quality system in place to accurately track the chain of custody, ensure patient-blinding and handle other logistical challenges. What You Will Learn Benefits and challenges associated with the Direct-to-Patient model Bellerophon's top considerations when implementing this trial design How IRT can equip study teams to successfully track chain of custody, ensure patient blinding, and handle logistical challenges
by Suvoda