US-based GT Biopharma has secured the necessary authorisations to conduct a Phase I clinical trial of its first tri-specific killer engager (TriKE) candidate, GTB-3550, at the University of Minnesota.
Free Case Study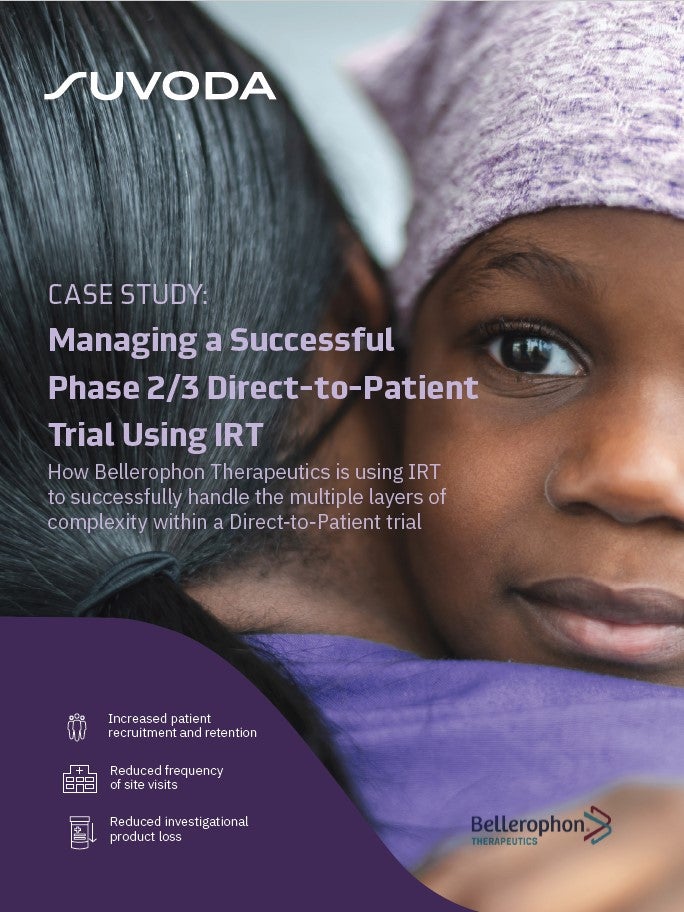 Direct-to-Patient Trials: How IRT Plays an Important Role in Bellerophon's Direct-to-Patient Trials
As the industry strengthens its focus on patient centricity, Direct-to-Patient clinical trials have emerged as a popular trial design that have the potential to increase patient recruitment and retention. IRT plays a crucial role in the success of a Direct-to-Patient trial. Because drug supplies are being managed and shipped from distribution facilities directly to patients' homes, a sponsor must have a high-quality system in place to accurately track the chain of custody, ensure patient-blinding and handle other logistical challenges. What You Will Learn Benefits and challenges associated with the Direct-to-Patient model Bellerophon's top considerations when implementing this trial design How IRT can equip study teams to successfully track chain of custody, ensure patient blinding, and handle logistical challenges
by Suvoda
GTB-3550 is a single-chain, tri-specific scFv recombinant fusion protein conjugate with IL-15 as a crosslinker. It is designed to bind to natural killer (NK) cells and direct them, specifically to leukaemia cells.
The company intends to investigate the drug candidate in CD33 positive leukaemias.
During the single centre Phase I trial, GTB-3550 will be tested in up to 60 patients with CD33-expressing high risk acute myelogenous leukaemia (AML), myelodysplatic syndrome (MDS) or advanced systemic mastocytosis.
The therapeutic will be administered as a single course in three weekly treatment blocks. Each block will involve four sequential 24-hour continuous GTB-3550 infusions, followed by a break of 72 hours.
"Success with GTB-3550 in this Phase I study will allow us to further investigate the TriKE in a larger number of cancer patients."
Investigators will perform a bone marrow biopsy to evaluate disease response between day 21 and day 42 after the start of the first infusion.
Follow-up for response and survival will be carried out until six months from the beginning of the therapy.
Primary objective of the Phase I dose-finding portion of the trial will be the maximum tolerated dose (MTD) of GTB-3550.
The Phase II extended part of the trial will measure GTB-3550's potential efficacy as the primary objective.
Patients experiencing clinical benefit without unacceptable side effects may be enrolled into a second course of the drug candidate.
GT Biopharma CEO Anthony Cataldo said: "The clinical trials team at the University of Minnesota are excited to commence the Phase I trial testing this novel immunotherapeutic agent, GTB-3550.
"The pre-clinical data are compelling, and success with GTB-3550 in this Phase I study will allow us to further investigate the TriKE in a larger number of cancer patients."
The company's TriKE platform produces moieties that leverage and boost a patient's own NK cells.
GT Biopharma portfolio also includes tetra-specific killer engager (TetraKE) and bi-specific antibody-drug conjugate (ADC) technology platforms for the development of immuno-oncology medicines.
Free Case Study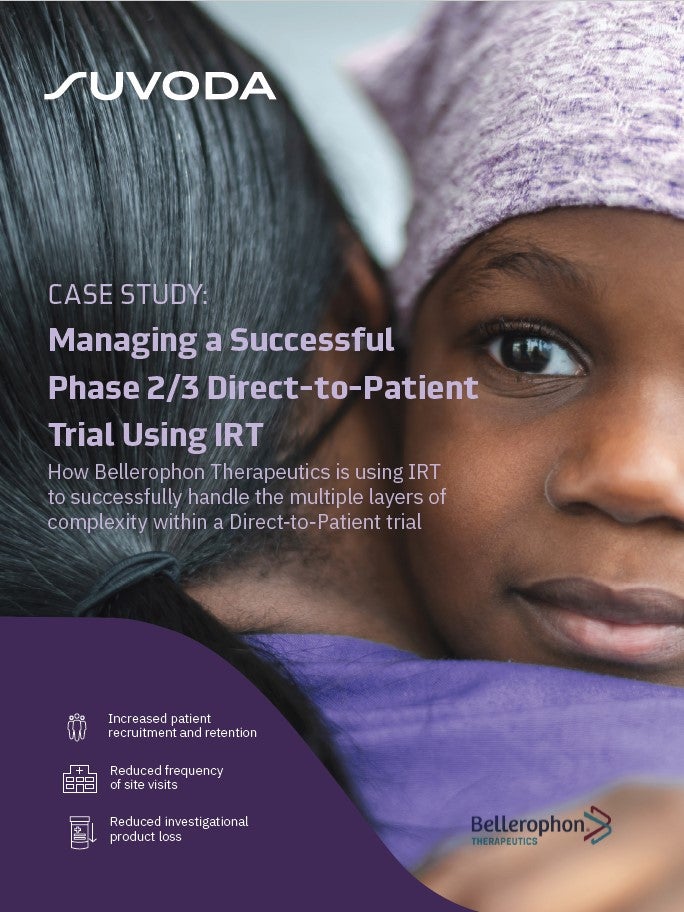 Direct-to-Patient Trials: How IRT Plays an Important Role in Bellerophon's Direct-to-Patient Trials
As the industry strengthens its focus on patient centricity, Direct-to-Patient clinical trials have emerged as a popular trial design that have the potential to increase patient recruitment and retention. IRT plays a crucial role in the success of a Direct-to-Patient trial. Because drug supplies are being managed and shipped from distribution facilities directly to patients' homes, a sponsor must have a high-quality system in place to accurately track the chain of custody, ensure patient-blinding and handle other logistical challenges. What You Will Learn Benefits and challenges associated with the Direct-to-Patient model Bellerophon's top considerations when implementing this trial design How IRT can equip study teams to successfully track chain of custody, ensure patient blinding, and handle logistical challenges
by Suvoda