Developed from Harbour Mice, HBM4003 is a human monoclonal heavy chain only antibody that acts against cytotoxic T-lymphocyte-associated protein 4 (CTLA-4).
Free Case Study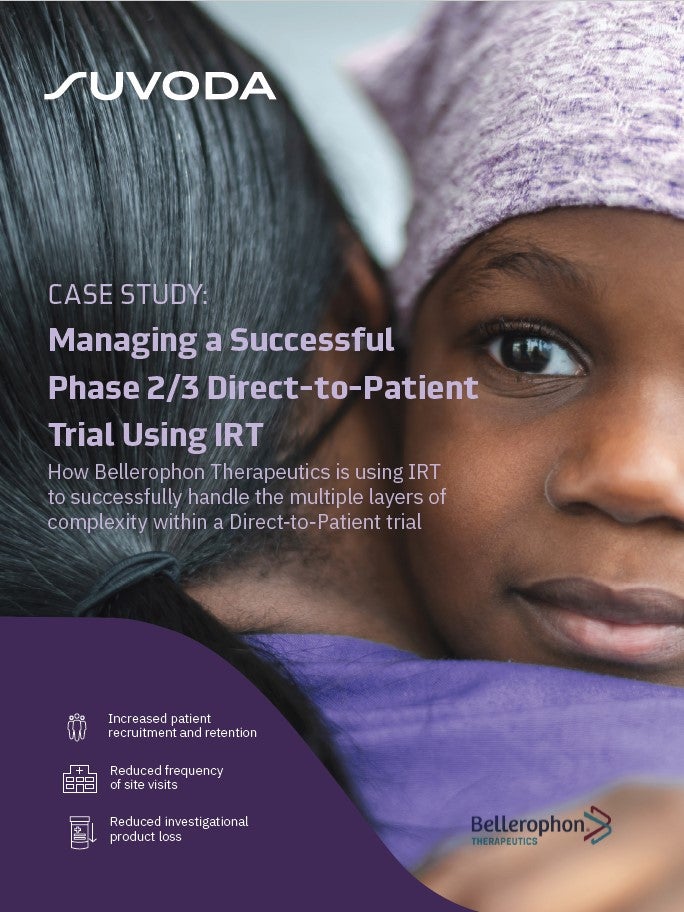 Direct-to-Patient Trials: How IRT Plays an Important Role in Bellerophon's Direct-to-Patient Trials
As the industry strengthens its focus on patient centricity, Direct-to-Patient clinical trials have emerged as a popular trial design that have the potential to increase patient recruitment and retention. IRT plays a crucial role in the success of a Direct-to-Patient trial. Because drug supplies are being managed and shipped from distribution facilities directly to patients' homes, a sponsor must have a high-quality system in place to accurately track the chain of custody, ensure patient-blinding and handle other logistical challenges. What You Will Learn Benefits and challenges associated with the Direct-to-Patient model Bellerophon's top considerations when implementing this trial design How IRT can equip study teams to successfully track chain of custody, ensure patient blinding, and handle logistical challenges
by Suvoda
The drug is said to exhibit antibody-dependent cell cytotoxicity (ADCC) killing and is selective to high CTLA-4 Treg cells present in tumour tissues. Its mechanism of action is expected to improve efficacy and lower drug toxicity.
HBM4003 is undergoing an open label, multi-centre global trial to treat advanced solid tumours.
Part 1 of the Phase I was a dose escalation study, and Phase Ib/IIa trial will progress to dose expansion to further analyse the drug's anti-tumour activities in various solid tumours.
In the part 2 of Phase I, Australians suffering from metastatic or advanced melanoma, hepatocellular carcinoma (HCC) and renal cell carcinoma (RCC) and other tumours will be recruited.
The study is assessing the safety, tolerability, pharmacokinetics, pharmacodynamics and anti-tumour activity of HBM4003 as a monotherapy. It will also identify the maximum tolerated dose and/or recommended Phase II dose.
Harbour BioMed submitted results from Phase I part 1 to European Society of Medical Oncology (ESMO). The trial is expected to complete in February next year.
Harbour BioMed founder, chairman and CEO Dr Jingsong Wang said: "HBM4003 has shown strong anti-tumour activity and great safety in its Phase I clinical studies.
"We will continue to accelerate the global development of HBM4003 for multiple tumour types, so that we can help cancer patients around the world to live better and longer lives."
Last year, Harbour BioMed received the US Food and Drug Administration (FDA) approval to conduct a Phase II clinical trial of HBM9167 to treat nasopharyngeal cancer (NPC).
Free Case Study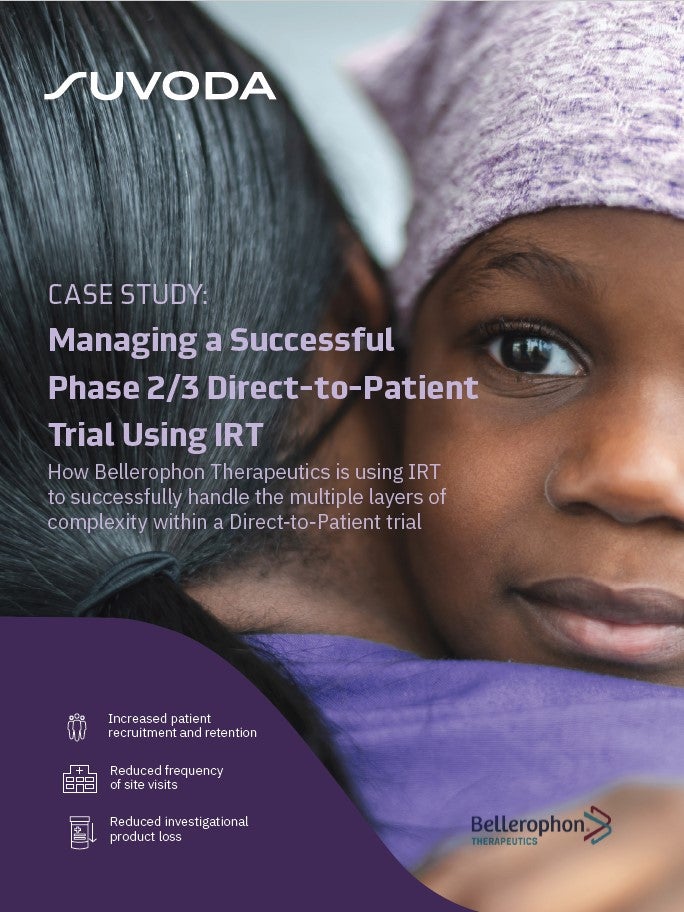 Direct-to-Patient Trials: How IRT Plays an Important Role in Bellerophon's Direct-to-Patient Trials
As the industry strengthens its focus on patient centricity, Direct-to-Patient clinical trials have emerged as a popular trial design that have the potential to increase patient recruitment and retention. IRT plays a crucial role in the success of a Direct-to-Patient trial. Because drug supplies are being managed and shipped from distribution facilities directly to patients' homes, a sponsor must have a high-quality system in place to accurately track the chain of custody, ensure patient-blinding and handle other logistical challenges. What You Will Learn Benefits and challenges associated with the Direct-to-Patient model Bellerophon's top considerations when implementing this trial design How IRT can equip study teams to successfully track chain of custody, ensure patient blinding, and handle logistical challenges
by Suvoda