HDT Bio dosed the first subjects in a Phase I trial of its Covid-19 vaccine, HDT-301, in Brazil.
Free Case Study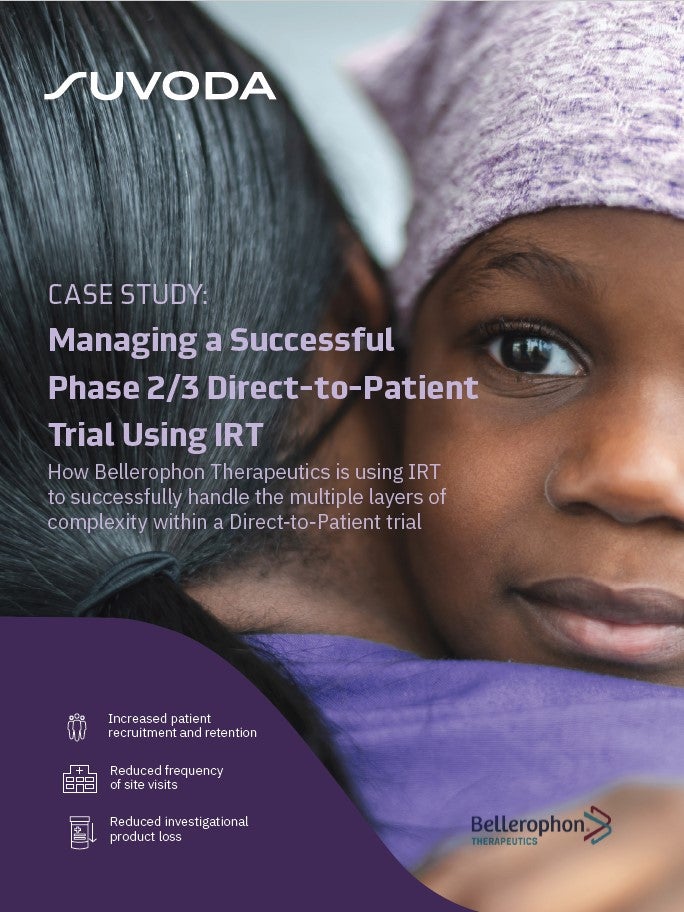 Direct-to-Patient Trials: How IRT Plays an Important Role in Bellerophon's Direct-to-Patient Trials
As the industry strengthens its focus on patient centricity, Direct-to-Patient clinical trials have emerged as a popular trial design that have the potential to increase patient recruitment and retention. IRT plays a crucial role in the success of a Direct-to-Patient trial. Because drug supplies are being managed and shipped from distribution facilities directly to patients' homes, a sponsor must have a high-quality system in place to accurately track the chain of custody, ensure patient-blinding and handle other logistical challenges. What You Will Learn Benefits and challenges associated with the Direct-to-Patient model Bellerophon's top considerations when implementing this trial design How IRT can equip study teams to successfully track chain of custody, ensure patient blinding, and handle logistical challenges
by Suvoda
Using HDT Bio 's lipid nanoparticle ribonucleic acid (RNA)-delivery technology, the vaccine aims to provide easier production and deployment without requiring ultra-low freezers. Furthermore, it needs a lower dose versus existing RNA Covid-19 vaccines.
In September last year, the companies obtained authorisation from Brazil's National Health Surveillance Agency (Anvisa) to carry out the Phase I trials of HDT-301.
Named 'Vaccine RNA MCTI-CIMATEC-HDT', the double-blind, placebo-controlled, dose-ranging trial will be carried out by Senai Cimatec.
It will enrol 90 healthy adult subjects to evaluate HDT-301's safety, tolerability, and immunogenicity at 1µg, 5µg and 25µg dose levels.
The primary endpoints are tolerability and safety analysed based on the occurrence of adverse events for each dose for 12 months following inoculation.
The company will also conduct scheduled interim analyses to analyse the immunogenicity of the vaccine.
HDT Bio CEO Steve Reed said: "This clinical trial in Brazil is the second international study to get underway in our efforts to help partners in historically underserved nations fight this pandemic by transferring our unique technology to provide them local control over development, manufacturing and distribution of a Covid-19 RNA vaccine.
"The first was in India with our partner Gennova Biopharmaceuticals which has moved the vaccine into Phase II and Phase III trials."
In addition, the company has other collaborations in place for the vaccine, including in China and South Korea.
The vaccine of HDT Bio will also be analysed in a Phase I trial in the US.
Free Case Study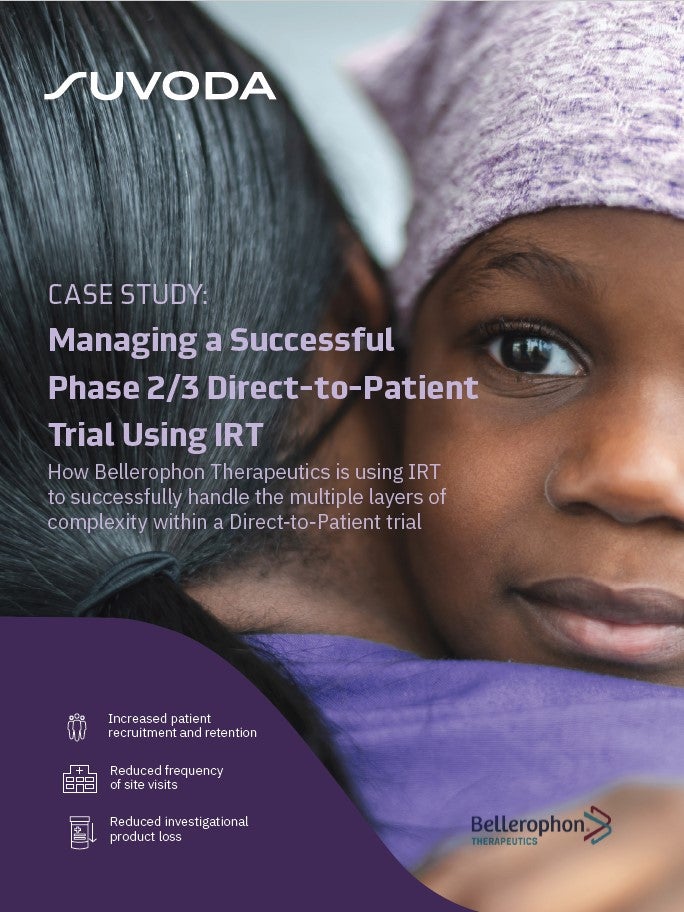 Direct-to-Patient Trials: How IRT Plays an Important Role in Bellerophon's Direct-to-Patient Trials
As the industry strengthens its focus on patient centricity, Direct-to-Patient clinical trials have emerged as a popular trial design that have the potential to increase patient recruitment and retention. IRT plays a crucial role in the success of a Direct-to-Patient trial. Because drug supplies are being managed and shipped from distribution facilities directly to patients' homes, a sponsor must have a high-quality system in place to accurately track the chain of custody, ensure patient-blinding and handle other logistical challenges. What You Will Learn Benefits and challenges associated with the Direct-to-Patient model Bellerophon's top considerations when implementing this trial design How IRT can equip study teams to successfully track chain of custody, ensure patient blinding, and handle logistical challenges
by Suvoda