The American Medical Association (AMA) subsidiary Health2047 has spun out portfolio company SiteBridge Research in an effort to improve clinical trial access for small and community physician practices.
Free Case Study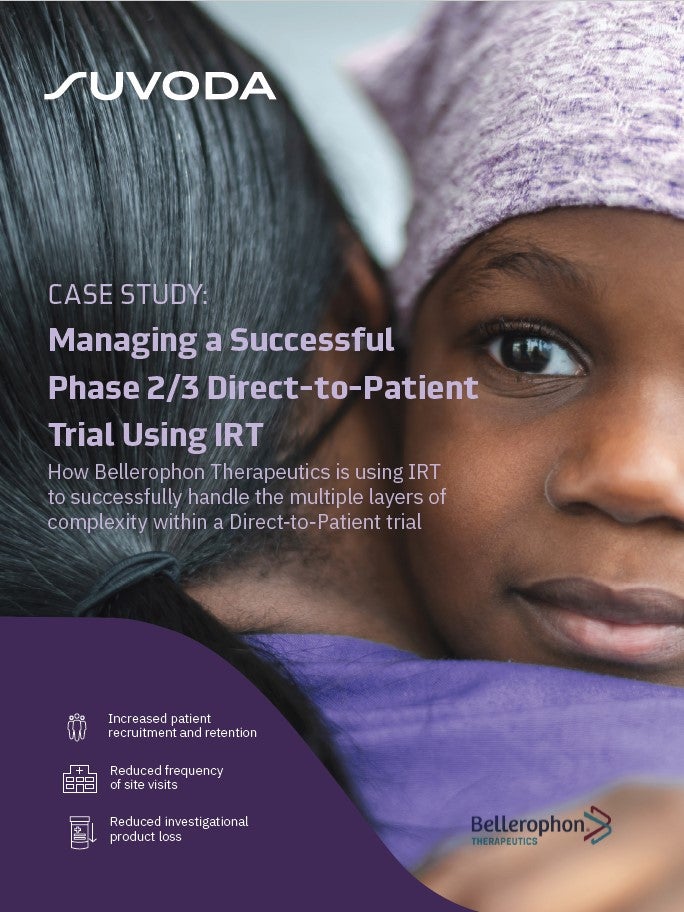 Direct-to-Patient Trials: How IRT Plays an Important Role in Bellerophon's Direct-to-Patient Trials
As the industry strengthens its focus on patient centricity, Direct-to-Patient clinical trials have emerged as a popular trial design that have the potential to increase patient recruitment and retention. IRT plays a crucial role in the success of a Direct-to-Patient trial. Because drug supplies are being managed and shipped from distribution facilities directly to patients' homes, a sponsor must have a high-quality system in place to accurately track the chain of custody, ensure patient-blinding and handle other logistical challenges. What You Will Learn Benefits and challenges associated with the Direct-to-Patient model Bellerophon's top considerations when implementing this trial design How IRT can equip study teams to successfully track chain of custody, ensure patient blinding, and handle logistical challenges
by Suvoda
Through its Trial-In-A-Box platform, SiteBridge gives more access to clinical trials by permitting a broader set of physicians and their patients to take part in research.
The company aims to enable researchers to obtain more targeted data for optimising treatments across a broader patient population by creating a clinical trial network of independent, small practice physicians.
Health2047 CEO Lawrence Cohen said: "We're excited by SiteBridge Research's mission to democratise clinical trials by opening access and removing barriers to different parts of the clinical trial ecosystem.
"This involves enabling trials to occur at point-of-care vs traditional large academic institutions."
SiteBridge's Trial-In-A-Box platform provides access to clinical research training, resources and support covering the initial feasibility and site start-up until the full study delivery and close out.
It also facilitates research through the application of best-of-breed technology, processes and functional expertise.
The company has seed funding in place and plans to build out a national network to support the next generation of clinical research.
SiteBridge Research CEO Chris Komelasky said: "As health systems vow to improve health outcomes by tackling social determinants and inequities, it's critical to ensure clinical trials represent the broadest possible patient set.
"Our platform facilitates the participation of smaller physician practices in trials, so research studies can have more representative patient populations for the intended applications of the drugs being tested and create more realistic risk/benefit profiles for new treatments. It puts the focus of research on the trusted relationship between a physician and patient."
Free Case Study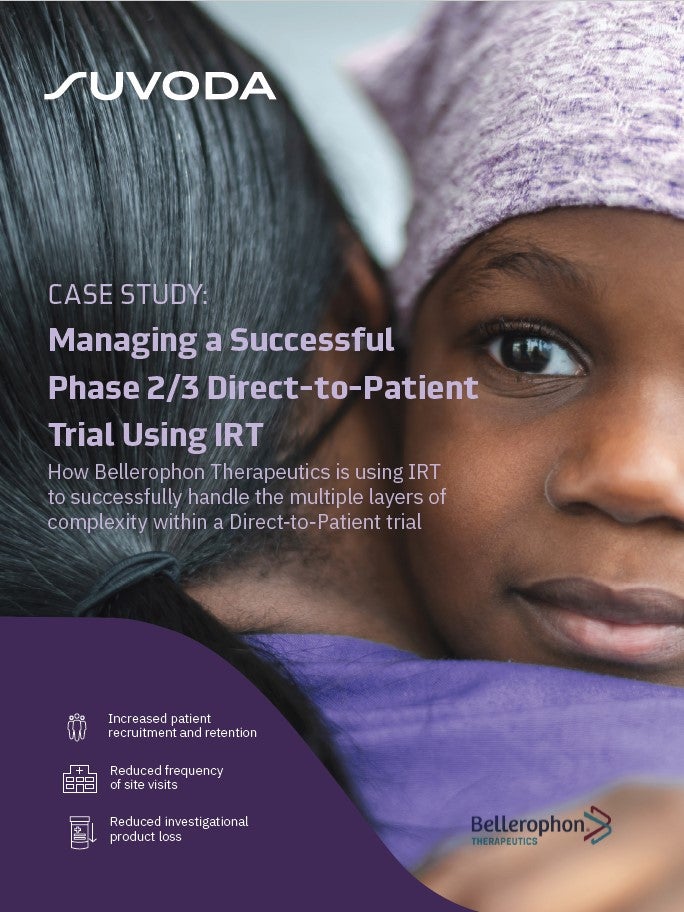 Direct-to-Patient Trials: How IRT Plays an Important Role in Bellerophon's Direct-to-Patient Trials
As the industry strengthens its focus on patient centricity, Direct-to-Patient clinical trials have emerged as a popular trial design that have the potential to increase patient recruitment and retention. IRT plays a crucial role in the success of a Direct-to-Patient trial. Because drug supplies are being managed and shipped from distribution facilities directly to patients' homes, a sponsor must have a high-quality system in place to accurately track the chain of custody, ensure patient-blinding and handle other logistical challenges. What You Will Learn Benefits and challenges associated with the Direct-to-Patient model Bellerophon's top considerations when implementing this trial design How IRT can equip study teams to successfully track chain of custody, ensure patient blinding, and handle logistical challenges
by Suvoda