HUTCHMED and AstraZeneca have commenced an international Phase III SAMETA clinical trial of oral therapy, savolitinib, along with Imfinzi (durvalumab) to treat patients with advanced papillary renal cell carcinoma (PRCC), a kidney cancer subtype.
Free Case Study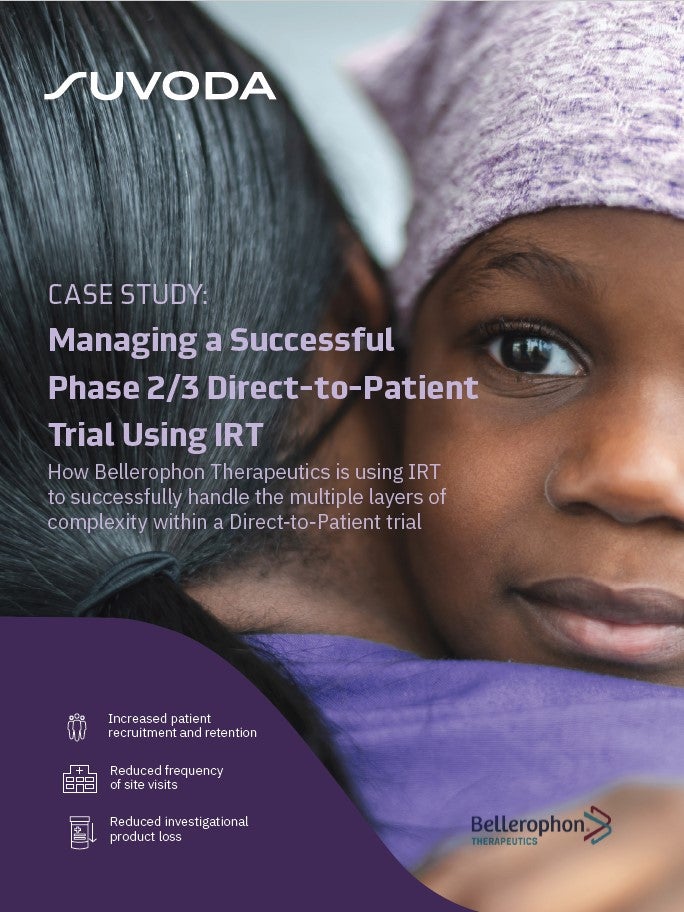 Direct-to-Patient Trials: How IRT Plays an Important Role in Bellerophon's Direct-to-Patient Trials
As the industry strengthens its focus on patient centricity, Direct-to-Patient clinical trials have emerged as a popular trial design that have the potential to increase patient recruitment and retention. IRT plays a crucial role in the success of a Direct-to-Patient trial. Because drug supplies are being managed and shipped from distribution facilities directly to patients' homes, a sponsor must have a high-quality system in place to accurately track the chain of custody, ensure patient-blinding and handle other logistical challenges. What You Will Learn Benefits and challenges associated with the Direct-to-Patient model Bellerophon's top considerations when implementing this trial design How IRT can equip study teams to successfully track chain of custody, ensure patient blinding, and handle logistical challenges
by Suvoda
The open-label, controlled, randomised trial will evaluate the combination therapy in MET-driven advanced PRCC patients.
The companies noted that they have administered the first dose to the first patient last week.
Marketed as Orpathys in China, savolitinib is a greatly selective small-molecule MET tyrosine kinase inhibitor while AstraZeneca 's Imfinzi is an inhibitor of programmed death-ligand 1.
The Phase III trial will analyse the safety and efficacy of the savolitinib and Imfinzi combination as against either the Imfinzi or Sutent (sunitinib) monotherapy.
An oral inhibitor of multi-kinase, Sutent is regarded as the standard of care therapy for PRCC.
Subjects who have MET-driven, unresectable and locally advanced or metastatic PRCC and have not received any therapy so far will be enrolled in the trial.
Median progression-free survival (PFS) is the trial's primary goal.
Additional goals include objective response rate, median overall survival, duration of response, time to the second progression, disease control rate at six months and one year, pharmacokinetics, safety and quality of life.
AstraZeneca and HUTCHMED signed an international licensing deal in 2011 to co-develop and co-market savolitinib.
Under the deal, HUTCHMED agreed to the drug's development in China while AstraZeneca oversees the activities outside the country.
Savolitinib is currently marketed in China to treat non-small cell lung cancer patients who have MET exon 14 skipping alterations and have progressed after receiving previous systemic treatment or could not undergo chemotherapy.
Furthermore, the drug is being analysed to treat various kinds of tumours, including those affecting lung, kidney, and gastric cancers, as monotherapy and in combination with other treatments.
In July 2021, HUTCHMED started a Phase I trial of its oral treatment, HMPL‑295, for treating advanced malignant solid tumour patients.
Free Case Study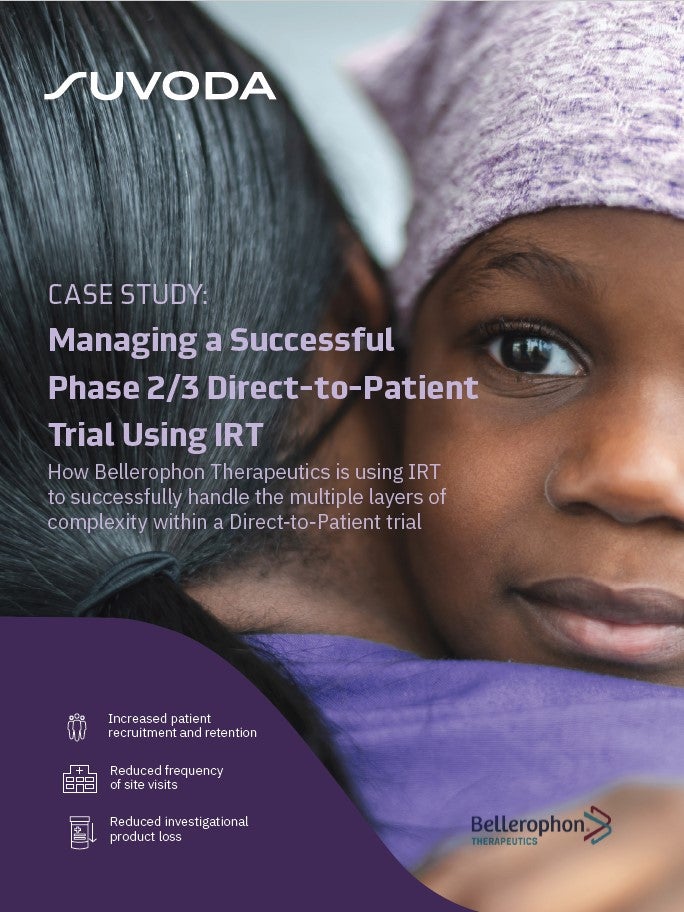 Direct-to-Patient Trials: How IRT Plays an Important Role in Bellerophon's Direct-to-Patient Trials
As the industry strengthens its focus on patient centricity, Direct-to-Patient clinical trials have emerged as a popular trial design that have the potential to increase patient recruitment and retention. IRT plays a crucial role in the success of a Direct-to-Patient trial. Because drug supplies are being managed and shipped from distribution facilities directly to patients' homes, a sponsor must have a high-quality system in place to accurately track the chain of custody, ensure patient-blinding and handle other logistical challenges. What You Will Learn Benefits and challenges associated with the Direct-to-Patient model Bellerophon's top considerations when implementing this trial design How IRT can equip study teams to successfully track chain of custody, ensure patient blinding, and handle logistical challenges
by Suvoda