Hutchmed has started a Phase I clinical trial to evaluate its investigational therapy, HMPL-653, for the treatment of patients with advanced malignant solid tumours and tenosynovial giant cell tumours (TGCT), in China.
Free Case Study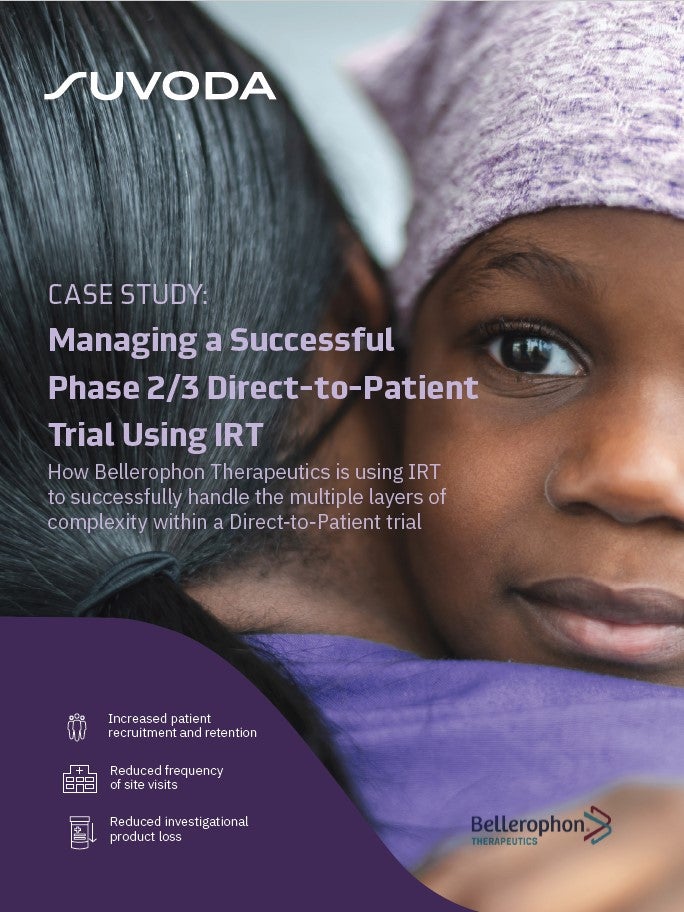 Direct-to-Patient Trials: How IRT Plays an Important Role in Bellerophon's Direct-to-Patient Trials
As the industry strengthens its focus on patient centricity, Direct-to-Patient clinical trials have emerged as a popular trial design that have the potential to increase patient recruitment and retention. IRT plays a crucial role in the success of a Direct-to-Patient trial. Because drug supplies are being managed and shipped from distribution facilities directly to patients' homes, a sponsor must have a high-quality system in place to accurately track the chain of custody, ensure patient-blinding and handle other logistical challenges. What You Will Learn Benefits and challenges associated with the Direct-to-Patient model Bellerophon's top considerations when implementing this trial design How IRT can equip study teams to successfully track chain of custody, ensure patient blinding, and handle logistical challenges
by Suvoda
The open-label, single-arm, multi-centre trial will assess the safety, pharmacokinetics, tolerability and preliminary efficacy of the new potent colony-stimulating factor 1 receptor (CSF-1R) inhibitor HMPL-653.
The dose escalation and expansion phase of the study is expected to recruit nearly 110 patients.
Dose limiting toxicity, tolerability, safety, recommended dose for the Phase II study and maximum tolerated dose are the primary goals of the study.
For this Phase I trial, pharmacokinetics, progression free survival, objective response rate are the secondary endpoints.
Other secondary goals include disease control rate and overall survival.
Jilin Cancer Hospital is serving as the lead institution for the study.
Hutchmed retains all rights to HMPL-653 across the globe at present. The therapy has been designed to act on malignant driven tumours as a single agent or along with other drugs.
Expressed usually on macrophages' surface, CSF-1R attaches with its ligand CSF-1 and can promote growth and differentiation of macrophages.
Several studies have revealed that the tumour microenvironment could be modulated by blocking the CSF-1R signaling pathway. At present, no CSF-1R inhibitor has secured approval in China.
A rare type of soft tissue tumour, TGCT is caused due to abnormal proliferation and inflammation of giant cells, inflammatory cells and monocytes.
In July last year, Hutchmed initiated a Phase I trial of its investigational oral drug, HMPL‑295, to treat advanced malignant solid tumour patients.
Free Case Study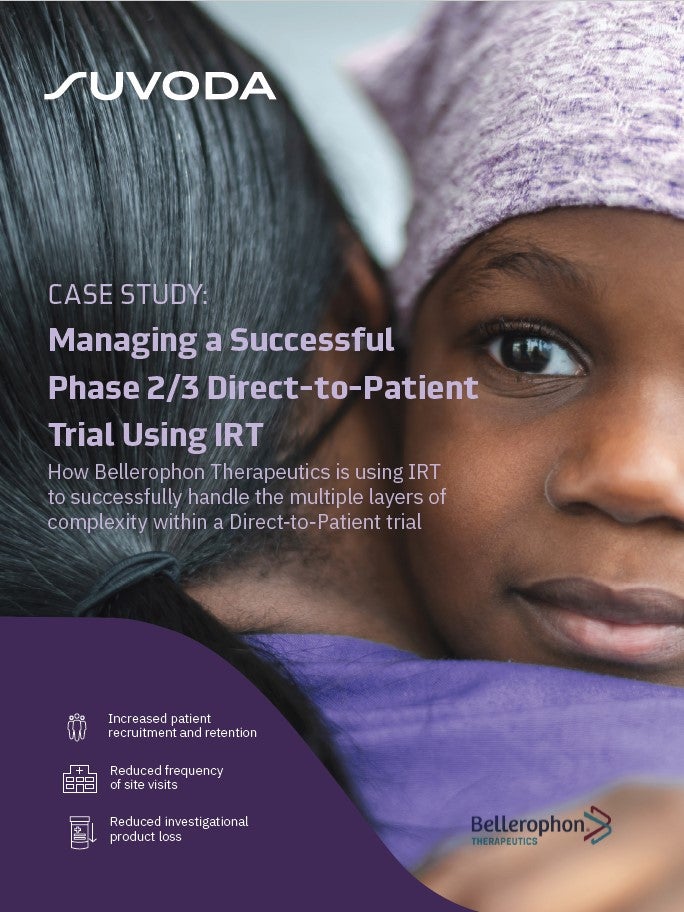 Direct-to-Patient Trials: How IRT Plays an Important Role in Bellerophon's Direct-to-Patient Trials
As the industry strengthens its focus on patient centricity, Direct-to-Patient clinical trials have emerged as a popular trial design that have the potential to increase patient recruitment and retention. IRT plays a crucial role in the success of a Direct-to-Patient trial. Because drug supplies are being managed and shipped from distribution facilities directly to patients' homes, a sponsor must have a high-quality system in place to accurately track the chain of custody, ensure patient-blinding and handle other logistical challenges. What You Will Learn Benefits and challenges associated with the Direct-to-Patient model Bellerophon's top considerations when implementing this trial design How IRT can equip study teams to successfully track chain of custody, ensure patient blinding, and handle logistical challenges
by Suvoda