I-Mab has dosed the first two subjects in a Phase II dose expansion clinical trial of its humanised CD73 antibody, uliledlimab, plus atezolizumab (Tecentriq) to treat individuals with ovarian cancer and various other advanced or metastatic solid tumours in the US.
Free Case Study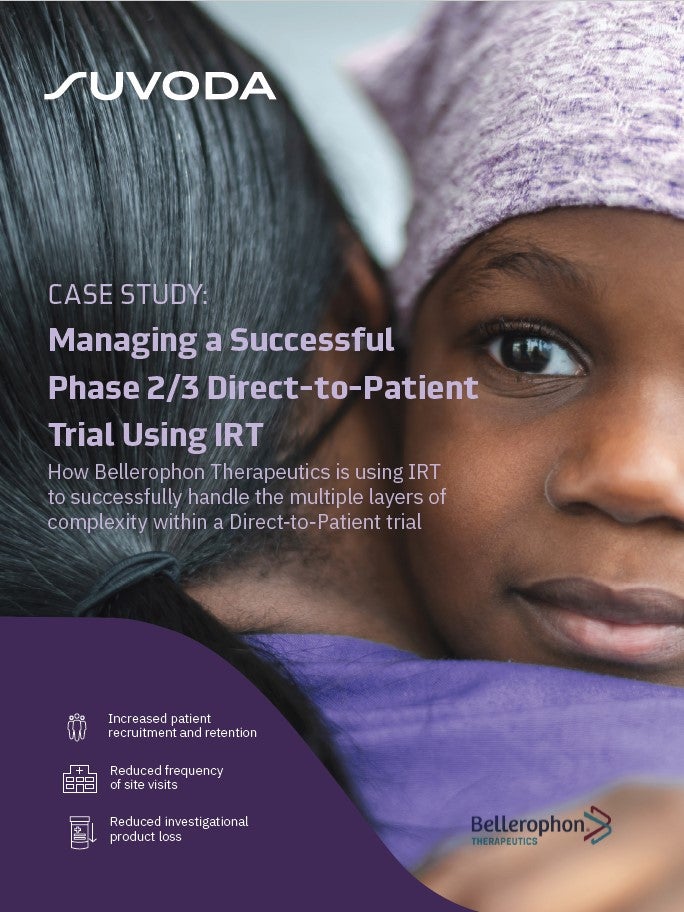 Direct-to-Patient Trials: How IRT Plays an Important Role in Bellerophon's Direct-to-Patient Trials
As the industry strengthens its focus on patient centricity, Direct-to-Patient clinical trials have emerged as a popular trial design that have the potential to increase patient recruitment and retention. IRT plays a crucial role in the success of a Direct-to-Patient trial. Because drug supplies are being managed and shipped from distribution facilities directly to patients' homes, a sponsor must have a high-quality system in place to accurately track the chain of custody, ensure patient-blinding and handle other logistical challenges. What You Will Learn Benefits and challenges associated with the Direct-to-Patient model Bellerophon's top considerations when implementing this trial design How IRT can equip study teams to successfully track chain of custody, ensure patient blinding, and handle logistical challenges
by Suvoda
Uliledlimab attaches to a unique epitope and fully hinders inhibits CD73, overturning the adenosine-facilitated immunosuppression in the tumour microenvironment and hindering its growth.
The multicentre, open-label trial in the US will analyse the clinical activities of uliledlimab plus atezolizumab, as well as possible biomarkers in subjects with certain advanced or metastatic solid tumours.
A dose-expansion arm enrolling ovarian cancer patients who are resistant to platinum treatment, and a biomarker-driven 'basket' arm of subjects with head and neck squamous cell carcinoma, gastrointestinal cancer, non-small cell lung cancer, triple-negative breast cancer or PD-L1 expressing ovarian cancer will be part of the trial.
In addition to the US trial, uliledlimab is being analysed in a trial in China on a separate targeted group of patients.
The clinical results from both the geographies will be used to expand the worldwide development to initiate a pivotal trial in people with specific solid tumour types.
In Phase I trial, uliledlimab plus atezolizumab was found to have encouraging and good clinical activity in advanced tumour patients.
The recommended dose for the Phase II trial was selected based on data from the Phase I trial.
I-Mab CEO Dr Joan Shen said: "Uliledlimab has unique pharmacological properties, which position it as the next-generation immuno-oncology agent.
"We hope the data from this study will accelerate the clinical development towards registration and to address the needs of patients with immune checkpoint resistance."
The company is also carrying out a Phase II cohort expansion trial of uliledlimab plus toripalimab (TUOYI) in China enrolling individuals with advanced or metastatic cancers and are refractory to or not tolerant of currently offered treatments.
In May, I-Mab dosed the first patient in a Phase II abbreviated combination clinical trial of lemzoparlimab plus azacitidine in people with recently diagnosed acute myeloid leukaemia or myelodysplastic syndrome in China.
Free Case Study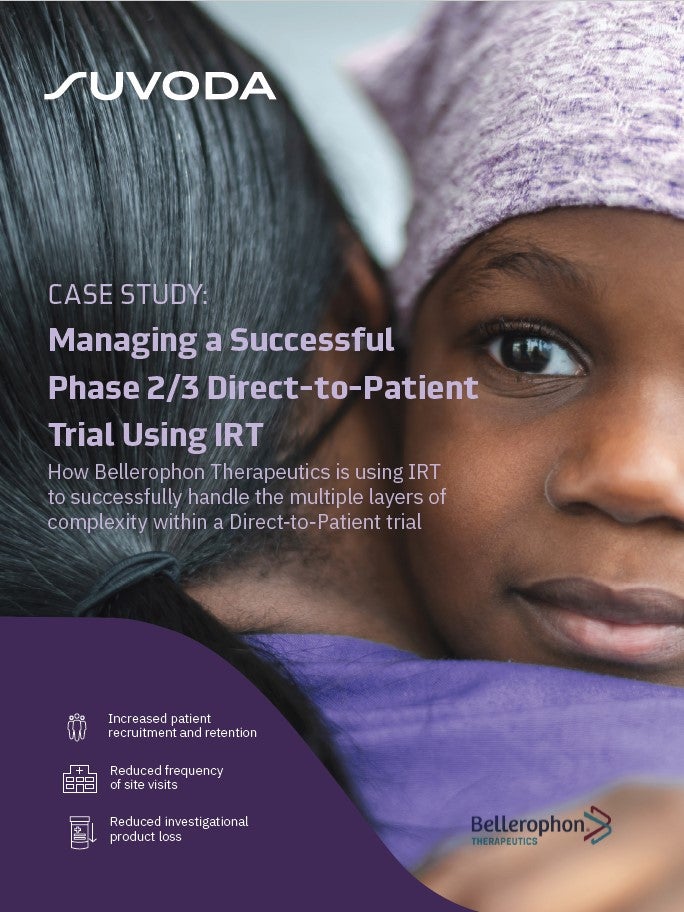 Direct-to-Patient Trials: How IRT Plays an Important Role in Bellerophon's Direct-to-Patient Trials
As the industry strengthens its focus on patient centricity, Direct-to-Patient clinical trials have emerged as a popular trial design that have the potential to increase patient recruitment and retention. IRT plays a crucial role in the success of a Direct-to-Patient trial. Because drug supplies are being managed and shipped from distribution facilities directly to patients' homes, a sponsor must have a high-quality system in place to accurately track the chain of custody, ensure patient-blinding and handle other logistical challenges. What You Will Learn Benefits and challenges associated with the Direct-to-Patient model Bellerophon's top considerations when implementing this trial design How IRT can equip study teams to successfully track chain of custody, ensure patient blinding, and handle logistical challenges
by Suvoda