IGM Biosciences has announced the progression of its antibody, IGM-6268, into two clinical trials to treat and prevent Covid-19.
Free Case Study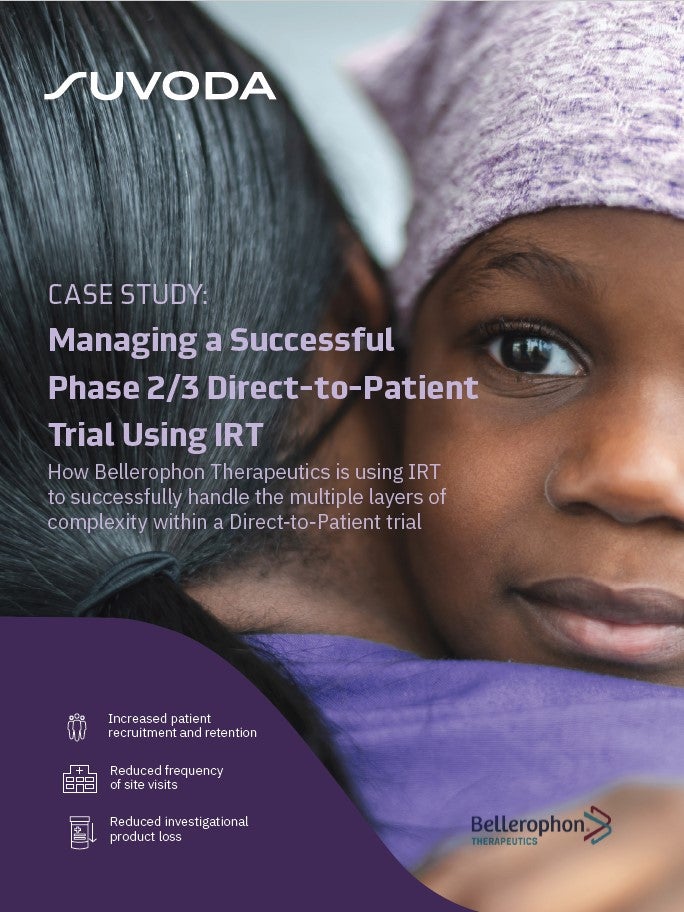 Direct-to-Patient Trials: How IRT Plays an Important Role in Bellerophon's Direct-to-Patient Trials
As the industry strengthens its focus on patient centricity, Direct-to-Patient clinical trials have emerged as a popular trial design that have the potential to increase patient recruitment and retention. IRT plays a crucial role in the success of a Direct-to-Patient trial. Because drug supplies are being managed and shipped from distribution facilities directly to patients' homes, a sponsor must have a high-quality system in place to accurately track the chain of custody, ensure patient-blinding and handle other logistical challenges. What You Will Learn Benefits and challenges associated with the Direct-to-Patient model Bellerophon's top considerations when implementing this trial design How IRT can equip study teams to successfully track chain of custody, ensure patient blinding, and handle logistical challenges
by Suvoda
An anti-SARS-CoV-2 Immunoglobulin M (IgM) monoclonal antibody, IGM-6268 acts specially on the receptor-binding domain (RBD) of the spike protein of the virus.
The first, randomised, multicentre, placebo-controlled, double-blinded, single (SAD) and multiple (MAD) ascending dose Phase I trial will be carried out in the US.
It will analyse the safety, tolerability and pharmacokinetics of intranasal doses of IGM-6268 in healthy subjects.
The company noted that the initial two dose arms of healthy subjects were cleared in the US with trial results anticipated in the first half of this year. 
To be carried out in South Africa, the second Phase Ia/Ib trial will analyse the safety, tolerability, pharmacokinetics and initial efficacy of intranasal doses of IGM-6268 initially in healthy volunteers.
This multicentre, randomised, double-blinded, placebo-controlled trial will advance to individuals with mild to moderate Covid-19 in the outpatient setting on clearing a suitable dose arm.
The first dose arm of healthy subjects was cleared for the South African trial with results anticipated in the mid of this year.
According to data from in vitro pseudovirus testing, IGM-6268 demonstrated neutralisation of the Omicron variant of the SARS-CoV-2 virus at an IC50 of 230 ng/mL.
Furthermore, the antibody showed potent in vitro neutralisation activity against various other variants, including Delta.
IGM Biosciences chief medical officer Chris Takimoto said: "IgM antibodies are the first antibodies produced by the immune system when a virus attacks and they demonstrate very high avidity, or overall binding strength, against the viral antigens they target.
"Our in vitro neutralisation data suggest that engineered IgM antibodies, because of their inherently enhanced avidity and engineered specificity, offer resilience against the emergence of resistant variants of SARS-CoV-2, while demonstrating superior potency over an IgG antibody with the same binding domains."
Free Case Study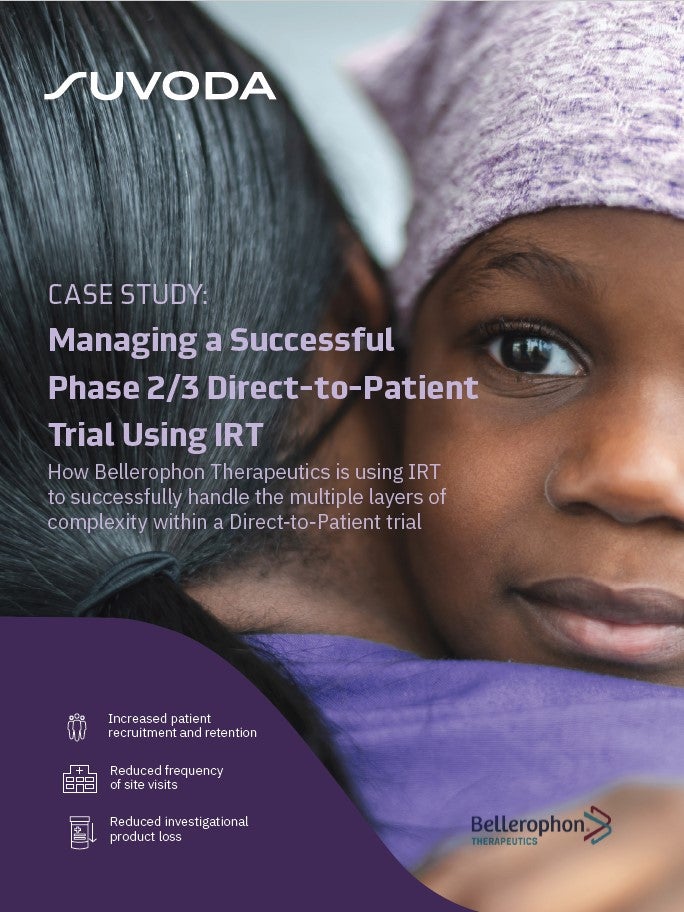 Direct-to-Patient Trials: How IRT Plays an Important Role in Bellerophon's Direct-to-Patient Trials
As the industry strengthens its focus on patient centricity, Direct-to-Patient clinical trials have emerged as a popular trial design that have the potential to increase patient recruitment and retention. IRT plays a crucial role in the success of a Direct-to-Patient trial. Because drug supplies are being managed and shipped from distribution facilities directly to patients' homes, a sponsor must have a high-quality system in place to accurately track the chain of custody, ensure patient-blinding and handle other logistical challenges. What You Will Learn Benefits and challenges associated with the Direct-to-Patient model Bellerophon's top considerations when implementing this trial design How IRT can equip study teams to successfully track chain of custody, ensure patient blinding, and handle logistical challenges
by Suvoda