Imara has modified the primary goal of the Phase IIb Ardent clinical trial of tovinontrine (IMR-687) in individuals with sickle cell disease (SCD), a rare red blood cell disorder.
Free Case Study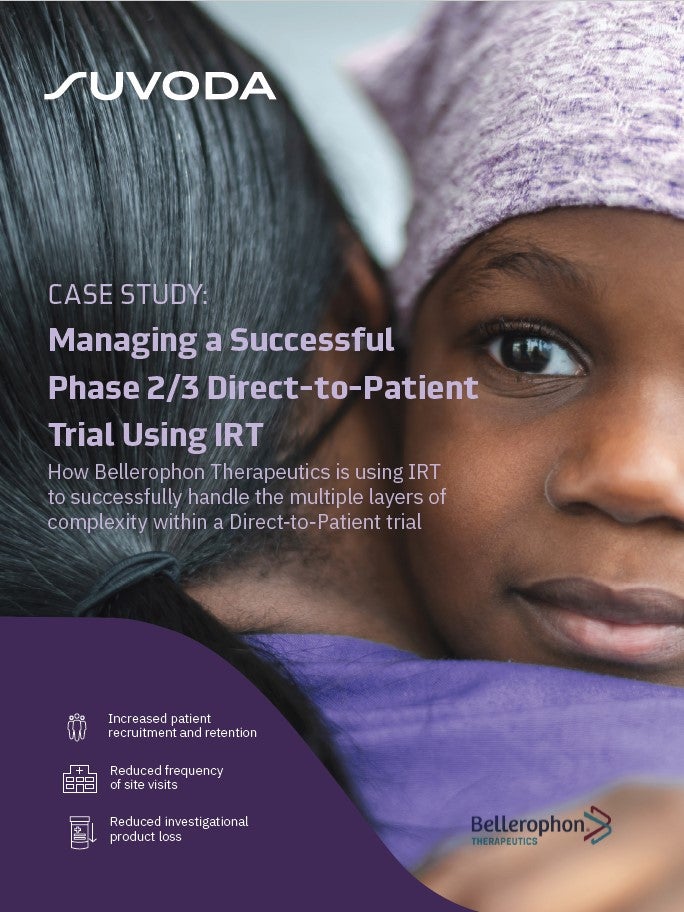 Direct-to-Patient Trials: How IRT Plays an Important Role in Bellerophon's Direct-to-Patient Trials
As the industry strengthens its focus on patient centricity, Direct-to-Patient clinical trials have emerged as a popular trial design that have the potential to increase patient recruitment and retention. IRT plays a crucial role in the success of a Direct-to-Patient trial. Because drug supplies are being managed and shipped from distribution facilities directly to patients' homes, a sponsor must have a high-quality system in place to accurately track the chain of custody, ensure patient-blinding and handle other logistical challenges. What You Will Learn Benefits and challenges associated with the Direct-to-Patient model Bellerophon's top considerations when implementing this trial design How IRT can equip study teams to successfully track chain of custody, ensure patient blinding, and handle logistical challenges
by Suvoda
The move comes after the US Food and Drug Administration (FDA) provided a written recommendation to change the primary endpoint.
Tovinontrine is a small molecule inhibitor of phosphodiesterase-9 (PDE9).
The international, randomised, placebo-controlled, double-blind, multicentre trial has concluded the target enrolment of nearly 115 adult subjects with SCD, who will receive either tovinontrine or a placebo.
Imara had sought FDA feedback on the draft statistical analysis plan (SAP) for the trial where fetal haemoglobin (HbF) response was the primary goal while the key secondary goal was the annualised rate of vaso-occlusive crises (VOCs).
The FDA subsequently suggested Imara update the primary goal to an annualised rate of VOCs.
Imara noted that HbF response will now become the crucial secondary goal of the trial while its conduct or operational components are unaffected by the endpoint modifications.
Assessment of the impact of tovinontrine against placebo on various VOC-linked outcome measures, markers of red blood cell hemolysis, HbF-related biomarkers, quality of life measures and white blood cell adhesion markers for a year will be the other goals of the trial.
An interim assessment of VOC rates is anticipated to be carried out in the first quarter while final data analysis will be conducted in the second quarter of next year.
Imara president and CEO Rahul Ballal said: "A reduction in VOC rate is an established approval endpoint, and we are engaging the FDA further on this and related topics, including possible streamlined paths to registration."
"The first review of data from the Ardent trial, including annualized VOC rate, will be conducted when all subjects have completed an assessment at Week 24 or terminated early and are planned for the first quarter of 2022, subject to our upcoming discussions with the FDA."
Free Case Study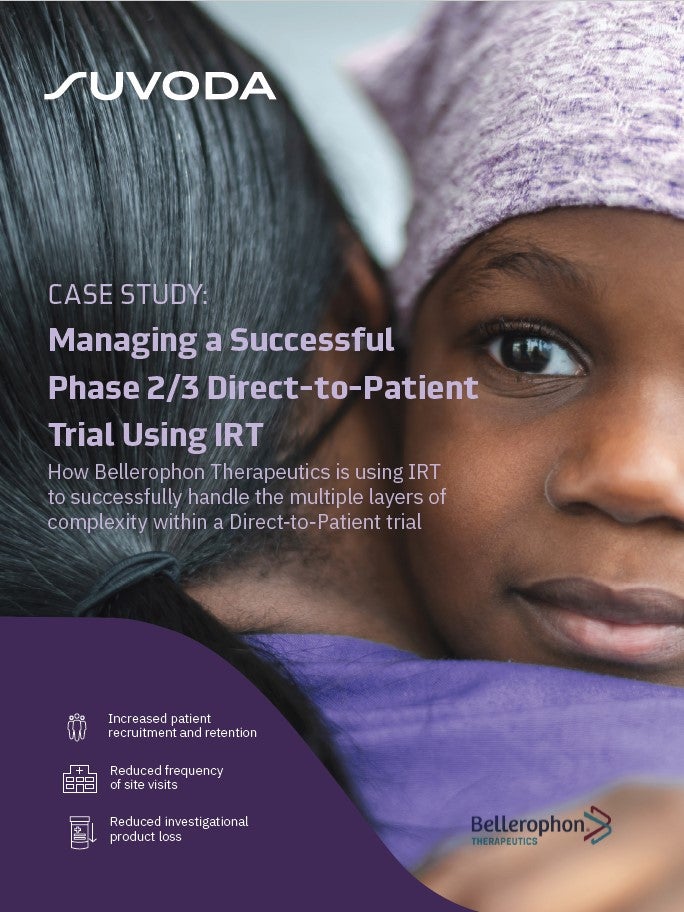 Direct-to-Patient Trials: How IRT Plays an Important Role in Bellerophon's Direct-to-Patient Trials
As the industry strengthens its focus on patient centricity, Direct-to-Patient clinical trials have emerged as a popular trial design that have the potential to increase patient recruitment and retention. IRT plays a crucial role in the success of a Direct-to-Patient trial. Because drug supplies are being managed and shipped from distribution facilities directly to patients' homes, a sponsor must have a high-quality system in place to accurately track the chain of custody, ensure patient-blinding and handle other logistical challenges. What You Will Learn Benefits and challenges associated with the Direct-to-Patient model Bellerophon's top considerations when implementing this trial design How IRT can equip study teams to successfully track chain of custody, ensure patient blinding, and handle logistical challenges
by Suvoda