Biotechnology company Immune Regulation has signed a teaming agreement with DynPort Vaccine to assess ILR201104 as a potential treatment for acute respiratory distress syndrome (ARDS) caused by Covid-19.
Free Case Study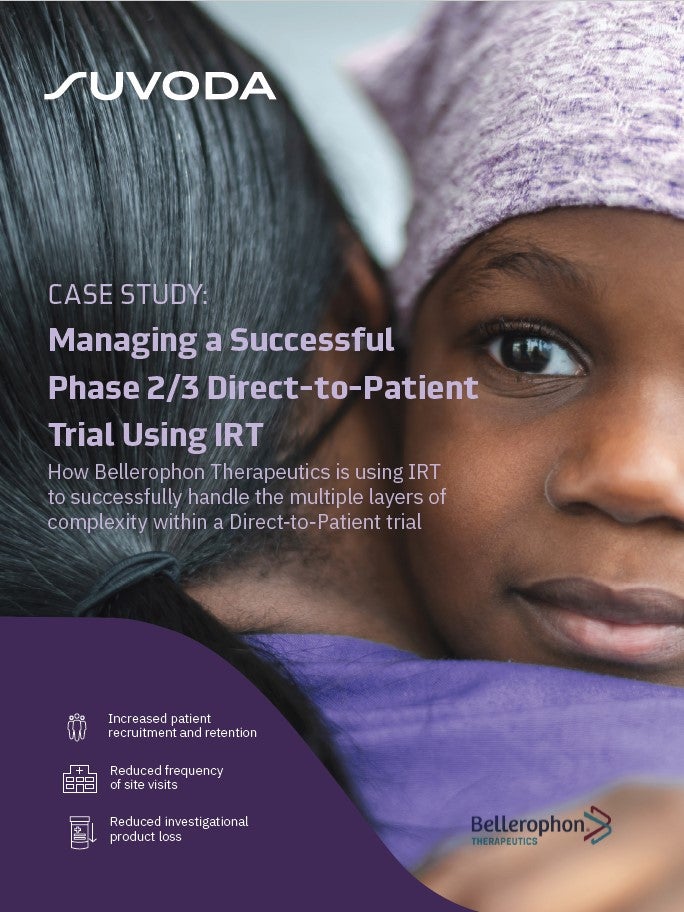 Direct-to-Patient Trials: How IRT Plays an Important Role in Bellerophon's Direct-to-Patient Trials
As the industry strengthens its focus on patient centricity, Direct-to-Patient clinical trials have emerged as a popular trial design that have the potential to increase patient recruitment and retention. IRT plays a crucial role in the success of a Direct-to-Patient trial. Because drug supplies are being managed and shipped from distribution facilities directly to patients' homes, a sponsor must have a high-quality system in place to accurately track the chain of custody, ensure patient-blinding and handle other logistical challenges. What You Will Learn Benefits and challenges associated with the Direct-to-Patient model Bellerophon's top considerations when implementing this trial design How IRT can equip study teams to successfully track chain of custody, ensure patient blinding, and handle logistical challenges
by Suvoda
Covid-19 infection is characterised by the recruitment of blood cells to the lung, including neutrophils, which are needed to combat the virus.
But, inflammatory molecules generated by neutrophils could cause overwhelming inflammation in high-risk patients, called ARDS, which may lead to dangerously low blood oxygen levels, critical illness and ultimately death.
Immune Regulation group CEO Jonathan Rigby said: "We are very pleased to be working on a therapeutic approach that can potentially reduce Covid-19 related ARDS.
"Doing this in partnership with a world class company like DVC, significantly improves our chances of a successful outcome and we are delighted by the prospect."
In a preclinical model of acute lung inflammation, Immune Regulation's drug product IRL201104 demonstrated quick and significant decrease in the excessive infiltration of neutrophils in the lungs.
A single dose of the drug candidate was observed to mitigate neutrophil infiltration quickly, as well as maintain this effect for a minimum of 24 hours.
Based on these findings, the company expects a short course of IRL201104 treatment to result in a marked decrease in the numbers of infiltrating neutrophils into the lung.
This could in turn reduce the overwhelming inflammatory response and restore the levels of blood oxygen.
DVC president Gary Nabors said: "Immune Regulation has a unique solution to the problem of ARDS, which is potentially fatal in patients with advanced Covid-19.
"DVC is excited to partner with Immune Regulation to bring ILR201104 to patients who are in need of more effective therapies."
As part of the teaming agreement, Immune Regulation and DynPort will conduct clinical trials of the drug candidate to treat ARDS in Covid-19 patients in the US.
Free Case Study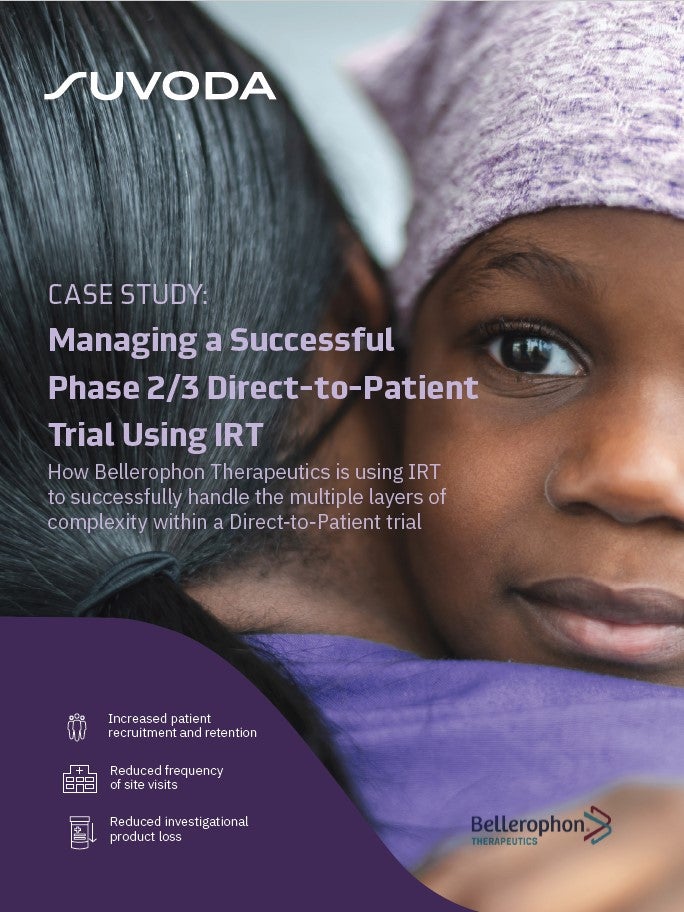 Direct-to-Patient Trials: How IRT Plays an Important Role in Bellerophon's Direct-to-Patient Trials
As the industry strengthens its focus on patient centricity, Direct-to-Patient clinical trials have emerged as a popular trial design that have the potential to increase patient recruitment and retention. IRT plays a crucial role in the success of a Direct-to-Patient trial. Because drug supplies are being managed and shipped from distribution facilities directly to patients' homes, a sponsor must have a high-quality system in place to accurately track the chain of custody, ensure patient-blinding and handle other logistical challenges. What You Will Learn Benefits and challenges associated with the Direct-to-Patient model Bellerophon's top considerations when implementing this trial design How IRT can equip study teams to successfully track chain of custody, ensure patient blinding, and handle logistical challenges
by Suvoda