US-based biopharmaceutical firm Immunic has begun dosing patients in the Phase II CALVID-1 clinical trial of IMU-838 to treat patients with Covid-19.
Free Case Study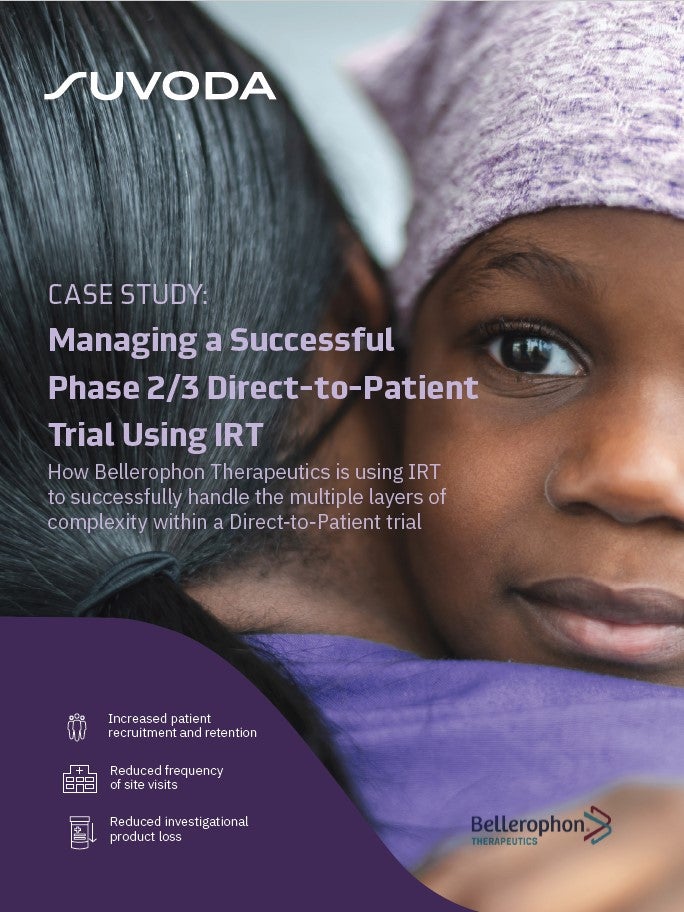 Direct-to-Patient Trials: How IRT Plays an Important Role in Bellerophon's Direct-to-Patient Trials
As the industry strengthens its focus on patient centricity, Direct-to-Patient clinical trials have emerged as a popular trial design that have the potential to increase patient recruitment and retention. IRT plays a crucial role in the success of a Direct-to-Patient trial. Because drug supplies are being managed and shipped from distribution facilities directly to patients' homes, a sponsor must have a high-quality system in place to accurately track the chain of custody, ensure patient-blinding and handle other logistical challenges. What You Will Learn Benefits and challenges associated with the Direct-to-Patient model Bellerophon's top considerations when implementing this trial design How IRT can equip study teams to successfully track chain of custody, ensure patient blinding, and handle logistical challenges
by Suvoda
Dosing was carried out at multiple sites across various European countries. Patients will be recruited at ten to 35 centers in Germany, the US, and six European countries.
IMU-838 is an oral, selective immune modulator designed to block the intracellular metabolism of activated immune cells by inhibiting the dihydroorotate dehydrogenase (DHODH) enzyme.
The drug candidate targets activated T and B cells and is currently in Phase II trials to treat patients with relapsing-remitting multiple sclerosis and ulcerative colitis.
CALVID-1 secured approval from the German health authority, BfArM, the US Food and Drug Administration (FDA), and regulatory agencies in other European countries participating in the study.
The prospective, multi-centre, randomised, placebo-controlled, double-blind trial will assess the safety, efficacy and tolerability of IMU-838 in patients with moderate Covid-19.
Immunic CEO and president Daniel Vitt said: "Dosing of the first patients in our CALVID-1 trial represents a key milestone in advancing our lead asset, IMU-838, as a potential, novel treatment option for Covid-19.
"Moreover, the CALVID-1 trial is an important strategic expansion of our clinical development of IMU-838 and adds another near-term data readout to our pipeline."
The aim of the study is to evaluate the ability of the drug candidate to improve symptoms, prevent worsening and the need for further treatments such as ventilation, and lower virus number when given along with the doctor's choice of standard therapy.
The primary outcome measure of the CALVID-1 trial is the proportion of patients without any requirement for INV during the study duration.
Top-line results from the trial are expected to be available later this year.
Free Case Study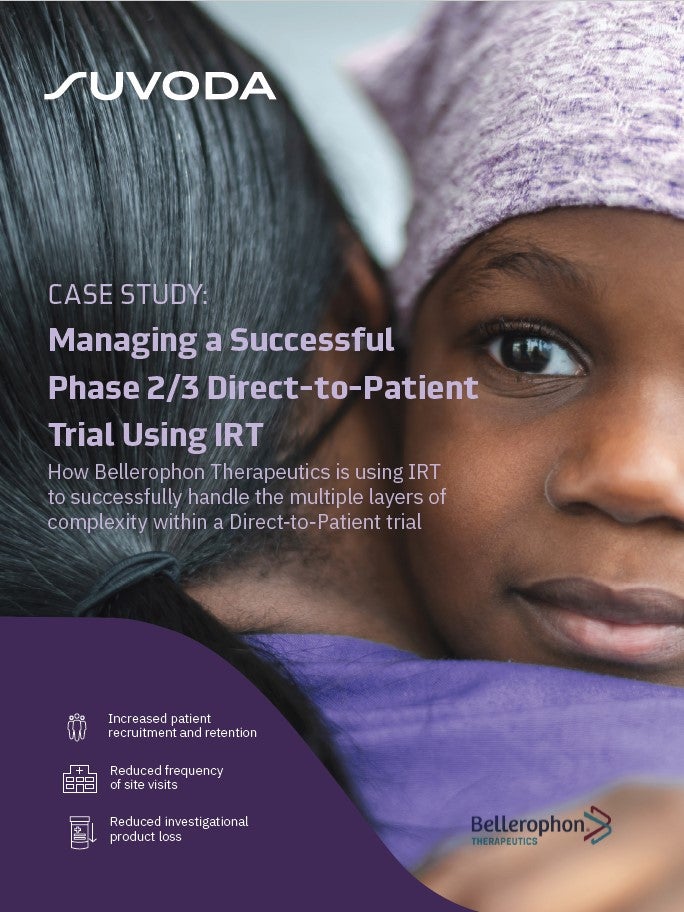 Direct-to-Patient Trials: How IRT Plays an Important Role in Bellerophon's Direct-to-Patient Trials
As the industry strengthens its focus on patient centricity, Direct-to-Patient clinical trials have emerged as a popular trial design that have the potential to increase patient recruitment and retention. IRT plays a crucial role in the success of a Direct-to-Patient trial. Because drug supplies are being managed and shipped from distribution facilities directly to patients' homes, a sponsor must have a high-quality system in place to accurately track the chain of custody, ensure patient-blinding and handle other logistical challenges. What You Will Learn Benefits and challenges associated with the Direct-to-Patient model Bellerophon's top considerations when implementing this trial design How IRT can equip study teams to successfully track chain of custody, ensure patient blinding, and handle logistical challenges
by Suvoda