Immunocore has dosed the first patient in a Phase I trial to investigate the safety and tolerability of IMCnyeso for the treatment of patients with non-small cell lung cancer (NSCLC), bladder cancer, melanoma and synovial sarcoma, NY-ESO-1 and/or LAGE-1A positive.
Free Case Study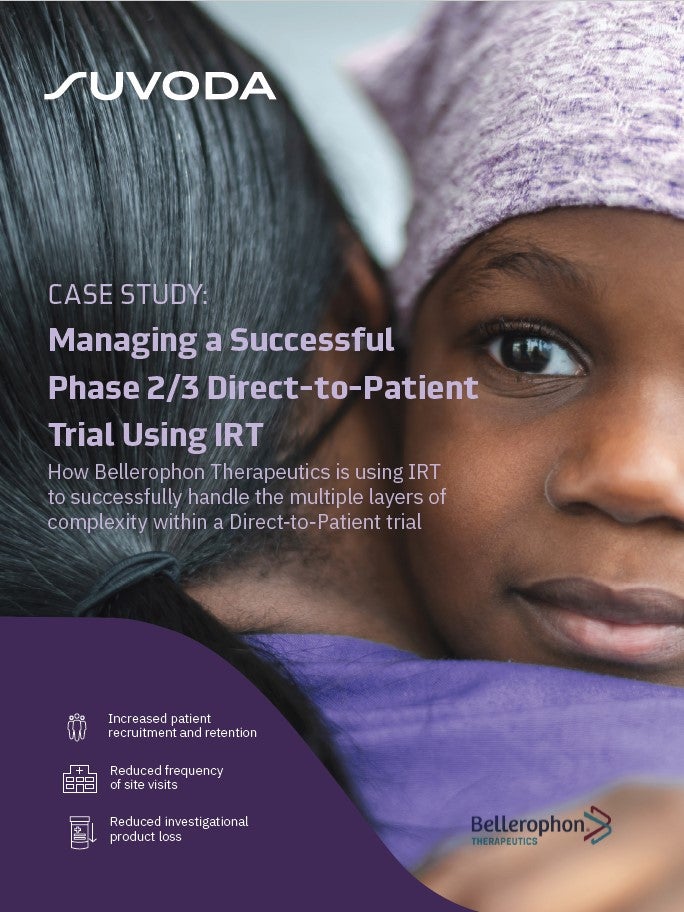 Direct-to-Patient Trials: How IRT Plays an Important Role in Bellerophon's Direct-to-Patient Trials
As the industry strengthens its focus on patient centricity, Direct-to-Patient clinical trials have emerged as a popular trial design that have the potential to increase patient recruitment and retention. IRT plays a crucial role in the success of a Direct-to-Patient trial. Because drug supplies are being managed and shipped from distribution facilities directly to patients' homes, a sponsor must have a high-quality system in place to accurately track the chain of custody, ensure patient-blinding and handle other logistical challenges. What You Will Learn Benefits and challenges associated with the Direct-to-Patient model Bellerophon's top considerations when implementing this trial design How IRT can equip study teams to successfully track chain of custody, ensure patient blinding, and handle logistical challenges
by Suvoda
NSCLC is a type of epithelial lung cancer other than small cell lung carcinoma (SCLC), while bladder cancer is a kind of cancer arising from tissues of the urinary bladder leading to the abnormal growth of cells, which has the potential to spread to other parts of the body.
Melanoma is a type of cancer that develops from pigment-containing cells called melanocytes which usually occur in the skin, while synovial sarcoma is a rare form of cancer that occurs primarily in the extremities of the arms or legs.
The Phase I trial is being conducted under an ongoing collaboration reached between GlaxoSmithKline (GSK) and Immunocore in 2013, and also represents the first programme under the collaboration to enter clinical development.
"This is the first partnered programme to commence dosing in patients, representing a critical milestone in our collaboration."
As part of the collaboration, Immunocore looks after all the pre-clinical development and the initial clinical trial in patients for each of the first two target programmes.
Once each programme option is exercised, GSK will look after the remaining development and commercialisation activities for the target.
Immunocore Biology director and head Joseph Dukes said: "This is the first partnered programme to commence dosing in patients, representing a critical milestone in our collaboration.
"It puts this promising programme onto a clinical development path, which we hope will ultimately result in a new treatment option for patients with some of the most difficult-to-treat tumours."
IMCnyeso is an investigational Immune mobilising monoclonal T-cell receptors Against Cancer (ImmTAC) molecule.
Free Case Study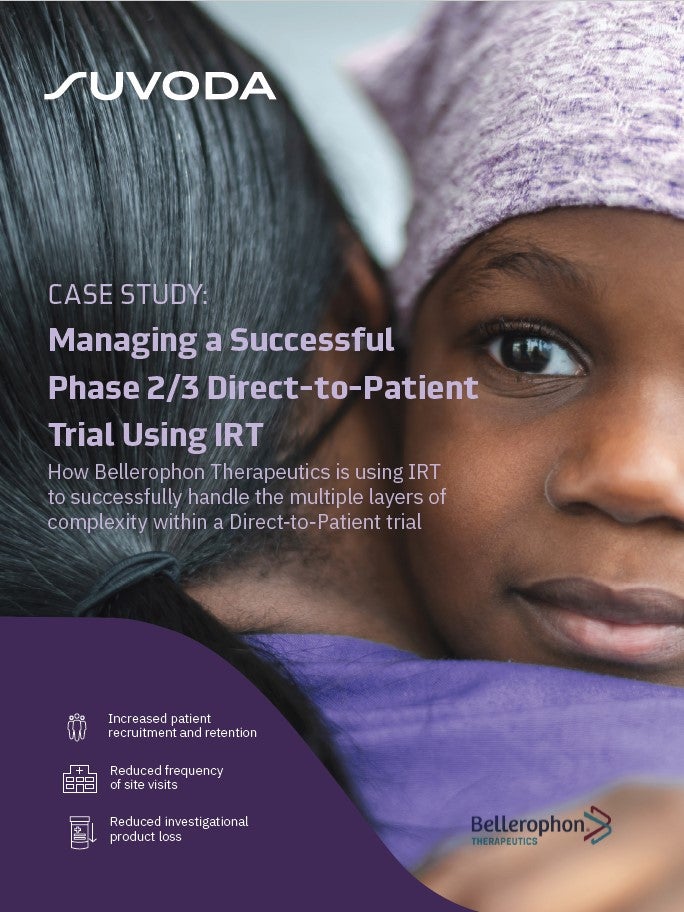 Direct-to-Patient Trials: How IRT Plays an Important Role in Bellerophon's Direct-to-Patient Trials
As the industry strengthens its focus on patient centricity, Direct-to-Patient clinical trials have emerged as a popular trial design that have the potential to increase patient recruitment and retention. IRT plays a crucial role in the success of a Direct-to-Patient trial. Because drug supplies are being managed and shipped from distribution facilities directly to patients' homes, a sponsor must have a high-quality system in place to accurately track the chain of custody, ensure patient-blinding and handle other logistical challenges. What You Will Learn Benefits and challenges associated with the Direct-to-Patient model Bellerophon's top considerations when implementing this trial design How IRT can equip study teams to successfully track chain of custody, ensure patient blinding, and handle logistical challenges
by Suvoda