US-based biotechnology company Impel NeuroPharma has commenced the Therapeutic Benefit of Intranasal Levodopa in Parkinson's Disease OFF Reversal (THOR 201) trial.
Free Case Study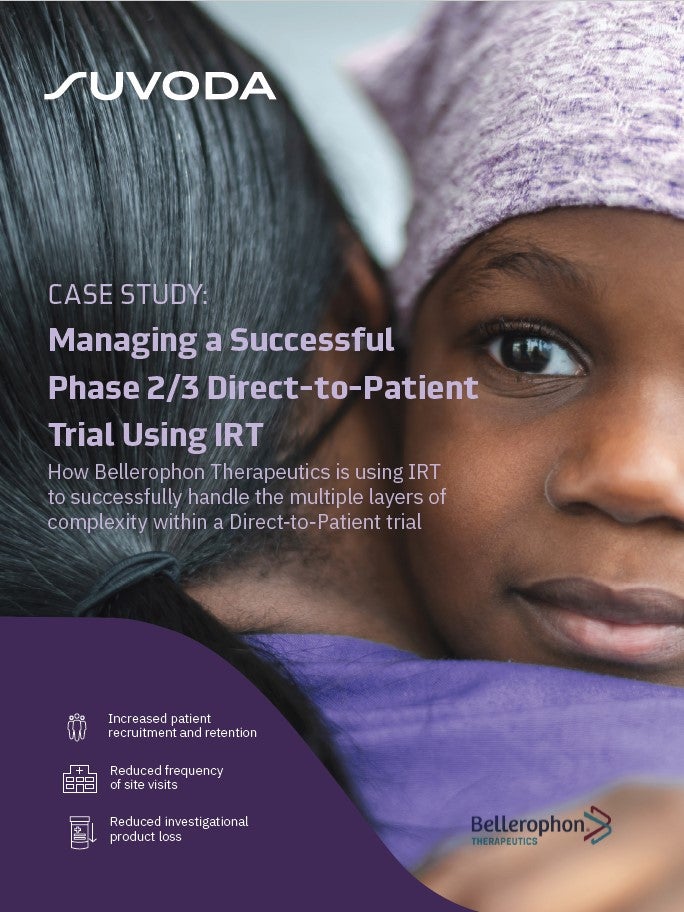 Direct-to-Patient Trials: How IRT Plays an Important Role in Bellerophon's Direct-to-Patient Trials
As the industry strengthens its focus on patient centricity, Direct-to-Patient clinical trials have emerged as a popular trial design that have the potential to increase patient recruitment and retention. IRT plays a crucial role in the success of a Direct-to-Patient trial. Because drug supplies are being managed and shipped from distribution facilities directly to patients' homes, a sponsor must have a high-quality system in place to accurately track the chain of custody, ensure patient-blinding and handle other logistical challenges. What You Will Learn Benefits and challenges associated with the Direct-to-Patient model Bellerophon's top considerations when implementing this trial design How IRT can equip study teams to successfully track chain of custody, ensure patient blinding, and handle logistical challenges
by Suvoda
The Phase IIa, randomised, double-blind, placebo-controlled, single-ascending dose (SAD) trial is designed to investigate the safety and pharmacodynamic effects of intranasal levodopa in Parkinson's disease (PD) patients during an OFF episode compared to placebo.
During the trial, the defined effects of levodopa will be studied following the administration of INP103 in the presence of benserazide.
INP103 is a new intranasal levodopa product that can be dosed via Impel's Precision Olfactory Delivery, (POD) platform.
The THOR 201 trial will include 24 patients, who will be randomised into one of three ascending-dose treatment arms, including 35mg, 70mg and 140mg against placebo. Each arm will comprise eight subjects.
"During the trial, the defined effects of levodopa will be studied following the administration of INP103 in the presence of benserazide."
The trial's primary endpoint is safety and tolerability over the immediate 240 minutes following dosing and over seven days of follow up.
Its secondary endpoints feature evaluation of the pharmacokinetic profile of levodopa and pharmacodynamic effect of INP103 in the 120 minutes following dosing.
Impel NeuroPharma chief medical officer Dr Stephen Shrewsbury said: "We believe that Impel's POD device will consistently and predictably deliver intranasal levodopa to Parkinson's patients, to reverse their OFF time and gain a meaningful improvement in their activities of daily living.
"We look forward to reporting topline results from this study in the second half of 2018."
PD is estimated to affect one million people in the US. It is a progressive neurodegenerative disease caused by the loss of dopamine-producing neurons and leads to tremor, rigidity and uncontrollable movements.
Free Case Study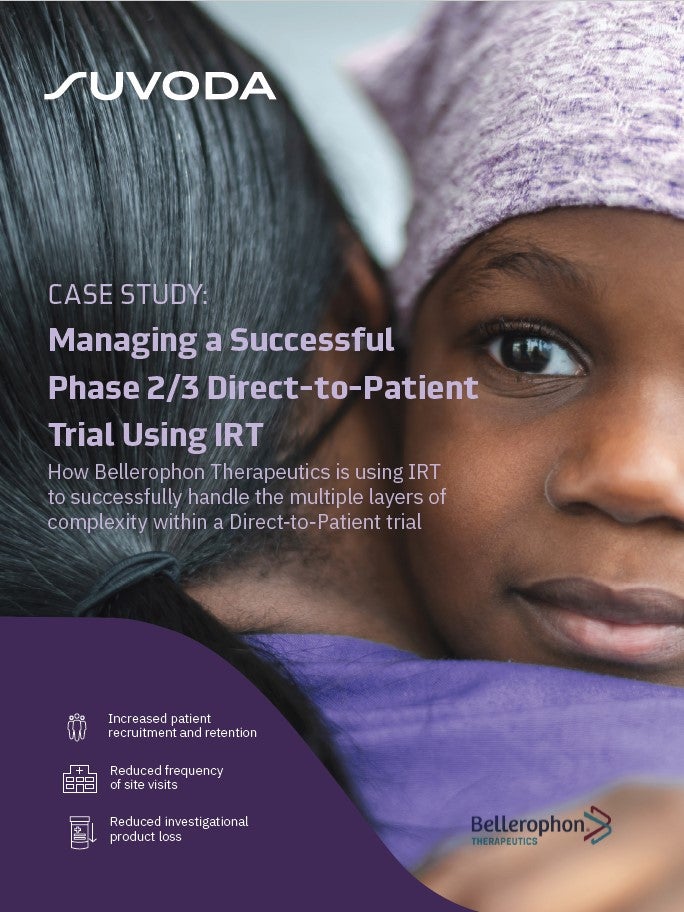 Direct-to-Patient Trials: How IRT Plays an Important Role in Bellerophon's Direct-to-Patient Trials
As the industry strengthens its focus on patient centricity, Direct-to-Patient clinical trials have emerged as a popular trial design that have the potential to increase patient recruitment and retention. IRT plays a crucial role in the success of a Direct-to-Patient trial. Because drug supplies are being managed and shipped from distribution facilities directly to patients' homes, a sponsor must have a high-quality system in place to accurately track the chain of custody, ensure patient-blinding and handle other logistical challenges. What You Will Learn Benefits and challenges associated with the Direct-to-Patient model Bellerophon's top considerations when implementing this trial design How IRT can equip study teams to successfully track chain of custody, ensure patient blinding, and handle logistical challenges
by Suvoda