A clinical team at Imperial College London has administered a Covid-19 vaccine candidate to the first healthy participant in their clinical trial.
Free Case Study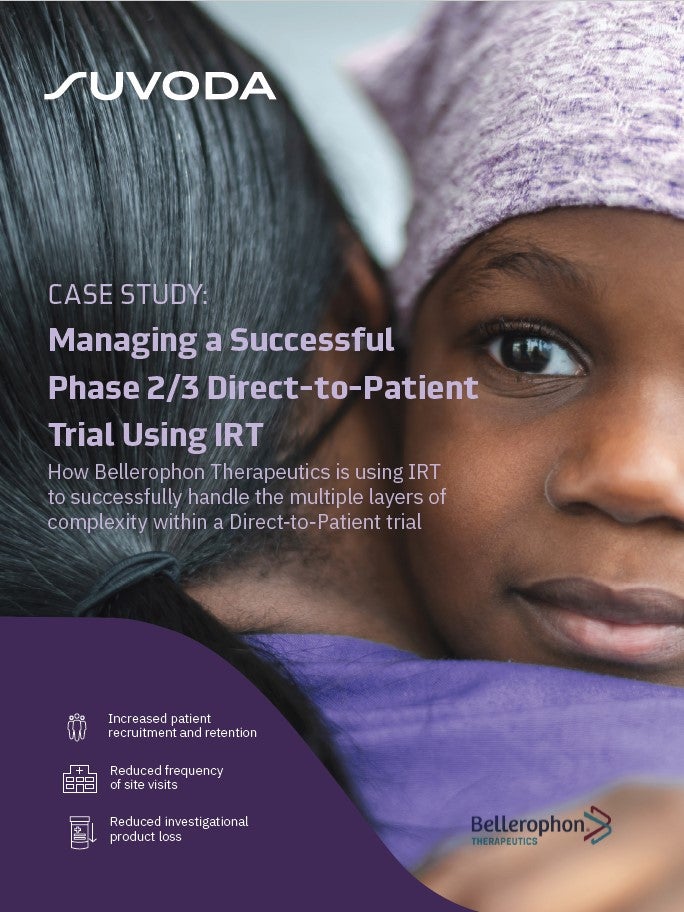 Direct-to-Patient Trials: How IRT Plays an Important Role in Bellerophon's Direct-to-Patient Trials
As the industry strengthens its focus on patient centricity, Direct-to-Patient clinical trials have emerged as a popular trial design that have the potential to increase patient recruitment and retention. IRT plays a crucial role in the success of a Direct-to-Patient trial. Because drug supplies are being managed and shipped from distribution facilities directly to patients' homes, a sponsor must have a high-quality system in place to accurately track the chain of custody, ensure patient-blinding and handle other logistical challenges. What You Will Learn Benefits and challenges associated with the Direct-to-Patient model Bellerophon's top considerations when implementing this trial design How IRT can equip study teams to successfully track chain of custody, ensure patient blinding, and handle logistical challenges
by Suvoda
A small dose of the vaccine was given to the volunteer at a West London facility.
The development and clinical trials of this Covid-19 vaccine candidate are supported by more than £41m funding from the UK Government and an additional £5m in philanthropic donations.
Based on a new self-amplifying RNA (saRNA) technology, the vaccine was found to be safe and generated promising evidence of an effective immune response in pre-clinical safety tests and animal studies.
Imperial College London Infectious Disease department professor Robin Shattock said: "The first participant marks an important step for our saRNA vaccine platform, which has never before been trialled in humans.
"We now eagerly await rapid recruitment to the trial so that we can assess both the safety of the vaccine and its ability to produce neutralising antibodies, which would indicate an effective response against Covid-19."
The volunteer who received the first dose will be given a second booster dose within four weeks. Multiple other participants are set to receive a first dose over the coming days.
Participants will be monitored for safety and generation of antibodies against SARS-CoV-2.
Initially, 15 healthy volunteers in the trial will be given a low dose of Imperial vaccine, followed by increasingly higher doses for subsequent participants in order to evaluate safety and determine the optimal dosage.
Over the coming weeks, 300 healthy volunteers are set to receive two vaccine doses. If positive safety and immune response data is obtained, larger trials will be planned for later this year.
Imperial College London has established VacEquity Global Health (VGH), a new social enterprise, in collaboration with Morningside Ventures, to develop vaccines.
VGH will focus on the rapid development of vaccines and will distribute them in the UK and internationally, including to low and middle-income countries.
Free Case Study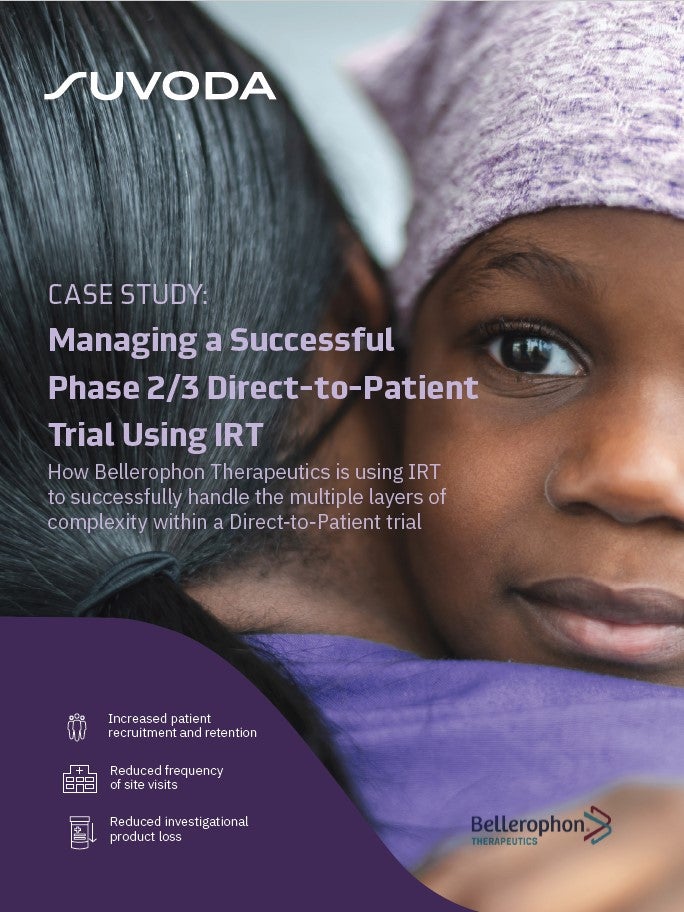 Direct-to-Patient Trials: How IRT Plays an Important Role in Bellerophon's Direct-to-Patient Trials
As the industry strengthens its focus on patient centricity, Direct-to-Patient clinical trials have emerged as a popular trial design that have the potential to increase patient recruitment and retention. IRT plays a crucial role in the success of a Direct-to-Patient trial. Because drug supplies are being managed and shipped from distribution facilities directly to patients' homes, a sponsor must have a high-quality system in place to accurately track the chain of custody, ensure patient-blinding and handle other logistical challenges. What You Will Learn Benefits and challenges associated with the Direct-to-Patient model Bellerophon's top considerations when implementing this trial design How IRT can equip study teams to successfully track chain of custody, ensure patient blinding, and handle logistical challenges
by Suvoda