Imugene has announced plans to evaluate two different versions of CF33 oncolytic virus technology in separate Phase I clinical trials.
Free Case Study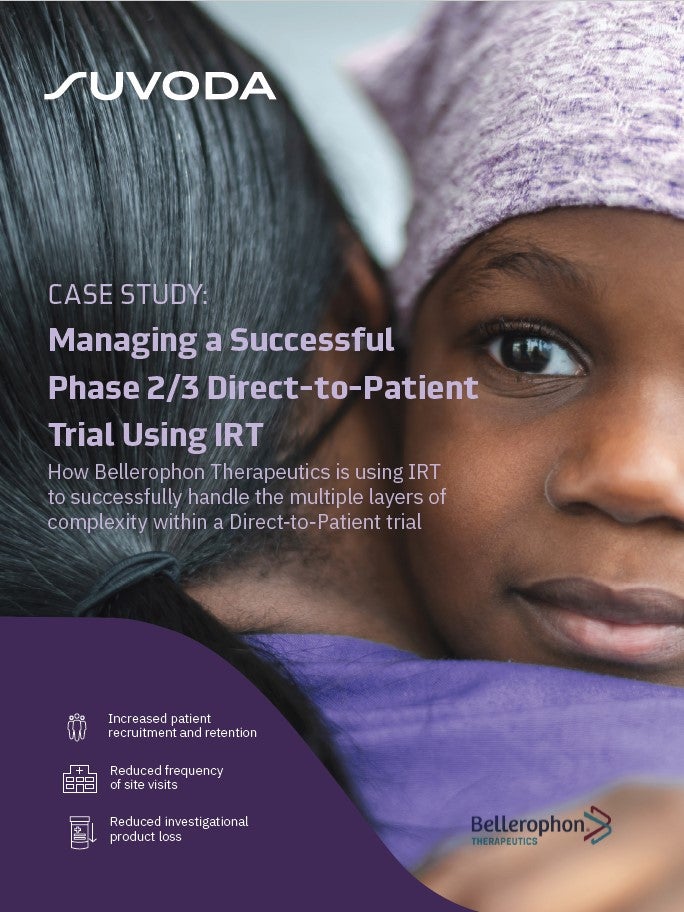 Direct-to-Patient Trials: How IRT Plays an Important Role in Bellerophon's Direct-to-Patient Trials
As the industry strengthens its focus on patient centricity, Direct-to-Patient clinical trials have emerged as a popular trial design that have the potential to increase patient recruitment and retention. IRT plays a crucial role in the success of a Direct-to-Patient trial. Because drug supplies are being managed and shipped from distribution facilities directly to patients' homes, a sponsor must have a high-quality system in place to accurately track the chain of custody, ensure patient-blinding and handle other logistical challenges. What You Will Learn Benefits and challenges associated with the Direct-to-Patient model Bellerophon's top considerations when implementing this trial design How IRT can equip study teams to successfully track chain of custody, ensure patient blinding, and handle logistical challenges
by Suvoda
The oncolytic virus was developed by City of Hope scientist professor Yuman Fong. Imugene expects to obtain an exclusive licence next month.
According to a preliminary clinical development plan (CDP) by the company, the CheckVacc and Vaxinia versions of the oncolytic virus will enter Phase I trials in 2020.
CheckVacc consists of an immune checkpoint inhibitor incorporated into the oncolytic virus, while Vaxinia is an 'unarmed' product.
In preclinical studies conducted at City of Hope, the combination of CF33 with an immune checkpoint inhibitor (ICI) yielded favourable results in patients with triple-negative breast cancer (TNBC).
An aggressive subtype of breast cancer, TNBC is estimated to impact 20% of breast cancer patients with poor prognosis at metastases diagnosis. The disease is said to lack effective targeted therapy.
Further research by Fong showed that the combination may help treat a wide cancer population.
Imugene's open-label, dose-escalating, non-randomised, single-centre Phase I study will assess the safety and efficacy of intratumoral administration of CheckVacc in metastatic TNBC patients with injectable metastatic lesions.
A separate multi-centre trial, named MAST, will investigate intratumoral and intravenous formulations of Vaxinia in solid tumours, including lung, TNBC, melanoma, bladder and gastrointestinal cancers.
Vaxinia is said to have shown encouraging activity in validated in-vivo models of pancreatic, colorectal, lung, TNBC and colon cancers.
Imugene added that the product demonstrated improved performance compared to Amgen and Genelux's oncolytic virus. Vaxinia also required lower dosage levels in preclinical animal models.
Free Case Study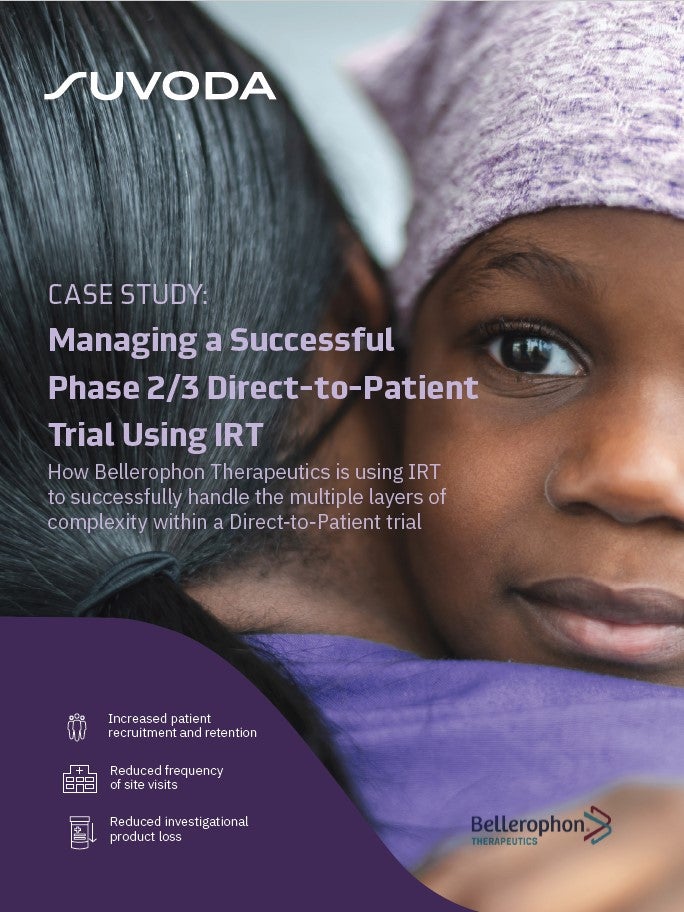 Direct-to-Patient Trials: How IRT Plays an Important Role in Bellerophon's Direct-to-Patient Trials
As the industry strengthens its focus on patient centricity, Direct-to-Patient clinical trials have emerged as a popular trial design that have the potential to increase patient recruitment and retention. IRT plays a crucial role in the success of a Direct-to-Patient trial. Because drug supplies are being managed and shipped from distribution facilities directly to patients' homes, a sponsor must have a high-quality system in place to accurately track the chain of custody, ensure patient-blinding and handle other logistical challenges. What You Will Learn Benefits and challenges associated with the Direct-to-Patient model Bellerophon's top considerations when implementing this trial design How IRT can equip study teams to successfully track chain of custody, ensure patient blinding, and handle logistical challenges
by Suvoda