InDex Pharmaceuticals has enrolled the first subject in the clinical pharmacokinetic (PK) trial of its drug candidate, cobitolimod, to locally treat colonic inflammation in individuals with ulcerative colitis (UC).
Free Case Study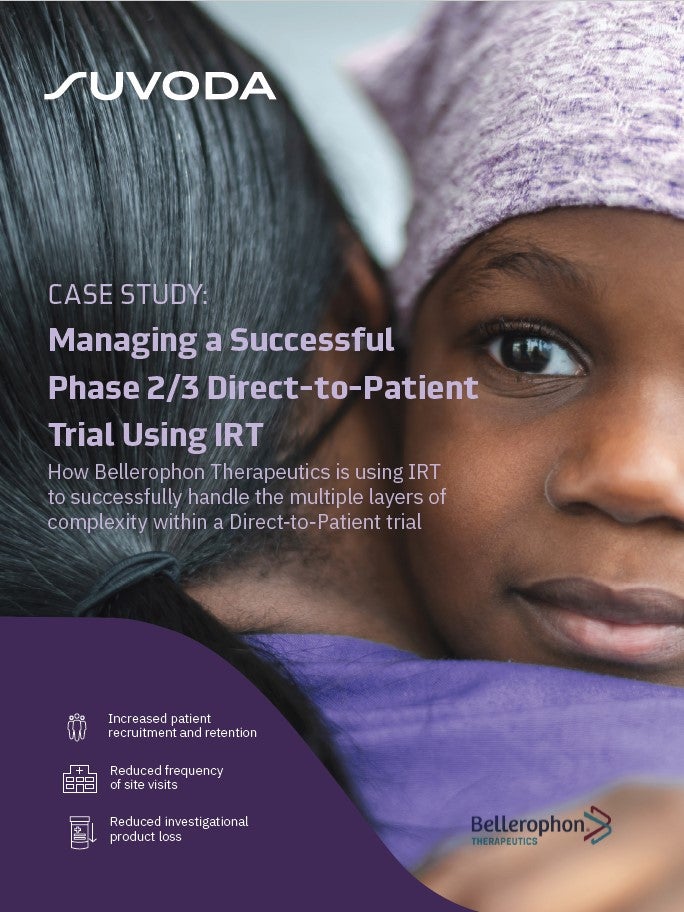 Direct-to-Patient Trials: How IRT Plays an Important Role in Bellerophon's Direct-to-Patient Trials
As the industry strengthens its focus on patient centricity, Direct-to-Patient clinical trials have emerged as a popular trial design that have the potential to increase patient recruitment and retention. IRT plays a crucial role in the success of a Direct-to-Patient trial. Because drug supplies are being managed and shipped from distribution facilities directly to patients' homes, a sponsor must have a high-quality system in place to accurately track the chain of custody, ensure patient-blinding and handle other logistical challenges. What You Will Learn Benefits and challenges associated with the Direct-to-Patient model Bellerophon's top considerations when implementing this trial design How IRT can equip study teams to successfully track chain of custody, ensure patient blinding, and handle logistical challenges
by Suvoda
A Toll-like receptor 9 (TLR9) agonist, cobitolimod can potentially offer a local anti‐inflammatory effect in the large intestine, which could stimulate mucosal healing and relieve the clinical symptoms of UC.
The trial will assess the systemic uptake of the drug to treat colonic inflammation enrolling a minimum of six subjects with moderate to severe UC.
These patients will receive 500mg doses of cobitolimod given rectally.
The uptake of the drug will initially be measured in active UC individuals and subsequently in those who respond to the therapy.
The study is carried out parallelly with the international Phase III CONCLUDE trial of cobitolimod that will recruit nearly 440 subjects in more than 30 countries.
The randomised, placebo-controlled, double-blind CONCLUDE trial will assess the drug as a new therapy to treat people with moderate to severe left-sided UC.
Last month, InDex had enrolled the first subject in the trial.
In the Phase IIb CONDUCT trial, cobitolimod met the primary goal and showed robust efficacy and safety.
Furthermore, the results from four prior placebo-controlled trials support the efficacy and safety found in the CONDUCT trial.
InDex Pharmaceuticals CEO Peter Zerhouni said: "With the PK study, we aim to confirm the limited systemic uptake of cobitolimod shown in previous preclinical and clinical studies.
"This likely contributes to cobitolimod's excellent safety profile and is a significant advantage compared to the current systemically administered drugs for ulcerative colitis that can cause severe off-target effects."
UC is a chronic disease that causes large intestine inflammation.
Free Case Study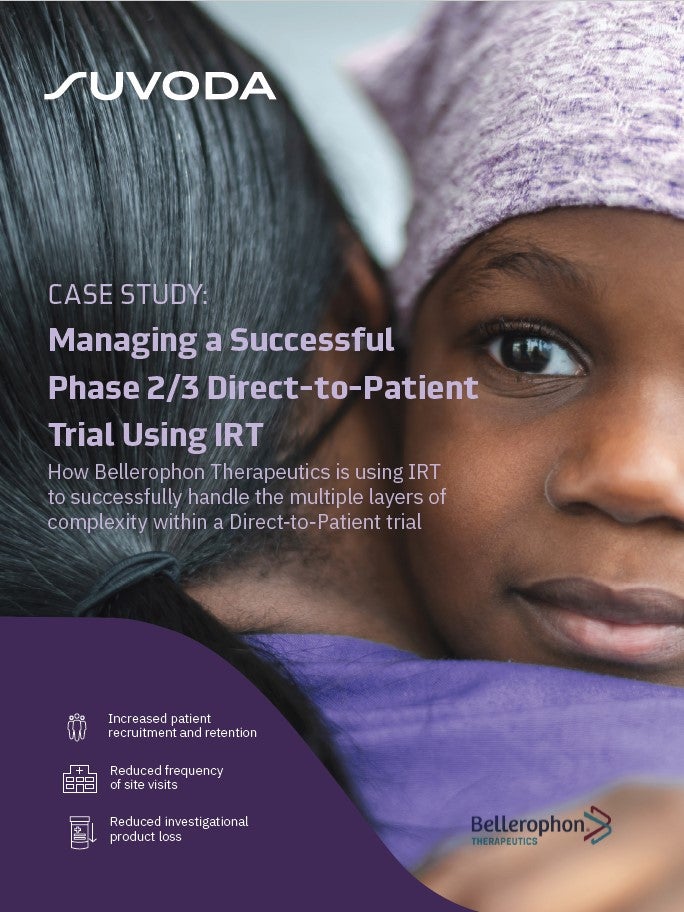 Direct-to-Patient Trials: How IRT Plays an Important Role in Bellerophon's Direct-to-Patient Trials
As the industry strengthens its focus on patient centricity, Direct-to-Patient clinical trials have emerged as a popular trial design that have the potential to increase patient recruitment and retention. IRT plays a crucial role in the success of a Direct-to-Patient trial. Because drug supplies are being managed and shipped from distribution facilities directly to patients' homes, a sponsor must have a high-quality system in place to accurately track the chain of custody, ensure patient-blinding and handle other logistical challenges. What You Will Learn Benefits and challenges associated with the Direct-to-Patient model Bellerophon's top considerations when implementing this trial design How IRT can equip study teams to successfully track chain of custody, ensure patient blinding, and handle logistical challenges
by Suvoda