Innovation Pharmaceuticals is set to increase dosing frequency in Phase II clinical trial of a drug candidate, Brilacidin, for treating moderate-to-severe Covid-19 in hospitalised patients.
Free Case Study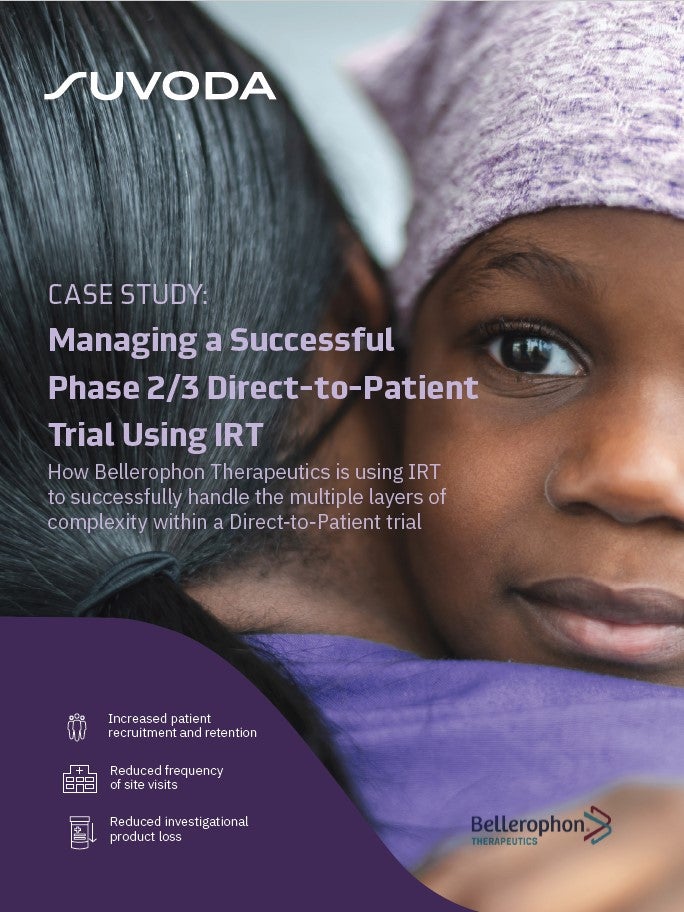 Direct-to-Patient Trials: How IRT Plays an Important Role in Bellerophon's Direct-to-Patient Trials
As the industry strengthens its focus on patient centricity, Direct-to-Patient clinical trials have emerged as a popular trial design that have the potential to increase patient recruitment and retention. IRT plays a crucial role in the success of a Direct-to-Patient trial. Because drug supplies are being managed and shipped from distribution facilities directly to patients' homes, a sponsor must have a high-quality system in place to accurately track the chain of custody, ensure patient-blinding and handle other logistical challenges. What You Will Learn Benefits and challenges associated with the Direct-to-Patient model Bellerophon's top considerations when implementing this trial design How IRT can equip study teams to successfully track chain of custody, ensure patient blinding, and handle logistical challenges
by Suvoda
A defensin-mimetic, Brilacidin is being developed by the company under Fast Track designation from the US Food and Drug Administration (FDA).
The latest development comes after an independent Data Monitoring Committee (DMC) concluded the review of the scheduled interim safety data from the randomised, double-blind, placebo-controlled trial.
Recruitment was paused on reaching 25% enrolment (30 patients) and the DMC carried out a pre-specified unblinded safety data review and evaluation.
After reviewing the data, the DMC advised increasing the dosing regimen of Brilacidin from three days to five days, as intended per the protocol, which has been implemented by Innovation Pharma.
The company has initiated recruitment for the five-day treatment regimen while efficacy data was not reviewed by the committee and is blinded.
Innovation Pharmaceuticals CEO Leo Ehrlich said: "We are thrilled with the recommendation of the DMC pertaining to the safety profile of Brilacidin, a drug that has repeatedly been shown in lab studies by virology experts as a top candidate for fighting infectious and resilient coronaviruses, including SARS-CoV-2, the pathogen responsible for Covid-19.
"There is a sense of urgency to develop novel pan-coronavirus therapeutics for Covid-19, particularly given the growing spread of variants worldwide, including P1 and B.1.1.7, which appear to be contributing to cases of infection cropping up in patients who have already been vaccinated."
The clinical rationale for expanding treatment duration is to offer an extended time of systemic Brilacidin exposure at a level that can robustly suppress SARS-CoV-2 virus replication and associated symptoms.
This could increase therapeutic benefits in hospitalised moderate to severe Covid-19 patients, the company noted.
A similar five-day dosing regimen is the recommended initial treatment time for Gilead Sciences' Veklury (remdesivir), an FDA-approved antiviral Covid-19 drug.
Free Case Study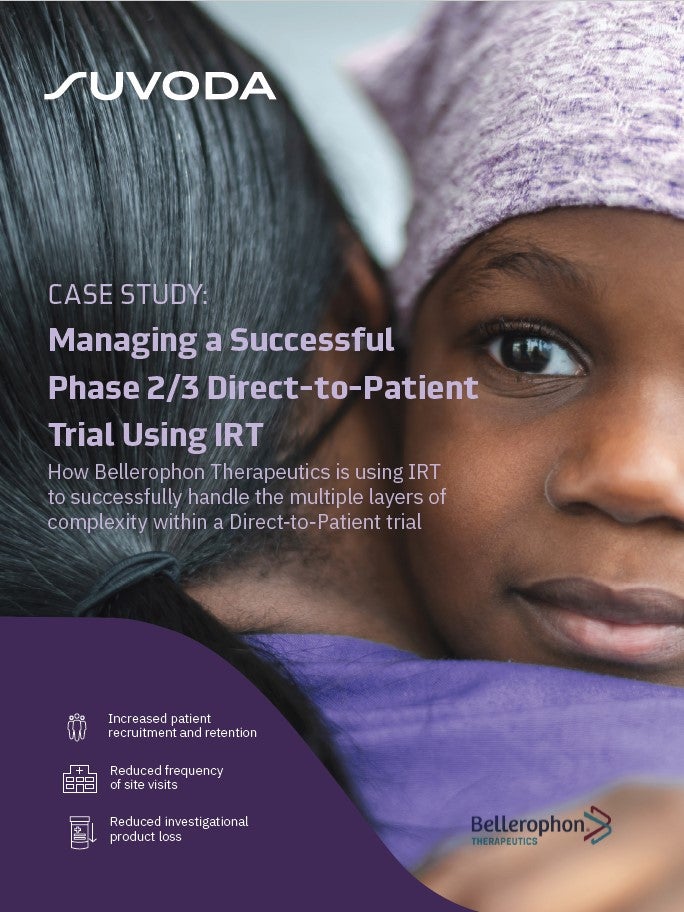 Direct-to-Patient Trials: How IRT Plays an Important Role in Bellerophon's Direct-to-Patient Trials
As the industry strengthens its focus on patient centricity, Direct-to-Patient clinical trials have emerged as a popular trial design that have the potential to increase patient recruitment and retention. IRT plays a crucial role in the success of a Direct-to-Patient trial. Because drug supplies are being managed and shipped from distribution facilities directly to patients' homes, a sponsor must have a high-quality system in place to accurately track the chain of custody, ensure patient-blinding and handle other logistical challenges. What You Will Learn Benefits and challenges associated with the Direct-to-Patient model Bellerophon's top considerations when implementing this trial design How IRT can equip study teams to successfully track chain of custody, ensure patient blinding, and handle logistical challenges
by Suvoda