Innovent Biologics has dosed the first subject in a Phase Ia clinical trial of a potential recombinant anti-CD47/PD-L1 bispecific antibody (IBI322) in the US for treating patients with advanced malignancies.
Free Case Study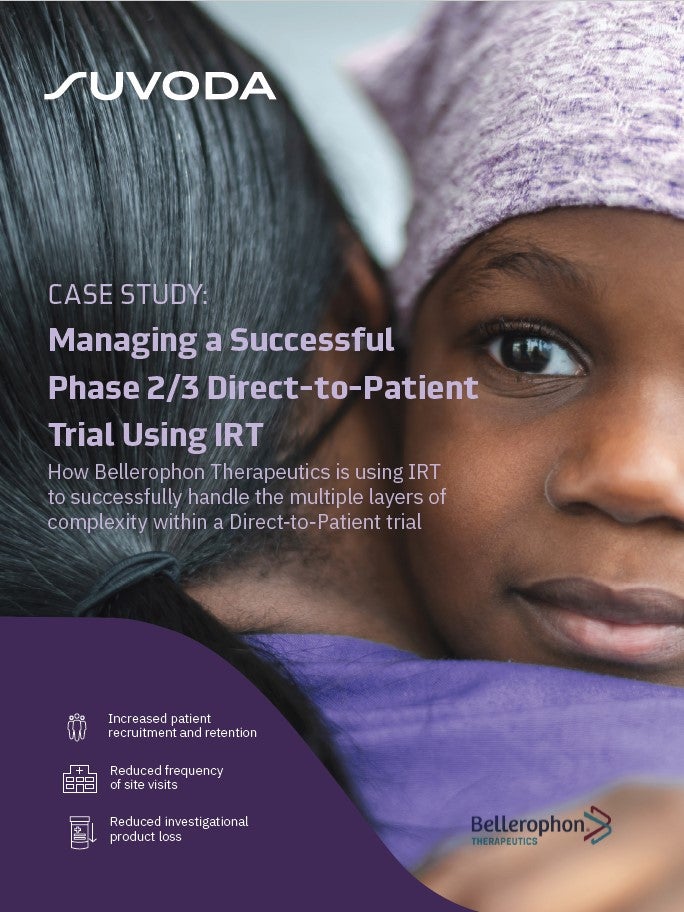 Direct-to-Patient Trials: How IRT Plays an Important Role in Bellerophon's Direct-to-Patient Trials
As the industry strengthens its focus on patient centricity, Direct-to-Patient clinical trials have emerged as a popular trial design that have the potential to increase patient recruitment and retention. IRT plays a crucial role in the success of a Direct-to-Patient trial. Because drug supplies are being managed and shipped from distribution facilities directly to patients' homes, a sponsor must have a high-quality system in place to accurately track the chain of custody, ensure patient-blinding and handle other logistical challenges. What You Will Learn Benefits and challenges associated with the Direct-to-Patient model Bellerophon's top considerations when implementing this trial design How IRT can equip study teams to successfully track chain of custody, ensure patient blinding, and handle logistical challenges
by Suvoda
IBI322 hinders both the PD-1/PD-L1 and CD47/ SIRP-α pathways.
In preclinical studies, it demonstrated the ability to effectively inhibit CD47–SIRP-α interactions and induce macrophages to phagocytise CD47 expressed tumour cells.
As IBI322 has increased affinity to tumour cells, it lowers the toxicity to normal tissue, offering a more effective therapy to cancer patients.
The antibody has received IND approval from both the NMPA and the US Food and Drug Administration (FDA).
Furthermore, preliminary results showed that that IBI322 had increased efficacy in vivo, tumour-rich distribution and improved safety over single-specific anti-CD47 antibody.
This is the first Phase I trial of IBI322 to be conducted outside of China. Analysing the safety, tolerability and initial anti-tumour efficacy of IBI322 in patients with advanced malignancies who have failed standard therapy is the study's primary objective.
Innovent Oncology Strategy and Medical Sciences vice-president and head Dr Hui Zhou said: "By targeting effector cells directly to tumour cells, bispecific monoclonal antibody enhances cytotoxicity, antibody selectivity and functional affinity.
"Bispecific monoclonal antibody could bring a lower-cost solution to patients compared with a combination of monoclonal antibody therapies.
"Therefore, the development of the anti-CD47/PD-L1 bispecific antibody will provide patients with a novel, comprehensive, effective and cost-saving treatment regimen."
Apart from this antibody, the company has a pipeline of 23 valuable assets in the areas of cancer, metabolic, autoimmune diseases, as well as major therapeutic areas.
Its four products, TYVYT (sintilimab injection), YVASDA (bevacizumab biosimilar injection), SULINNO (adalimumab biosimilar injection) and HALPRYZA (rituximab biosimilar injection), are approved for marketing in China.
Free Case Study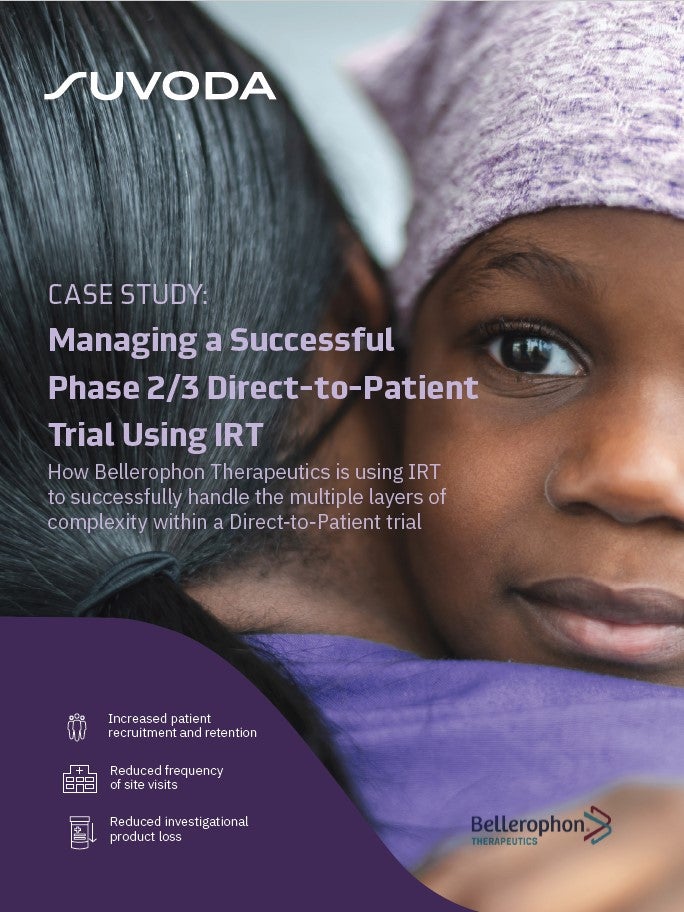 Direct-to-Patient Trials: How IRT Plays an Important Role in Bellerophon's Direct-to-Patient Trials
As the industry strengthens its focus on patient centricity, Direct-to-Patient clinical trials have emerged as a popular trial design that have the potential to increase patient recruitment and retention. IRT plays a crucial role in the success of a Direct-to-Patient trial. Because drug supplies are being managed and shipped from distribution facilities directly to patients' homes, a sponsor must have a high-quality system in place to accurately track the chain of custody, ensure patient-blinding and handle other logistical challenges. What You Will Learn Benefits and challenges associated with the Direct-to-Patient model Bellerophon's top considerations when implementing this trial design How IRT can equip study teams to successfully track chain of custody, ensure patient blinding, and handle logistical challenges
by Suvoda