Innovent Biologics has reported that two Phase III clinical trials, CREDIT-1 and CREDIT-4, analysing its antibody IBI306 for hypercholesterolemia met the primary endpoint. 
Free Case Study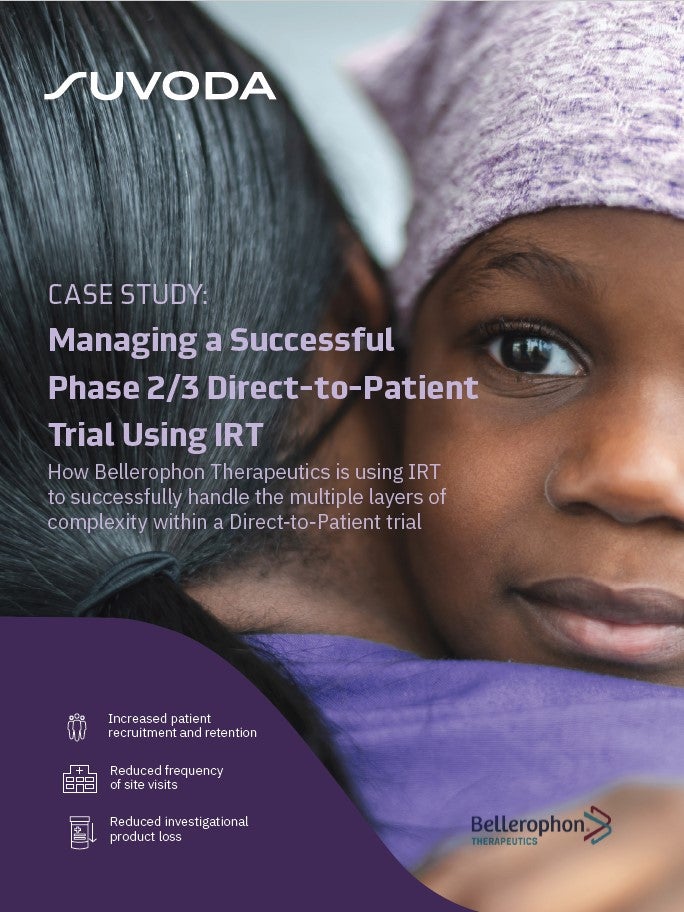 Direct-to-Patient Trials: How IRT Plays an Important Role in Bellerophon's Direct-to-Patient Trials
As the industry strengthens its focus on patient centricity, Direct-to-Patient clinical trials have emerged as a popular trial design that have the potential to increase patient recruitment and retention. IRT plays a crucial role in the success of a Direct-to-Patient trial. Because drug supplies are being managed and shipped from distribution facilities directly to patients' homes, a sponsor must have a high-quality system in place to accurately track the chain of custody, ensure patient-blinding and handle other logistical challenges. What You Will Learn Benefits and challenges associated with the Direct-to-Patient model Bellerophon's top considerations when implementing this trial design How IRT can equip study teams to successfully track chain of custody, ensure patient blinding, and handle logistical challenges
by Suvoda
The company expects to submit a new drug application (NDA) for IBI306 in China to treat individuals with primary hypercholesterolemia and combined hyperlipidemia.
The double-blind, randomised, placebo-controlled CREDIT-1 trial analysed the safety and efficacy of IBI306 in non-familial hypercholesterolemia (non-FH) patients with high/very high cardiovascular risk in China. 
The percentage decline from baseline in low-density lipoprotein cholesterol (LDL-C) following treatment for 48 weeks was the primary efficacy goal of this trial.
The randomised, double-blind, placebo-controlled CREDIT-4 trial also evaluated the safety and efficacy of IBI306 in individuals with hypercholesterolemia including non-FH and heterozygous familial hypercholesterolemia (HeFH) in China.
For this trial, the percentage decline in LDL-C from baseline following treatment for 12 weeks was the primary efficacy goal.
Results from both the trials showed that the LDL-C levels in the control arm were substantially lower as against the placebo arm.
Furthermore, IBI306 was found to have a good safety profile in the trials, in line with those of other PCSK-9 inhibitors marketed currently.
An immunoglobulin G2 (IgG2) fully human monoclonal antibody, IBI306 attaches to proprotein convertase subtilisin/kexin type 9 (PCSK9). 
It thereby lowers the levels of LDL-C by hindering low-density lipoprotein receptor (LDLR) endocytosis mediated by PCSK-9.
This approach boosts LDL-C clearance causing a drop in the level of LDL-C.
Innovent executive director Dr Lei Qian said: "The results of these two clinical studies, CREDIT-1 and CREDIT-4, further confirmed the clinical significance of IBI306 in the treatment of patients with different types of hypercholesterolemia in China.
"With the successive completion of various clinical studies, it is expected to propose a new drug application for IBI306 this year."
In August last year, Innovent reported that IBI306 met the primary goal of the Phase III CREDIT-2 trial in HeFH patients in China.
Free Case Study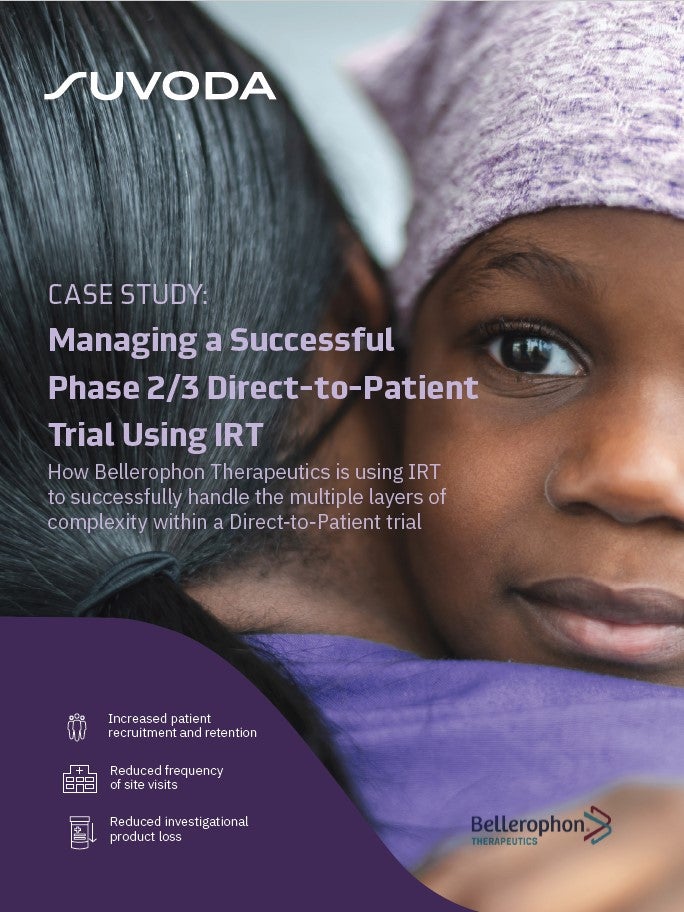 Direct-to-Patient Trials: How IRT Plays an Important Role in Bellerophon's Direct-to-Patient Trials
As the industry strengthens its focus on patient centricity, Direct-to-Patient clinical trials have emerged as a popular trial design that have the potential to increase patient recruitment and retention. IRT plays a crucial role in the success of a Direct-to-Patient trial. Because drug supplies are being managed and shipped from distribution facilities directly to patients' homes, a sponsor must have a high-quality system in place to accurately track the chain of custody, ensure patient-blinding and handle other logistical challenges. What You Will Learn Benefits and challenges associated with the Direct-to-Patient model Bellerophon's top considerations when implementing this trial design How IRT can equip study teams to successfully track chain of custody, ensure patient blinding, and handle logistical challenges
by Suvoda