The National Institutes of Health (NIH) in the US has reported that interferon beta-1a in combination with remdesivir did not boost outcomes in an ACTT-3 clinical trial in hospitalised adult Covid-19 pneumonia patients.
Free Case Study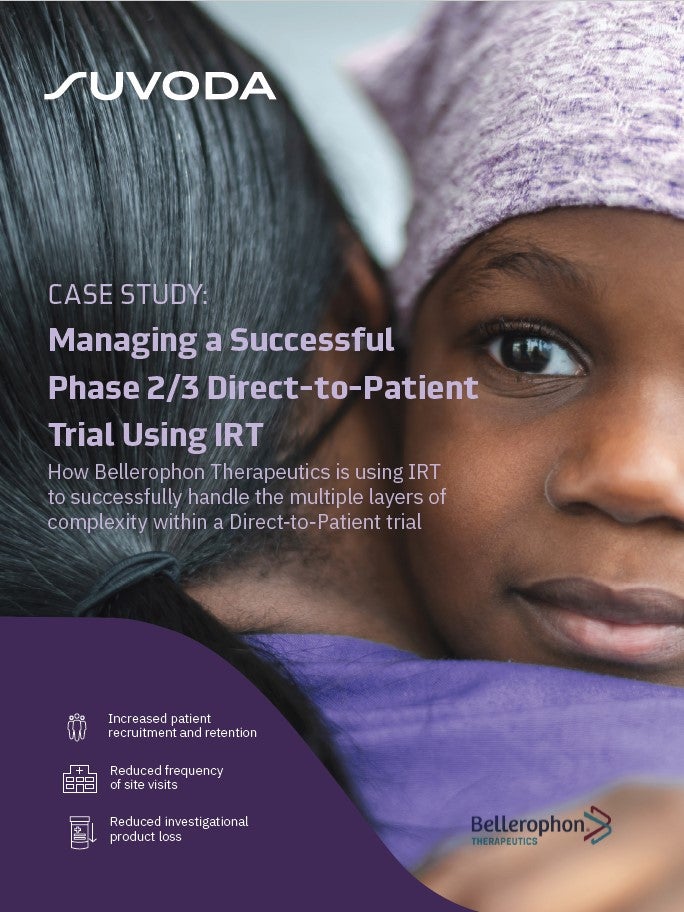 Direct-to-Patient Trials: How IRT Plays an Important Role in Bellerophon's Direct-to-Patient Trials
As the industry strengthens its focus on patient centricity, Direct-to-Patient clinical trials have emerged as a popular trial design that have the potential to increase patient recruitment and retention. IRT plays a crucial role in the success of a Direct-to-Patient trial. Because drug supplies are being managed and shipped from distribution facilities directly to patients' homes, a sponsor must have a high-quality system in place to accurately track the chain of custody, ensure patient-blinding and handle other logistical challenges. What You Will Learn Benefits and challenges associated with the Direct-to-Patient model Bellerophon's top considerations when implementing this trial design How IRT can equip study teams to successfully track chain of custody, ensure patient blinding, and handle logistical challenges
by Suvoda
A multiple sclerosis therapy, subcutaneous interferon beta-1a is produced and marketed by Merck KGaA, Darmstadt, Germany in the US while remdesivir is an antiviral manufactured by Gilead Sciences.
Sponsored and funded by NIH unit National Institute of Allergy and Infectious Diseases (NIAID), the trial recruited 969 subjects.
For enrolment, 63 sites were selected in the US, Mexico, Japan, South Korea and Singapore.
Subjects were randomised into a 1:1 ratio and given either interferon beta-1a plus remdesivir or placebo plus remdesivir.
The trial was carried out between 5 August and 21 December 2020.
Findings showed that interferon beta-1a in combination with remdesivir was not linked to clinical benefit versus remdesivir alone in hospitalised subjects with Covid-19.
Time to recovery was the primary outcome of the trial. Subjects treated with interferon beta-1a plus remdesivir, as well as those in the control arm had a median time to recovery of five days.
The chances of clinical improvement were also consistent across both trial arms at day 15.
The trial was amended on 4 September 2020 to suspend enrolment of severe Covid-19 patients who needed high-flow oxygen and exempt those who required non-invasive or invasive mechanical ventilation.
Modifications were made after the Data and Safety Monitoring Board (DSMB) of the trial found an increased frequency of severe adverse events in a subgroup of subjects needing high-flow oxygen on receiving interferon beta-1a.
The ACTT-3 trial investigators estimate that interferon could have amplified the inflammatory response, causing very severe respiratory disease in these subjects.
They added that the severe outcome could have arisen due to baseline imbalances between the interferon and control arms.
Remdesivir was used as an active control in the ACTT-3 trial as it demonstrated to be superior against placebo in reducing the time to recovery in hospitalised adult Covid-19 patients in the ACTT-1 trial.
This August, NIH commenced a trial to analyse a booster shot of an authorised or approved Covid-19 vaccine in autoimmune disease patients.
Free Case Study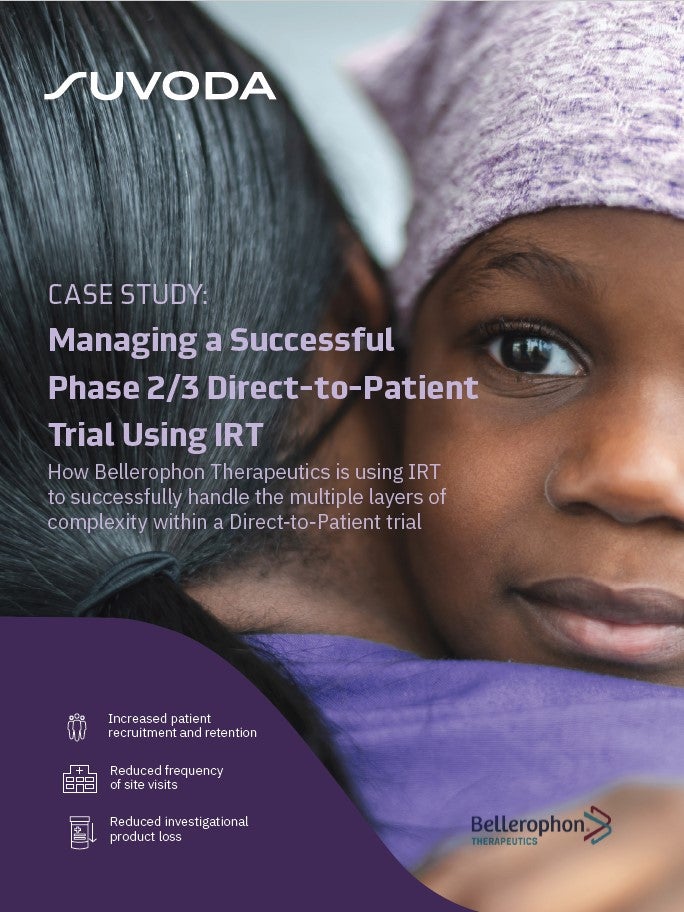 Direct-to-Patient Trials: How IRT Plays an Important Role in Bellerophon's Direct-to-Patient Trials
As the industry strengthens its focus on patient centricity, Direct-to-Patient clinical trials have emerged as a popular trial design that have the potential to increase patient recruitment and retention. IRT plays a crucial role in the success of a Direct-to-Patient trial. Because drug supplies are being managed and shipped from distribution facilities directly to patients' homes, a sponsor must have a high-quality system in place to accurately track the chain of custody, ensure patient-blinding and handle other logistical challenges. What You Will Learn Benefits and challenges associated with the Direct-to-Patient model Bellerophon's top considerations when implementing this trial design How IRT can equip study teams to successfully track chain of custody, ensure patient blinding, and handle logistical challenges
by Suvoda