Iterative Scopes and Pfizer have signed an artificial intelligence-driven data sharing agreement to advance clinical trials for inflammatory bowel disease (IBD).
Free Case Study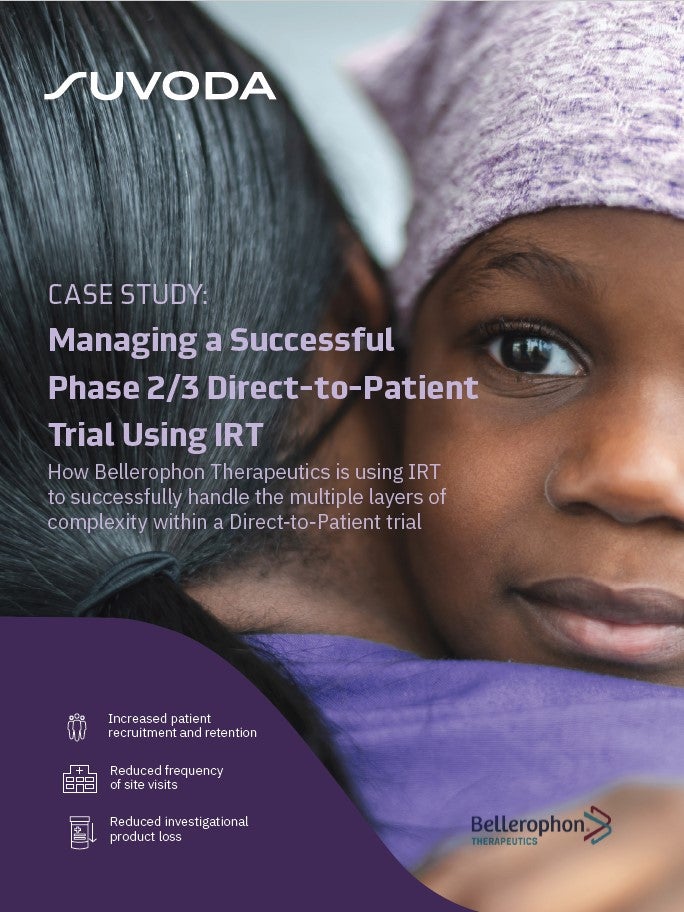 Direct-to-Patient Trials: How IRT Plays an Important Role in Bellerophon's Direct-to-Patient Trials
As the industry strengthens its focus on patient centricity, Direct-to-Patient clinical trials have emerged as a popular trial design that have the potential to increase patient recruitment and retention. IRT plays a crucial role in the success of a Direct-to-Patient trial. Because drug supplies are being managed and shipped from distribution facilities directly to patients' homes, a sponsor must have a high-quality system in place to accurately track the chain of custody, ensure patient-blinding and handle other logistical challenges. What You Will Learn Benefits and challenges associated with the Direct-to-Patient model Bellerophon's top considerations when implementing this trial design How IRT can equip study teams to successfully track chain of custody, ensure patient blinding, and handle logistical challenges
by Suvoda
The agreement is aimed at expediting the development of potential new therapies to treat patients with IBD globally.
Under the deal, Iterative Scopes will gain access to an IBD clinical trial database of Pfizer, which will aid the former in improving its disease severity scoring algorithms.
Disease severity scoring systems, such as the Mayo Endoscopic Score (MES), are presently utilised for meeting inclusion criteria in IBD clinical trials, as well as to assess primary and secondary endpoints. 
Such metrics are subjective and based on the experience and intuition of the physician.
Furthermore, they pose subject recruitment and workflow challenges.
These challenges can be resolved by combining computational algorithms of Iterative Scopes with existing colonoscopy imagery to decide on eligibility for the trials.
The computational software automates colonoscopy video interpretation, aiding the trial investigators to attain standardised MES scores for individual patients.
Iterative Scopes Engineering senior vice-president Jean-Pierre Schott said: "We are excited to harness machine learning and computer vision to ultimately aid physicians and help them improve clinical outcomes for IBD patients earlier and with greater success.
"This agreement will leverage certain Pfizer patient research, along with the Iterative Scopes technological advancements to assess colon health faster and with greater granularity, and possibly improve the quality of life for thousands of patients."
In December last year, Iterative and its investors raised $150m in a Series B funding round.
Free Case Study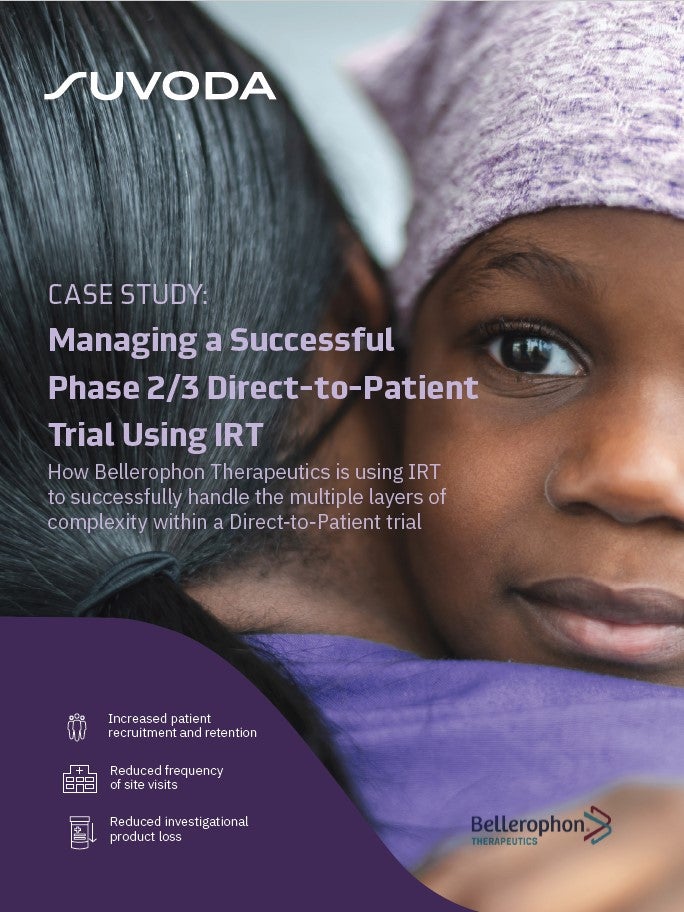 Direct-to-Patient Trials: How IRT Plays an Important Role in Bellerophon's Direct-to-Patient Trials
As the industry strengthens its focus on patient centricity, Direct-to-Patient clinical trials have emerged as a popular trial design that have the potential to increase patient recruitment and retention. IRT plays a crucial role in the success of a Direct-to-Patient trial. Because drug supplies are being managed and shipped from distribution facilities directly to patients' homes, a sponsor must have a high-quality system in place to accurately track the chain of custody, ensure patient-blinding and handle other logistical challenges. What You Will Learn Benefits and challenges associated with the Direct-to-Patient model Bellerophon's top considerations when implementing this trial design How IRT can equip study teams to successfully track chain of custody, ensure patient blinding, and handle logistical challenges
by Suvoda