The International Vaccine Institute (IVI) and Seoul National University (SNU) Hospital have partnered to conduct a Phase I/II clinical trial of Inovio Pharmaceuticals' Covid-19 vaccine, INO-4800, in South Korea.
Free Case Study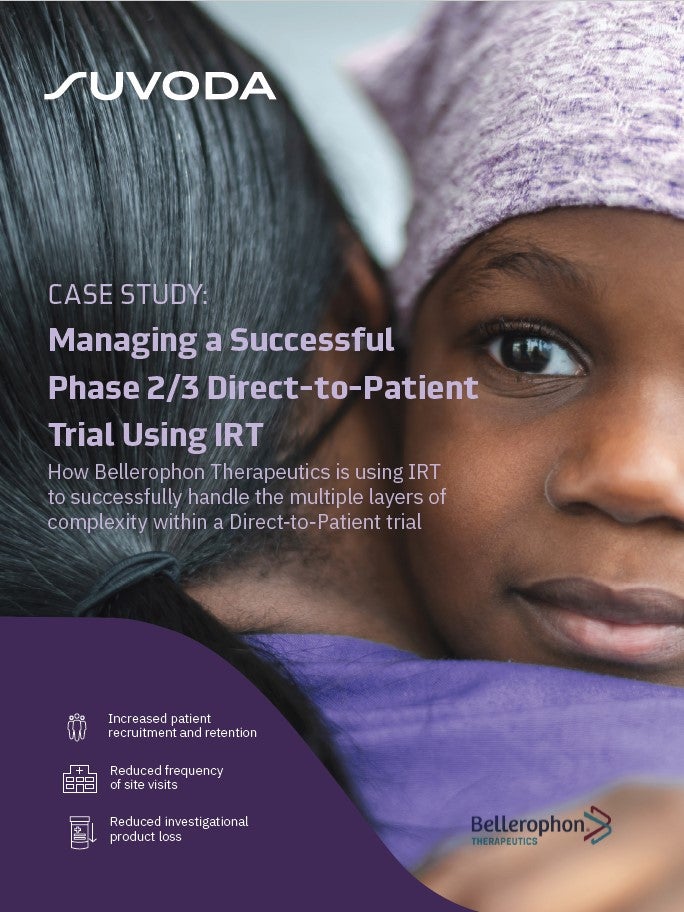 Direct-to-Patient Trials: How IRT Plays an Important Role in Bellerophon's Direct-to-Patient Trials
As the industry strengthens its focus on patient centricity, Direct-to-Patient clinical trials have emerged as a popular trial design that have the potential to increase patient recruitment and retention. IRT plays a crucial role in the success of a Direct-to-Patient trial. Because drug supplies are being managed and shipped from distribution facilities directly to patients' homes, a sponsor must have a high-quality system in place to accurately track the chain of custody, ensure patient-blinding and handle other logistical challenges. What You Will Learn Benefits and challenges associated with the Direct-to-Patient model Bellerophon's top considerations when implementing this trial design How IRT can equip study teams to successfully track chain of custody, ensure patient blinding, and handle logistical challenges
by Suvoda
This is the first trial of a Covid-19 vaccine approved in Korea. The trial will evaluate the safety, tolerability and immunogenicity of the DNA vaccine candidate in 40 healthy adults aged 19-50 years.
In addition, the trial will enrol 120 participants aged 19-64 years. It is scheduled to begin later this month.
Funded by the Coalition for Epidemic Preparedness Innovations (CEPI) via Inovio, the study is supported by the Korea Center for Disease Control and Prevention/Korea National Institute of Health.
IVI director general Dr Jerome Kim said: "We are thrilled to start the clinical trials of a COVID-19 vaccine candidate in collaboration with SNU Hospitals and with support from KCDC/KNIH.
"South Korea is one of the first countries in the world set to test a Covid-19 vaccine, and we are happy to collaborate with South Korean partners to accelerate clinical development of a COVID-19 vaccine through our partnership with Inovio and CEPI."
The trial will be performed two months after Inovio commenced a similar study in the US in early April this year.
Inovio Pharmaceuticals president and CEO Dr Joseph Kim said: "As part of Inovio's global coalition of Covid-19 vaccine collaborators, funders and manufacturers we look forward with enthusiasm to advance our DNA vaccine in partnership with the IVI and Seoul National University Hospital to rapidly begin clinical trials in Korea.
"We will soon have Phase I data from a US trial of INO-4800 and plan to begin Phase II/III trials in mid-summer. We thank IVI and SNU Hospital for their work to speed the Korea trial of INO-4800."
Previously, IVI and SNU Hospitals partnered to perform Phase I/IIa trials of a MERS vaccine, which was developed by Inovio and South Korea-based GeneOne Life Science.
Free Case Study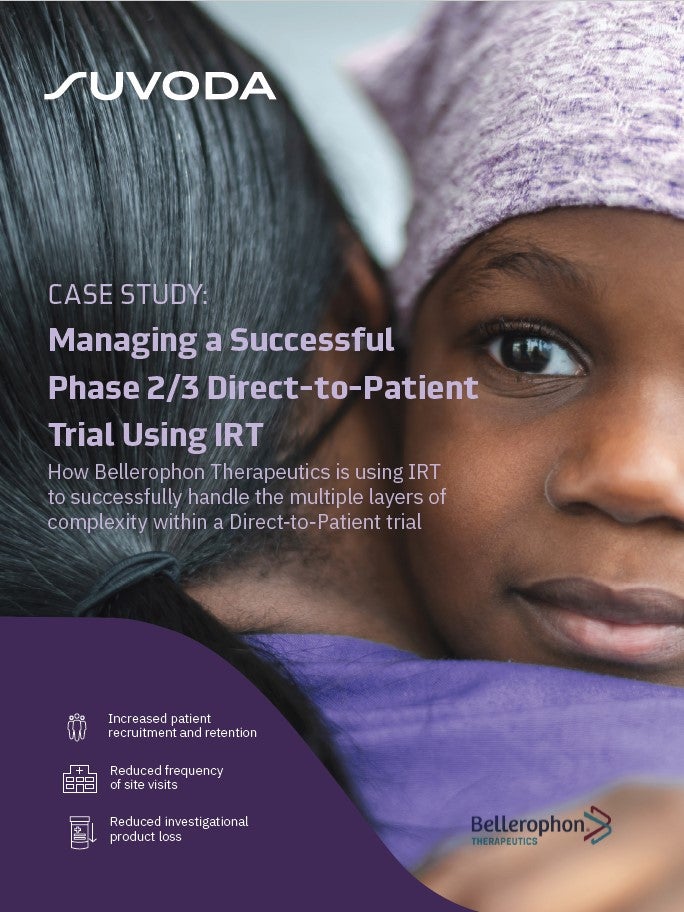 Direct-to-Patient Trials: How IRT Plays an Important Role in Bellerophon's Direct-to-Patient Trials
As the industry strengthens its focus on patient centricity, Direct-to-Patient clinical trials have emerged as a popular trial design that have the potential to increase patient recruitment and retention. IRT plays a crucial role in the success of a Direct-to-Patient trial. Because drug supplies are being managed and shipped from distribution facilities directly to patients' homes, a sponsor must have a high-quality system in place to accurately track the chain of custody, ensure patient-blinding and handle other logistical challenges. What You Will Learn Benefits and challenges associated with the Direct-to-Patient model Bellerophon's top considerations when implementing this trial design How IRT can equip study teams to successfully track chain of custody, ensure patient blinding, and handle logistical challenges
by Suvoda