The Janssen Pharmaceutical Companies of Johnson & Johnson has reported that five-year data from the Phase III IM-UNITI trial of Stelara (ustekinumab) showed long-term remission in patients with moderate to severe Crohn's disease (CD).
Free Case Study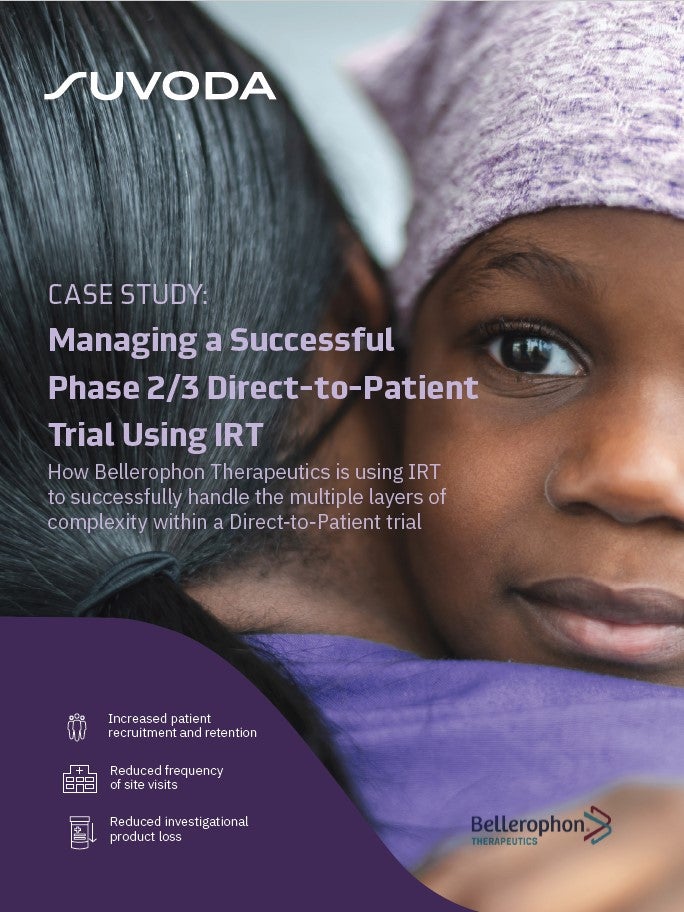 Direct-to-Patient Trials: How IRT Plays an Important Role in Bellerophon's Direct-to-Patient Trials
As the industry strengthens its focus on patient centricity, Direct-to-Patient clinical trials have emerged as a popular trial design that have the potential to increase patient recruitment and retention. IRT plays a crucial role in the success of a Direct-to-Patient trial. Because drug supplies are being managed and shipped from distribution facilities directly to patients' homes, a sponsor must have a high-quality system in place to accurately track the chain of custody, ensure patient-blinding and handle other logistical challenges. What You Will Learn Benefits and challenges associated with the Direct-to-Patient model Bellerophon's top considerations when implementing this trial design How IRT can equip study teams to successfully track chain of custody, ensure patient blinding, and handle logistical challenges
by Suvoda
Stelara is a fully human monoclonal antibody that works by hindering the interleukin (IL)-12 and IL-23 pathways.
The long-term extension (LTE), open-label, multi-centre, randomised, double-blind, placebo-controlled IM-UNITI trial enrolled 1,281 participants.
It analysed the efficacy and safety of Stelara maintenance therapy in adults with moderate to severe CD, a form of inflammatory bowel disease.
Patients who had responded to a single intravenous dose of Stelara in UNITI-1 or UNITI-2 induction trials were administered maintenance doses of subcutaneous (SC) Stelara 90mg q8w or q12w, or a placebo.
As per the study results, over half of them who received Stelara every eight weeks and in the LTE study maintained clinical response rate at 57% and remission at 55% throughout the study.
About 93% of these patients in clinical remission were steroid-free.
Adverse event rates for the q8w Stelara arm were similar as compared to the placebo arm, with no new safety signal noted.
Janssen Research & Development Gastroenterology Disease Area leader vice-president Jan Wehkamp said: "Crohn's disease is a chronic, lifelong condition, so it's important to understand the long-term outcomes of therapies in order to effectively address the disease.
"These results from the LTE study with Stelara bring us further insights on the long-term management of this chronic disease."
Furthermore, Janssen reported interim data from Phase II GALAXI 1 trial of Tremfya (guselkumab) in adults with moderate to severe CD.
At 12 weeks, patients on Tremfya demonstrated clinical and endoscopic improvements as compared to placebo. The safety profile of the drug was consistent with approved indications.
Free Case Study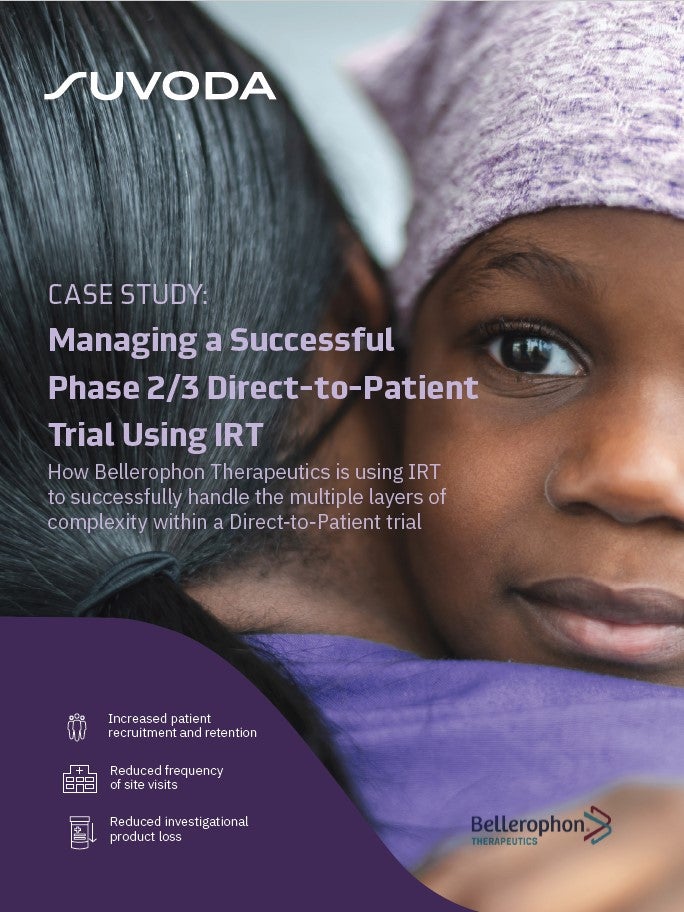 Direct-to-Patient Trials: How IRT Plays an Important Role in Bellerophon's Direct-to-Patient Trials
As the industry strengthens its focus on patient centricity, Direct-to-Patient clinical trials have emerged as a popular trial design that have the potential to increase patient recruitment and retention. IRT plays a crucial role in the success of a Direct-to-Patient trial. Because drug supplies are being managed and shipped from distribution facilities directly to patients' homes, a sponsor must have a high-quality system in place to accurately track the chain of custody, ensure patient-blinding and handle other logistical challenges. What You Will Learn Benefits and challenges associated with the Direct-to-Patient model Bellerophon's top considerations when implementing this trial design How IRT can equip study teams to successfully track chain of custody, ensure patient blinding, and handle logistical challenges
by Suvoda