Kairos Pharma's Investigational New Drug (IND) application to commence a Phase I clinical trial of its therapy KROS 201 for treating glioblastoma was okayed by the US Food and Drug Administration (FDA).
Free Case Study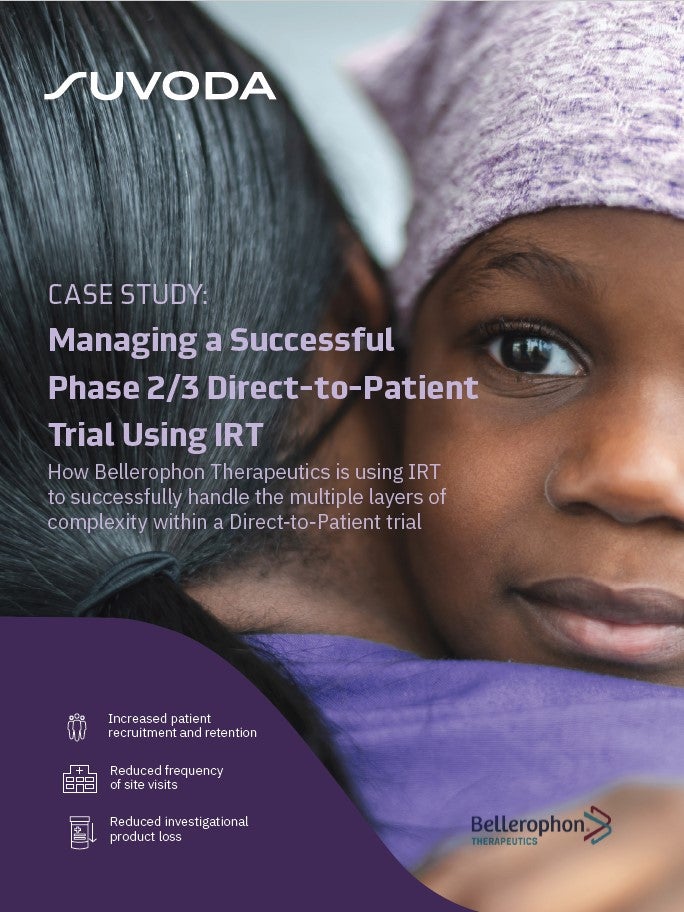 Direct-to-Patient Trials: How IRT Plays an Important Role in Bellerophon's Direct-to-Patient Trials
As the industry strengthens its focus on patient centricity, Direct-to-Patient clinical trials have emerged as a popular trial design that have the potential to increase patient recruitment and retention. IRT plays a crucial role in the success of a Direct-to-Patient trial. Because drug supplies are being managed and shipped from distribution facilities directly to patients' homes, a sponsor must have a high-quality system in place to accurately track the chain of custody, ensure patient-blinding and handle other logistical challenges. What You Will Learn Benefits and challenges associated with the Direct-to-Patient model Bellerophon's top considerations when implementing this trial design How IRT can equip study teams to successfully track chain of custody, ensure patient blinding, and handle logistical challenges
by Suvoda
KROS 201 activated T cells (ATCs) are killer T cells created in a cell culture by stimulating white blood cells of a patient with cytokines or T cell activating signals and by coating glioblastoma cancer stem cell-specific antigens on dendritic cells.
The potent activated T cells are administered through intravenous infusion to individuals with recurrent glioblastoma.
Kairos noted that these cells have demonstrated to destroy cancer stem cells, which are the key root cause of cancer.
Sponsored by Kairos Pharma, the Phase I trial of KROS 201 in recurrent glioblastoma patients will be initiated at Cedars Sinai Medical Center in Los Angeles, US this year. 
Kairos CEO John Yu said: "This IND acceptance is the second substantial clinical milestone within the past month as Kairos accelerates toward its clinical goals for 2022.
"This first-in-man Phase I clinical trial will activate T cells against the cancer stem cells at the root of glioblastoma."
The company also obtained a patent covering the method of treating fibrosis and certain cancer types, the composition of matter and administering a therapy using KROS-401.
KROS-401 is a cyclic peptide IL-4 and IL-13 cytokine receptor complex inhibitor and showed to treat fibrosis and cancer.
In February this year, the company obtained IND clearance from the FDA for a Phase II trial of ENV105 plus apalutamide to treat metastatic castration-resistant prostate cancer.
Furthermore, a Phase I trial of ENV105 plus AstraZeneca' Tagrisso for the treatment of lung cancer is anticipated to being this year.
Free Case Study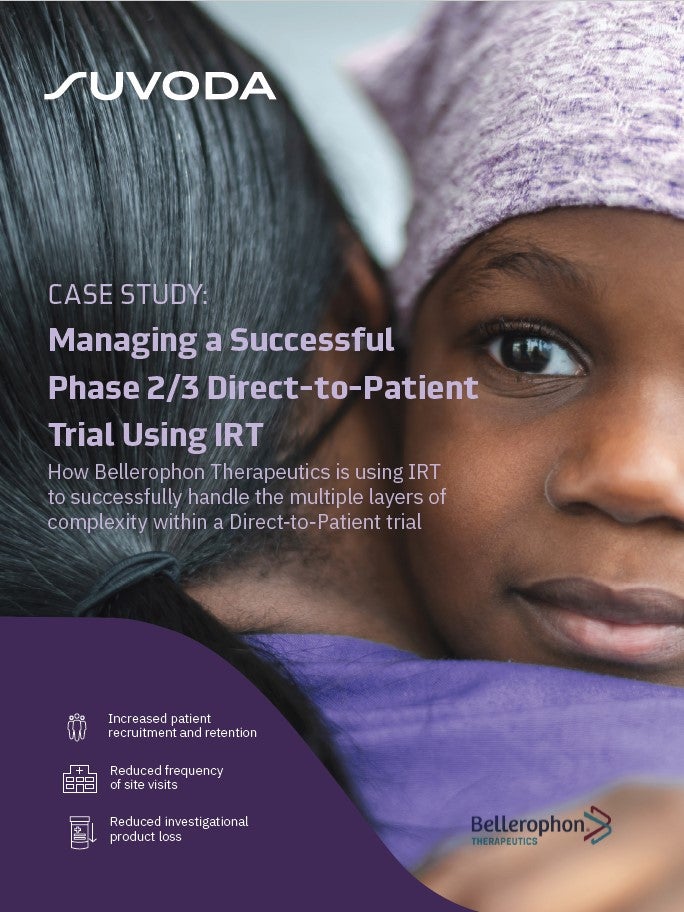 Direct-to-Patient Trials: How IRT Plays an Important Role in Bellerophon's Direct-to-Patient Trials
As the industry strengthens its focus on patient centricity, Direct-to-Patient clinical trials have emerged as a popular trial design that have the potential to increase patient recruitment and retention. IRT plays a crucial role in the success of a Direct-to-Patient trial. Because drug supplies are being managed and shipped from distribution facilities directly to patients' homes, a sponsor must have a high-quality system in place to accurately track the chain of custody, ensure patient-blinding and handle other logistical challenges. What You Will Learn Benefits and challenges associated with the Direct-to-Patient model Bellerophon's top considerations when implementing this trial design How IRT can equip study teams to successfully track chain of custody, ensure patient blinding, and handle logistical challenges
by Suvoda