Kangpu Biopharmaceuticals has collaborated with Accelovance to start a Phase l trial of KPG-121 in combination with Enzalutamide to treat adult patients with metastatic castration-resistant prostate cancer (mCRPC).
Free Case Study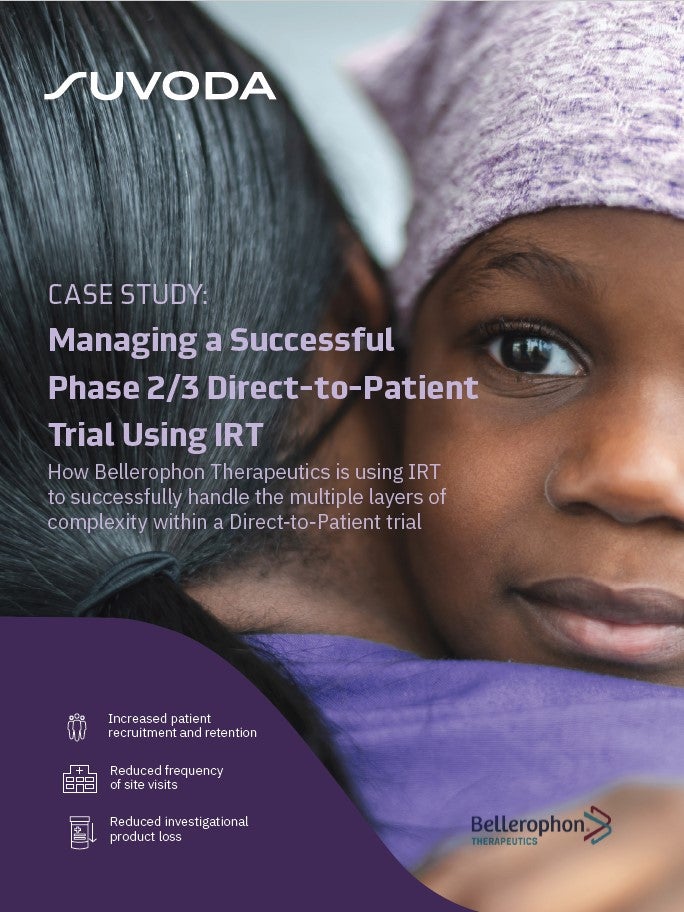 Direct-to-Patient Trials: How IRT Plays an Important Role in Bellerophon's Direct-to-Patient Trials
As the industry strengthens its focus on patient centricity, Direct-to-Patient clinical trials have emerged as a popular trial design that have the potential to increase patient recruitment and retention. IRT plays a crucial role in the success of a Direct-to-Patient trial. Because drug supplies are being managed and shipped from distribution facilities directly to patients' homes, a sponsor must have a high-quality system in place to accurately track the chain of custody, ensure patient-blinding and handle other logistical challenges. What You Will Learn Benefits and challenges associated with the Direct-to-Patient model Bellerophon's top considerations when implementing this trial design How IRT can equip study teams to successfully track chain of custody, ensure patient blinding, and handle logistical challenges
by Suvoda
The multi-centre, open-label trial has been commenced in the US, with plans to enrol around 24 patients.
The three sites where the study will be conducted are part of Accelovance's network of Helping Early Research in Oncology (HERO) sites, which are dedicated to early phase research in oncology.
The Phase l trial is designed to examine the safety, tolerability, pharmacokinetics and preliminary evidence of anti-tumour activity of KPG-121 and Enzalutamide combination in the enrolled patients.
"Kangpu expects to complete the trial by May 2020."
The trial will be conducted in two parts. In part one, a 3+3 dose escalation phase is included to characterise the maximum tolerated dose (MTD) and a recommended Phase 2 dose (RP2D), while part two will be an expansion cohort at RP2D.
In addition, various escalating dose levels of KPG-121 such as 1.5mg, 3mg, 6mg, 11mg, 20mg, and 30mg a day in combination with enzalutamide will be investigated in part one to determine the MTD and RP2D of KPG-121.
An end-of-study (EOS)/early termination (ET) visit is also planned to be carried out within 14 days of the last dose of KPG-121, and a safety follow-up visit will be conducted in around 30 days after the last dose of KPG-121.
The trial will follow all the subjects for adverse events (AEs), serious adverse events, and concomitant medications for 30 days following the last dose of KPG-121.
Kangpu expects to complete the trial by May 2020.
Free Case Study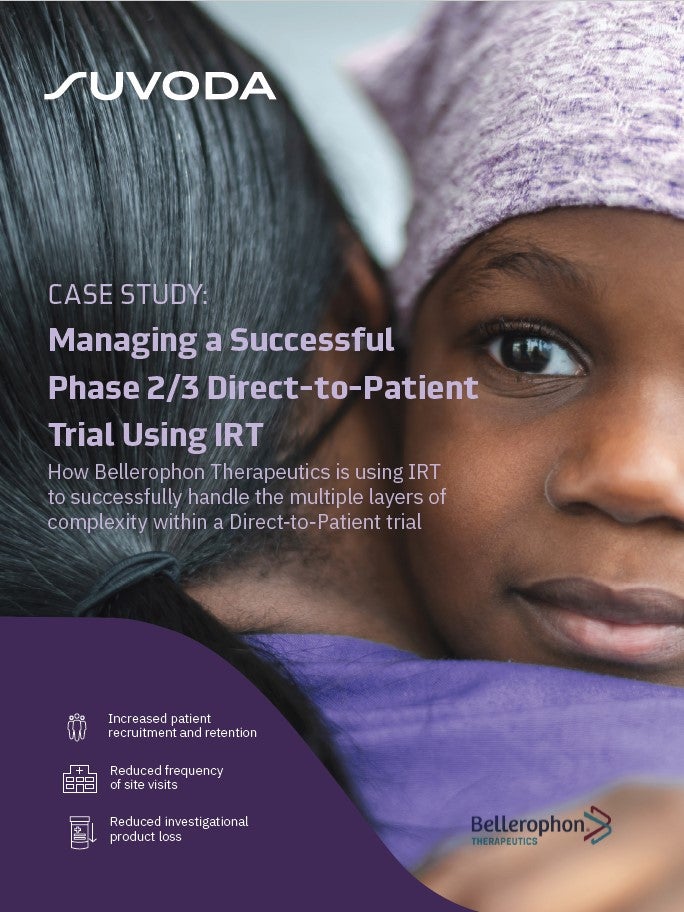 Direct-to-Patient Trials: How IRT Plays an Important Role in Bellerophon's Direct-to-Patient Trials
As the industry strengthens its focus on patient centricity, Direct-to-Patient clinical trials have emerged as a popular trial design that have the potential to increase patient recruitment and retention. IRT plays a crucial role in the success of a Direct-to-Patient trial. Because drug supplies are being managed and shipped from distribution facilities directly to patients' homes, a sponsor must have a high-quality system in place to accurately track the chain of custody, ensure patient-blinding and handle other logistical challenges. What You Will Learn Benefits and challenges associated with the Direct-to-Patient model Bellerophon's top considerations when implementing this trial design How IRT can equip study teams to successfully track chain of custody, ensure patient blinding, and handle logistical challenges
by Suvoda