Physicians from Keck Medicine of USC are set to launch a clinical trial to study the effects of an anti-inflammatory drug on treating patients with moderate to severe coronavirus (Covid-19).
Free Case Study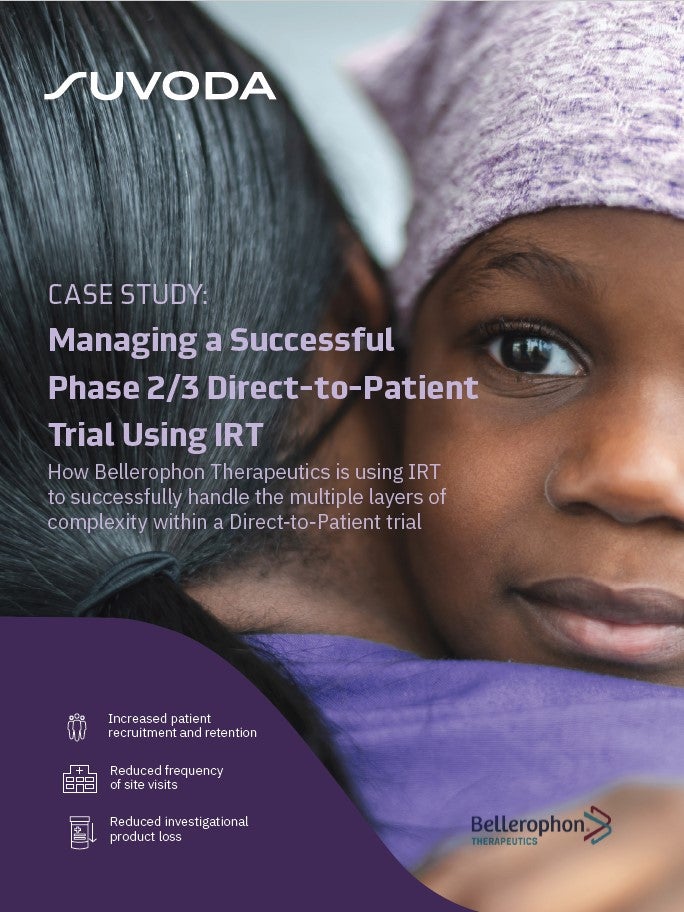 Direct-to-Patient Trials: How IRT Plays an Important Role in Bellerophon's Direct-to-Patient Trials
As the industry strengthens its focus on patient centricity, Direct-to-Patient clinical trials have emerged as a popular trial design that have the potential to increase patient recruitment and retention. IRT plays a crucial role in the success of a Direct-to-Patient trial. Because drug supplies are being managed and shipped from distribution facilities directly to patients' homes, a sponsor must have a high-quality system in place to accurately track the chain of custody, ensure patient-blinding and handle other logistical challenges. What You Will Learn Benefits and challenges associated with the Direct-to-Patient model Bellerophon's top considerations when implementing this trial design How IRT can equip study teams to successfully track chain of custody, ensure patient blinding, and handle logistical challenges
by Suvoda
The medication baricitinib has been approved by the US Food and Drug Administration (FDA) to treat rheumatoid arthritis.
Baricitinib is an oral JAK1/JAK2 inhibitor with approvals in more than 65 countries to treat adults with moderately to severely active rheumatoid arthritis.
The drug's anti-inflammatory activity is expected to act on the inflammatory cascade associated with Covid-19.
Keck Medicine infectious disease specialist Michael Dube said: "We are learning that in some Covid-19 cases, inflammation might be driving the need for intubation and causing poor outcomes."
Baricitinib has been shown to lower levels of a cytokine known as interleukin-6, which is a dangerous complication that can stem from Covid-19.
The drug is also said to lower levels of other cytokines.
The clinical trial is designed as a double-blind, randomised controlled study where half the participants will receive a baricitinib tablet as a daily regimen and the other half will receive a placebo.
A total of 144 patients from Keck Hospital of USC, USC Verdugo Hills Hospital and Los Angeles County + USC Medical Center are expected to be enrolled for the research.
Dube added: "Our premise is that by using baricitinib to reduce the inflammation, we may be able to slow down the progress of the disease, stop the need for a ventilator, and save lives."
Last month, Eli Lilly announced plans to conduct a clinical trial of baricitinib (Olumiant) for the treatment of patients with Covid-19.
Free Case Study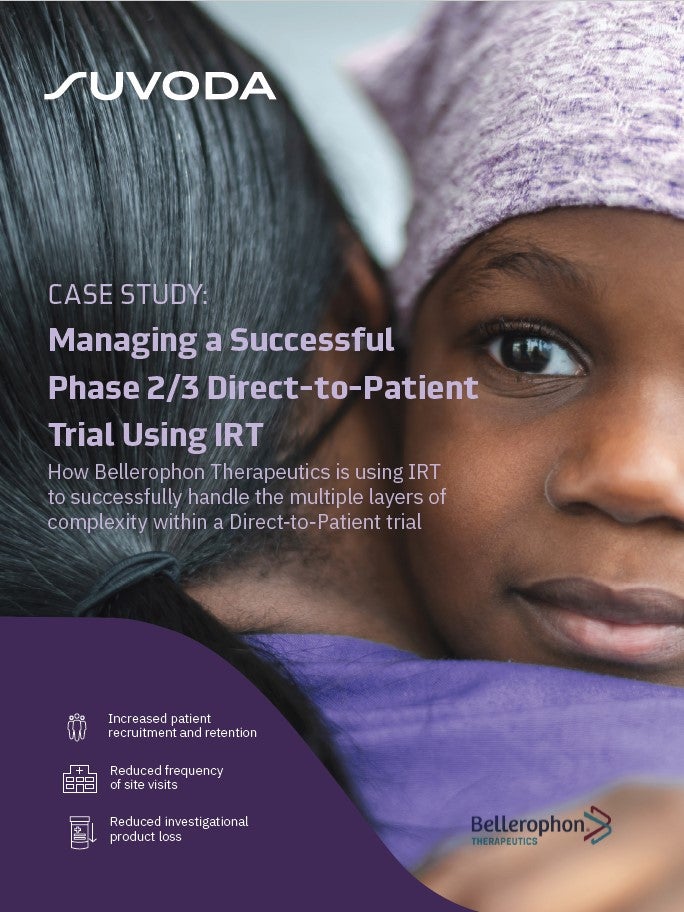 Direct-to-Patient Trials: How IRT Plays an Important Role in Bellerophon's Direct-to-Patient Trials
As the industry strengthens its focus on patient centricity, Direct-to-Patient clinical trials have emerged as a popular trial design that have the potential to increase patient recruitment and retention. IRT plays a crucial role in the success of a Direct-to-Patient trial. Because drug supplies are being managed and shipped from distribution facilities directly to patients' homes, a sponsor must have a high-quality system in place to accurately track the chain of custody, ensure patient-blinding and handle other logistical challenges. What You Will Learn Benefits and challenges associated with the Direct-to-Patient model Bellerophon's top considerations when implementing this trial design How IRT can equip study teams to successfully track chain of custody, ensure patient blinding, and handle logistical challenges
by Suvoda