Kezar Life Sciences has announced the dosing of the first subject in the Phase I KZR-261-101 clinical trial of a new therapy, KZR-261, in advanced solid tumour malignancies.
Free Case Study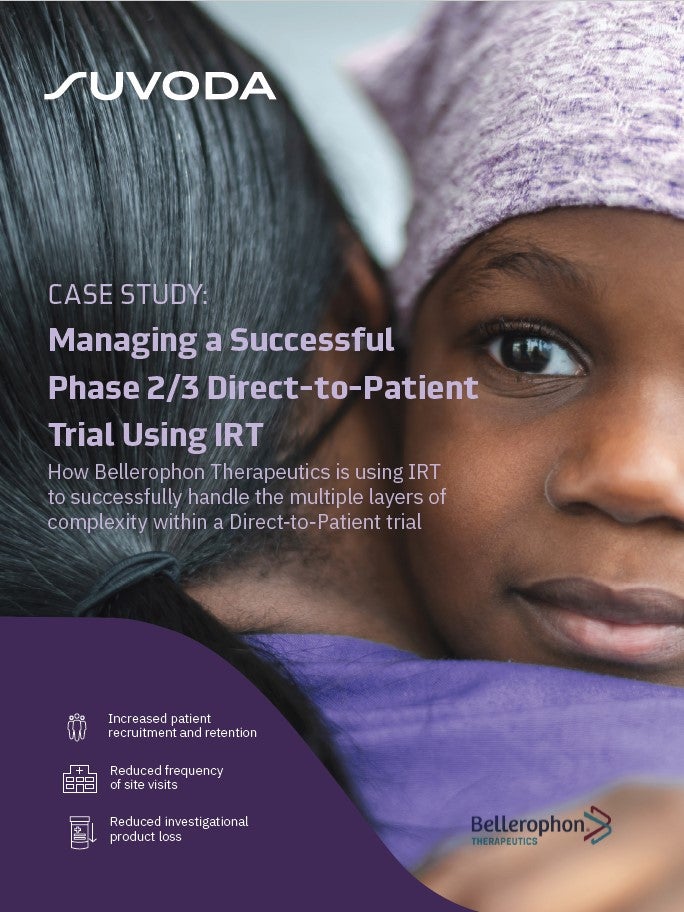 Direct-to-Patient Trials: How IRT Plays an Important Role in Bellerophon's Direct-to-Patient Trials
As the industry strengthens its focus on patient centricity, Direct-to-Patient clinical trials have emerged as a popular trial design that have the potential to increase patient recruitment and retention. IRT plays a crucial role in the success of a Direct-to-Patient trial. Because drug supplies are being managed and shipped from distribution facilities directly to patients' homes, a sponsor must have a high-quality system in place to accurately track the chain of custody, ensure patient-blinding and handle other logistical challenges. What You Will Learn Benefits and challenges associated with the Direct-to-Patient model Bellerophon's top considerations when implementing this trial design How IRT can equip study teams to successfully track chain of custody, ensure patient blinding, and handle logistical challenges
by Suvoda
Discovered by Kezar, the broad-spectrum anti-tumour agent KZR-261 acts through direct interaction and hinders Sec61 activity.
The open-label, multicentre Phase I trial in subjects with solid tumour malignancies will be carried out in two parts, dose-escalation and dose-expansion.
It will assess the tolerability, safety, pharmacokinetics and pharmacodynamics of KZR-261 in patients with locally advanced or metastatic disease.
The trial will also evaluate the initial anti-tumour activity of the treatment.
On concluding safety analysis of all dose-escalation arms and deciding on the maximum tolerated dose or administered dose, the therapy will be assessed for safety and preliminary efficacy.
This will be carried out in four tumour-specific arms and one all-tumour arm for determining doses recommended for Phase II clinical trials.
Kezar Life Sciences co-founder and CEO John Fowler said: "Dosing the first patient with KZR-261, the first clinical candidate from our novel protein secretion platform, is an exciting milestone for Kezar as we continue to advance our oncology program and mature into a multi-asset therapeutics company.
"We believe KZR-261 has a differentiated therapeutic profile, which could translate into broad potential across the oncology landscape."
KZR-261 has shown various promising features that lead to its potential to be an anti-cancer agent.
A Phase I trial is currently progressing to treat solid tumour malignancies.
Kezar Life Sciences' lead development candidate KZR-616 is a selective immunoproteasome inhibitor and is being assessed in Phase II studies for lupus nephritis, dermatomyositis and polymyositis treatments.
Free Case Study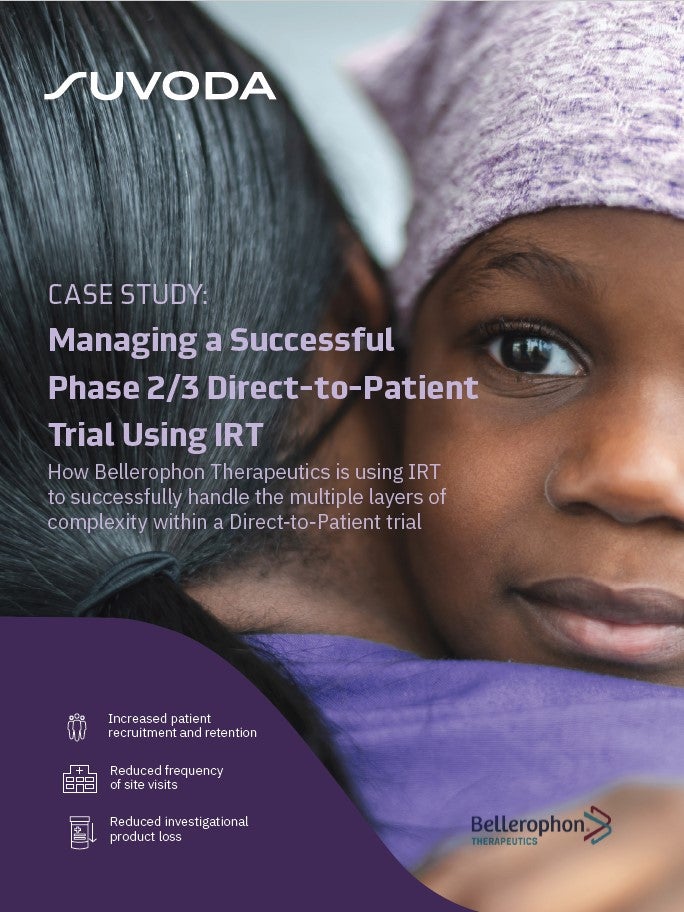 Direct-to-Patient Trials: How IRT Plays an Important Role in Bellerophon's Direct-to-Patient Trials
As the industry strengthens its focus on patient centricity, Direct-to-Patient clinical trials have emerged as a popular trial design that have the potential to increase patient recruitment and retention. IRT plays a crucial role in the success of a Direct-to-Patient trial. Because drug supplies are being managed and shipped from distribution facilities directly to patients' homes, a sponsor must have a high-quality system in place to accurately track the chain of custody, ensure patient-blinding and handle other logistical challenges. What You Will Learn Benefits and challenges associated with the Direct-to-Patient model Bellerophon's top considerations when implementing this trial design How IRT can equip study teams to successfully track chain of custody, ensure patient blinding, and handle logistical challenges
by Suvoda