Kintor Pharmaceutical has dosed the first participant in a US Phase I clinical trial of GT20029 (gel). The trial is envisioned to progress the company's footprint in androgenetic alopecia (AGA) and acne.
Free Case Study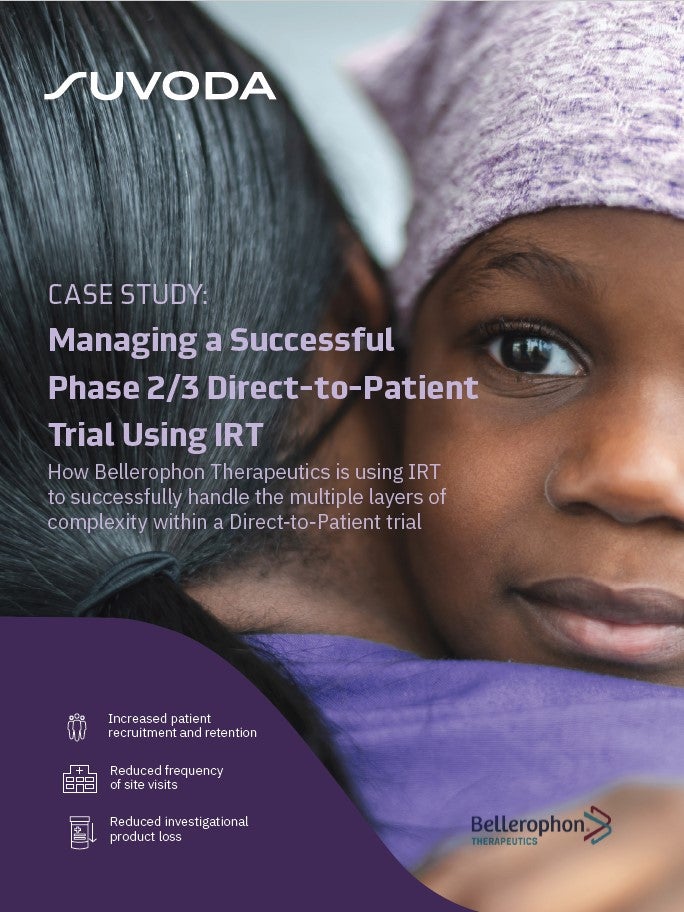 Direct-to-Patient Trials: How IRT Plays an Important Role in Bellerophon's Direct-to-Patient Trials
As the industry strengthens its focus on patient centricity, Direct-to-Patient clinical trials have emerged as a popular trial design that have the potential to increase patient recruitment and retention. IRT plays a crucial role in the success of a Direct-to-Patient trial. Because drug supplies are being managed and shipped from distribution facilities directly to patients' homes, a sponsor must have a high-quality system in place to accurately track the chain of custody, ensure patient-blinding and handle other logistical challenges. What You Will Learn Benefits and challenges associated with the Direct-to-Patient model Bellerophon's top considerations when implementing this trial design How IRT can equip study teams to successfully track chain of custody, ensure patient blinding, and handle logistical challenges
by Suvoda
The double-blind, randomised, parallel-group, placebo-controlled, dose-escalation trial will analyse the safety, tolerability and pharmacokinetics of GT20029.
The compound will be assessed after single ascending dose in healthy participants, as well as multiple ascending doses in AGA or acne patients.
A topical androgen receptor (AR) receptor degrader, GT20029 was developed using the proteolysis targeting chimera (Protac ) platform of the company.
The topical therapy is envisioned to hinder the AR pathway as well as its physiological function by destroying the AR protein. It is claimed to be the first Protac compound to enter clinical trials.
Kintor Pharma founder, chairman and CEO Dr Youzhi Tong said: "The start of this US clinical trial represents a significant milestone for Kintor, as it demonstrates the beginning of the international development of the company's fourth innovative drug.
"Pushing on accelerating the clinical evaluation of GT20029's safety, recommended dosage, and dosing frequency, we hope we can not only advance a new and effective treatment option for hundreds of millions of patients with AGA and acne worldwide but also provide a successful case for the application of Protac technology to drug targets on local surfaces."
In April and July last year, the China Center for Drug Evaluation (CDE) and the US Food and Drug Administration (FDA) granted clearance for Phase I trial of GT20029 to treat AGA and acne, respectively.
The company dosed the first batch of participants in the Phase I trial of GT20029 in China in July.
Kintor announced the dosing of the first subject in the Phase III trial of KX-826 (pyrilutamide) for treating male AGA patients in China, last month.
Free Case Study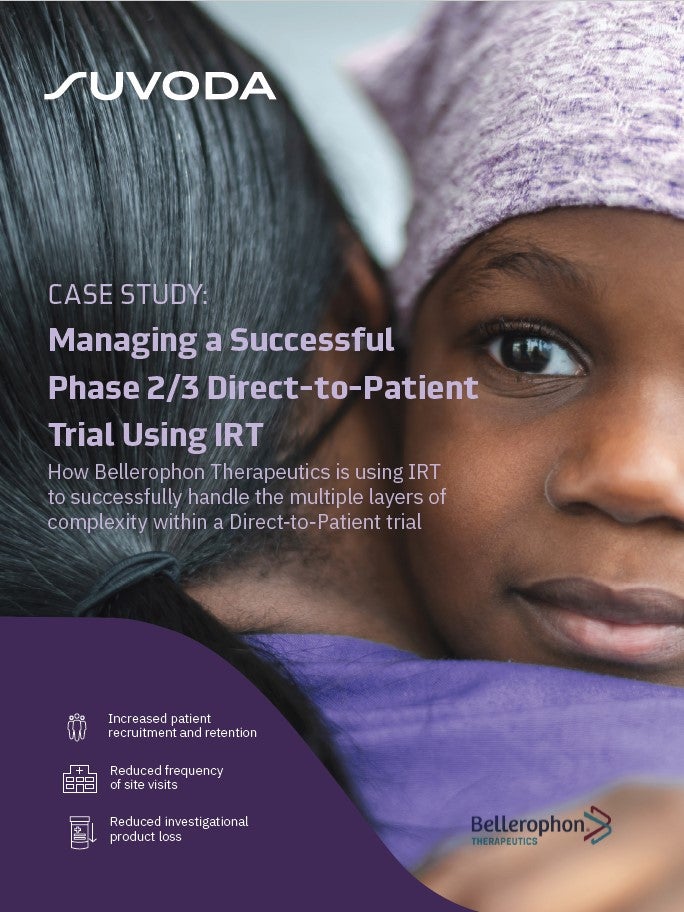 Direct-to-Patient Trials: How IRT Plays an Important Role in Bellerophon's Direct-to-Patient Trials
As the industry strengthens its focus on patient centricity, Direct-to-Patient clinical trials have emerged as a popular trial design that have the potential to increase patient recruitment and retention. IRT plays a crucial role in the success of a Direct-to-Patient trial. Because drug supplies are being managed and shipped from distribution facilities directly to patients' homes, a sponsor must have a high-quality system in place to accurately track the chain of custody, ensure patient-blinding and handle other logistical challenges. What You Will Learn Benefits and challenges associated with the Direct-to-Patient model Bellerophon's top considerations when implementing this trial design How IRT can equip study teams to successfully track chain of custody, ensure patient blinding, and handle logistical challenges
by Suvoda