Kintor Pharmaceutical has dosed the first subject in the US for the Phase III clinical trial of its oral drug, proxalutamide, to treat hospitalised Covid-19 patients.
Free Case Study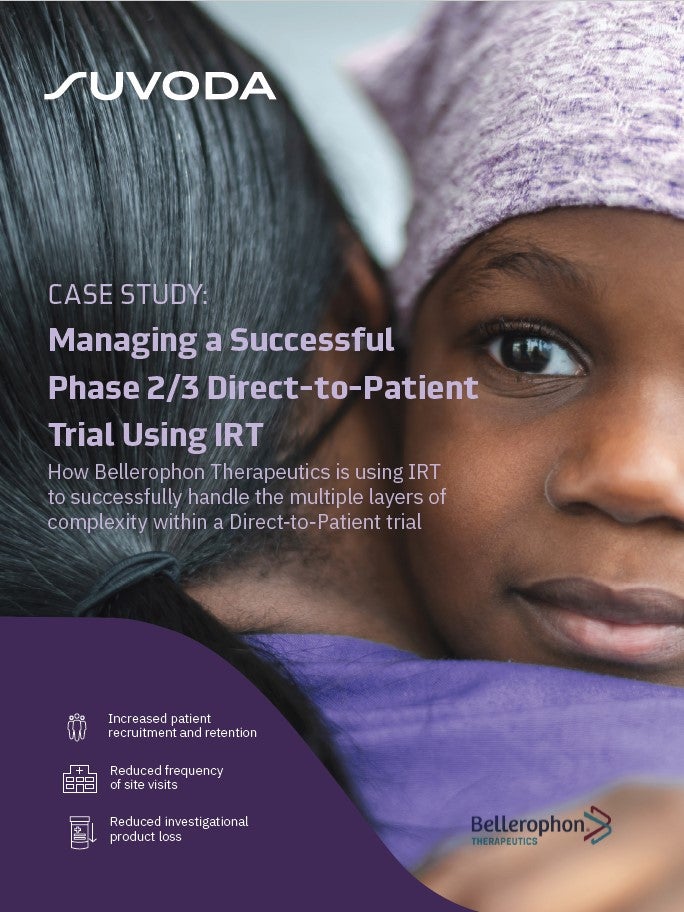 Direct-to-Patient Trials: How IRT Plays an Important Role in Bellerophon's Direct-to-Patient Trials
As the industry strengthens its focus on patient centricity, Direct-to-Patient clinical trials have emerged as a popular trial design that have the potential to increase patient recruitment and retention. IRT plays a crucial role in the success of a Direct-to-Patient trial. Because drug supplies are being managed and shipped from distribution facilities directly to patients' homes, a sponsor must have a high-quality system in place to accurately track the chain of custody, ensure patient-blinding and handle other logistical challenges. What You Will Learn Benefits and challenges associated with the Direct-to-Patient model Bellerophon's top considerations when implementing this trial design How IRT can equip study teams to successfully track chain of custody, ensure patient blinding, and handle logistical challenges
by Suvoda
Proxalutamide is a selective high-affinity silent antagonist of the androgen receptor, which is currently being developed to treat Covid-19, breast cancer and prostate cancer.
It is claimed to be the only small-molecule oral drug that has entered the Phase III multi-regional clinical trial (MRCT).
The latest move follows the Brazilian Health Regulatory Agency's (ANVISA) approval last month to conduct the Phase III clinical trial of proxalutamide.
The randomised, double-blind, placebo-controlled, multi-regional pivotal trial has also been approved by the US Food and Drug Administration (FDA).
It is the third ANVISA-approved clinal trial, which is sponsored by the company to treat Covid-19 patients with proxalutamide.
The study will assess the efficacy and safety of proxalutamide in hospitalised patients. Time to sustained recovery evaluated by day 30 will be the primary endpoint, while the 30-day mortality will be the secondary endpoint.
Kintor Pharmaceutical chairman and CEO Youzhi Tong said: "More than 100 sites in 14 countries participate in this MRCT clinical trial, which has been greenlighted/approved by the US FDA, China CDE, Philippines FDA and Brazilian ANVISA, and we continue to seek for approvals by regulatory agencies in European and Asian countries.
"This pivotal study has taken reference to the positive data on efficiency and safety profile of proxalutamide's treating hospitalised Covid 19 patients in the IIT study conducted in Brazil earlier this year."
The company is currently conducting two registered Phase III MRCTs of proxalutamide to treat Covid-19 outpatients.
One Phase III MRCT for Covid-19 inpatients is being conducted in the US, South America, including Brazil, the EU, and Asia.
In July this year, Kintor has signed a licensing agreement with Shanghai Fosun Pharmaceutical Development to market proxalutamide in India and 28 African countries.
Free Case Study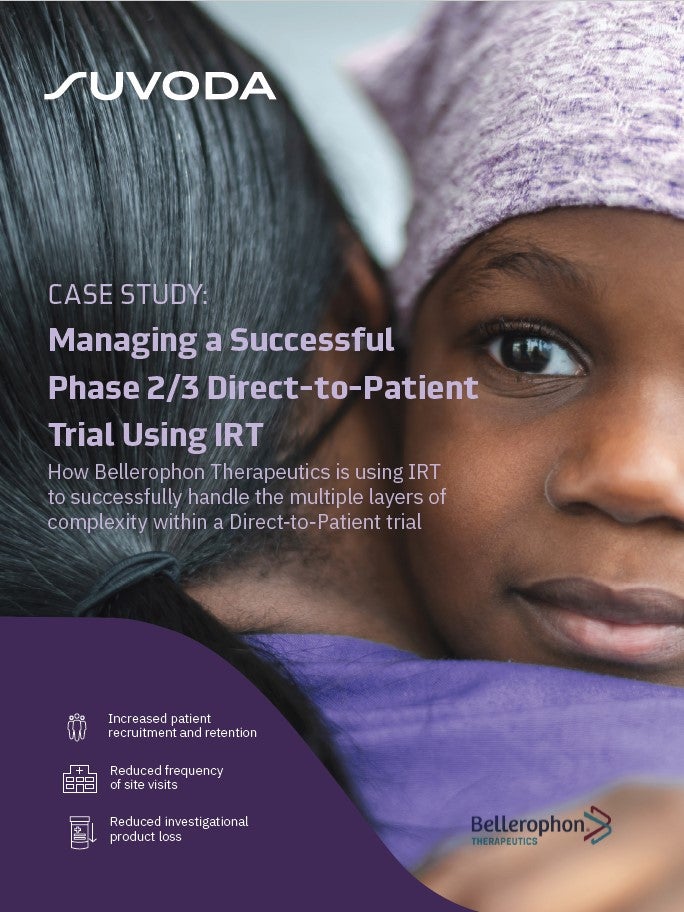 Direct-to-Patient Trials: How IRT Plays an Important Role in Bellerophon's Direct-to-Patient Trials
As the industry strengthens its focus on patient centricity, Direct-to-Patient clinical trials have emerged as a popular trial design that have the potential to increase patient recruitment and retention. IRT plays a crucial role in the success of a Direct-to-Patient trial. Because drug supplies are being managed and shipped from distribution facilities directly to patients' homes, a sponsor must have a high-quality system in place to accurately track the chain of custody, ensure patient-blinding and handle other logistical challenges. What You Will Learn Benefits and challenges associated with the Direct-to-Patient model Bellerophon's top considerations when implementing this trial design How IRT can equip study teams to successfully track chain of custody, ensure patient blinding, and handle logistical challenges
by Suvoda