Kyn Therapeutics in collaboration with Merck has commenced two clinical trials of EP4 receptor antagonist ARY-007.
Free Case Study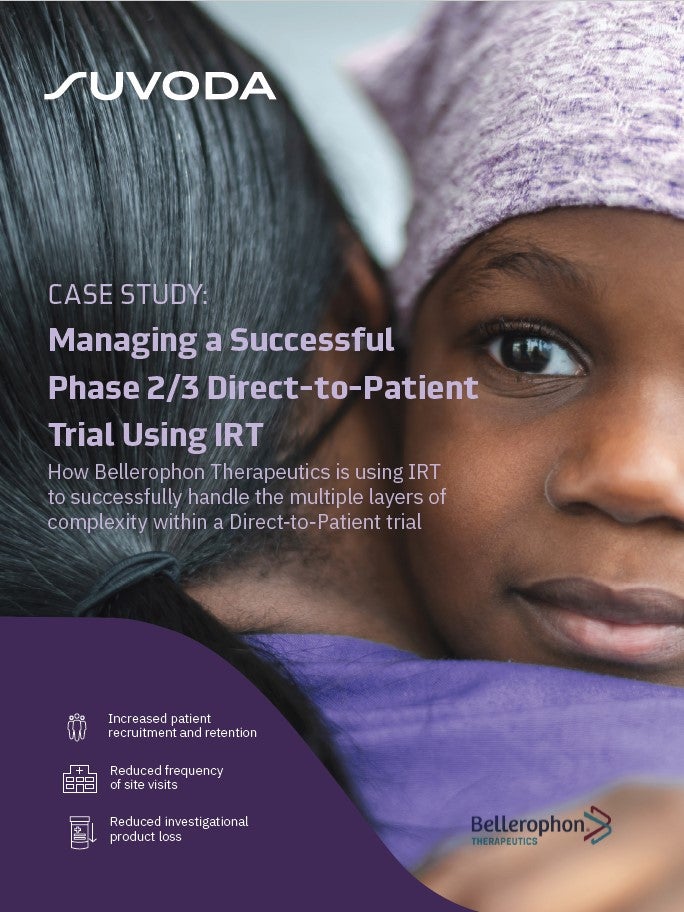 Direct-to-Patient Trials: How IRT Plays an Important Role in Bellerophon's Direct-to-Patient Trials
As the industry strengthens its focus on patient centricity, Direct-to-Patient clinical trials have emerged as a popular trial design that have the potential to increase patient recruitment and retention. IRT plays a crucial role in the success of a Direct-to-Patient trial. Because drug supplies are being managed and shipped from distribution facilities directly to patients' homes, a sponsor must have a high-quality system in place to accurately track the chain of custody, ensure patient-blinding and handle other logistical challenges. What You Will Learn Benefits and challenges associated with the Direct-to-Patient model Bellerophon's top considerations when implementing this trial design How IRT can equip study teams to successfully track chain of custody, ensure patient blinding, and handle logistical challenges
by Suvoda
ARY-007 (grapiprant) is an oral, potent and highly selective antagonist of EP4 receptor, which is a component of the prostaglandin E2 (PGE2) pathway impacting the tumour microenvironment composition.
Preclinical studies have demonstrated that inhibition of EP4 increases the immune response through modulation of multiple immune cell types.
When combined with checkpoint inhibitors it has shown a significant reduction in tumour growth compared to either agent alone.
ARY-007 is now analysed in combination with Merck's anti-PD-1 therapy, KEYTRUDA (pembrolizumab) in checkpoint-refractory and -resistant solid tumours. This is considered to be an area of high medical need but unmet.
Kyn Therapeutics president and chief executive officer Mark Manfredi said: "The Kyn team believes immunometabolism pathways hold great promise as therapeutics that could deliver breakthrough improvements for patients non-responsive to immunotherapy regimens.
"We believe EP4 is the right target and ARY-007 is the right molecule for overcoming the immunosuppressive effects of PGE2."
"We believe EP4 is the right target and ARY-007 is the right molecule for overcoming the immunosuppressive effects of PGE2 in these cancers where increased pathway expression is associated with poor outcome."
PGE2 has shown to increase the activity of regulatory immune cells and suppress the activity of effector immune cells.
EP4 inhibition leads to antitumor activity and increases the antitumor activity of checkpoint inhibitors.
Grapiprant was found to be well-tolerated in multiple development studies for a non-oncology indication.
The safety and efficacy of ARY-007 along with pembrolizumab will be analysed in the Phase Ib/I multicenter, open-label, single arm clinical trials.
The trial will include patients suffering with advanced or progressive microsatellite stable (MSS) colorectal cancer (CRC), and with advanced or metastatic PD-1/L1 refractory non-small cell lung cancer (NSCLC) adenocarcinoma.
MSS CRC is considered to be resistant to anti-PD-1 therapies as these agents have only shown activity in the microsatellite instability-high (MSI-H) subset of CRC.
The NSCLC study is enrolling patients whose disease has progressed even while on PD-1 or PD-L1 therapy.
Both studies will have a translational biomarker strategy.
Free Case Study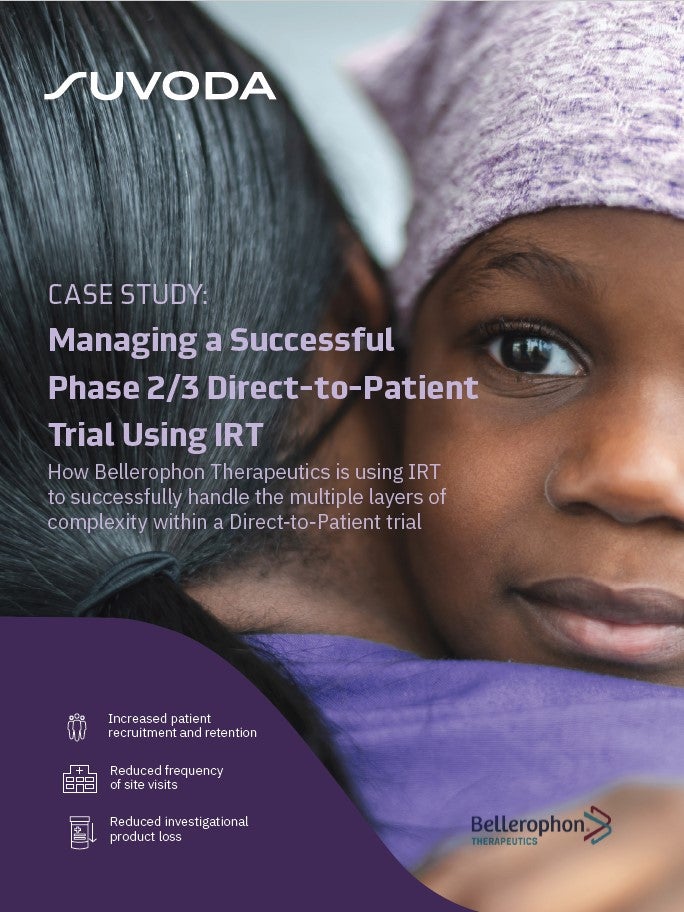 Direct-to-Patient Trials: How IRT Plays an Important Role in Bellerophon's Direct-to-Patient Trials
As the industry strengthens its focus on patient centricity, Direct-to-Patient clinical trials have emerged as a popular trial design that have the potential to increase patient recruitment and retention. IRT plays a crucial role in the success of a Direct-to-Patient trial. Because drug supplies are being managed and shipped from distribution facilities directly to patients' homes, a sponsor must have a high-quality system in place to accurately track the chain of custody, ensure patient-blinding and handle other logistical challenges. What You Will Learn Benefits and challenges associated with the Direct-to-Patient model Bellerophon's top considerations when implementing this trial design How IRT can equip study teams to successfully track chain of custody, ensure patient blinding, and handle logistical challenges
by Suvoda