Eli Lilly and Company has reported that its therapy, mirikizumab, met the primary and key secondary goals at one year in the Phase III LUCENT-2 clinical trial in moderately-to-severely active ulcerative colitis (UC) patients.
Free Case Study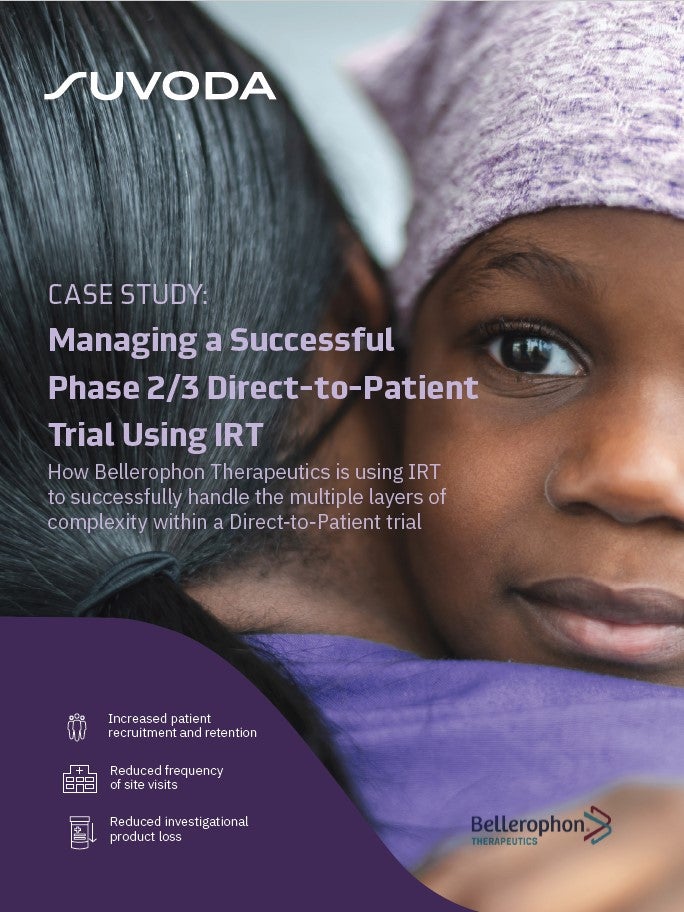 Direct-to-Patient Trials: How IRT Plays an Important Role in Bellerophon's Direct-to-Patient Trials
As the industry strengthens its focus on patient centricity, Direct-to-Patient clinical trials have emerged as a popular trial design that have the potential to increase patient recruitment and retention. IRT plays a crucial role in the success of a Direct-to-Patient trial. Because drug supplies are being managed and shipped from distribution facilities directly to patients' homes, a sponsor must have a high-quality system in place to accurately track the chain of custody, ensure patient-blinding and handle other logistical challenges. What You Will Learn Benefits and challenges associated with the Direct-to-Patient model Bellerophon's top considerations when implementing this trial design How IRT can equip study teams to successfully track chain of custody, ensure patient blinding, and handle logistical challenges
by Suvoda
A humanised IgG4 monoclonal antibody, mirikizumab attaches to the p19 subunit of interleukin 23.
The randomised, multicentre, placebo-controlled, double-blind maintenance trial enrolled subjects who were part of the Phase III LUCENT-1 trial.
The latest data build on the positive results from the LUCENT-1 induction study for 12-weeks.
Findings from the LUCENT-2 trial showed that a statistically greater proportion of subjects treated with mirikizumab met the primary goal of clinical remission at one year versus those in the placebo arm.
Clinical remission is attained when colon inflammation is managed or resolved, resulting in normalisation or near-normalisation of symptoms, including frequent and bloody faeces.
The trial met all the key secondary goals. Significantly greater proportions of subjects in the mirikizumab arm attained endoscopic remission, resolution or near-resolution of bowel urgency, corticosteroid-free remission, endoscopic histologic intestinal inflammation improvement and remission maintenance.
Furthermore, a significant decline from baseline in bowel urgency symptoms at one year versus placebo were noted.
The overall safety profile of mirikizumab in the trial was in line with previously reported data from UC trials and others within the anti-IL-23p19 antibody class.
Nasopharyngitis, arthralgia and exacerbation of ulcerative colitis were the most commonly observed adverse events linked to mirikizumab.
Lilly immunology development and US and global medical affairs vice-president Lotus Mallbris said: "Existing therapies aren't fully meeting the needs of people with ulcerative colitis who still have unresolved symptoms that impact their health and quality of life.
"These positive long-term results provide evidence that mirikizumab has the potential to be an effective treatment option and become the first medicine of its kind for people with ulcerative colitis, including those who suffer from bowel urgency."
The company intends to submit these data as part of a Biologics License Application (BLA) to the US Food and Drug Administration for mirikizumab in UC indication.
It will also seek approvals from various other regulatory authorities across the globe in the first half of next year.
This July, Lilly reported that mirikizumab stimulated gene expression changes in individuals with UC over a 12-week induction treatment in the Phase II trial.
Free Case Study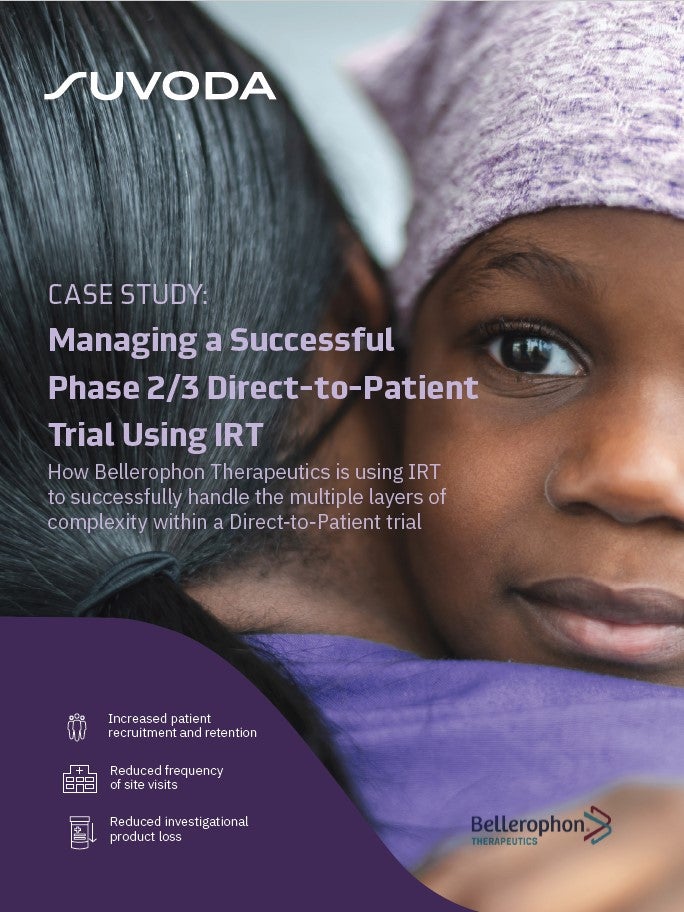 Direct-to-Patient Trials: How IRT Plays an Important Role in Bellerophon's Direct-to-Patient Trials
As the industry strengthens its focus on patient centricity, Direct-to-Patient clinical trials have emerged as a popular trial design that have the potential to increase patient recruitment and retention. IRT plays a crucial role in the success of a Direct-to-Patient trial. Because drug supplies are being managed and shipped from distribution facilities directly to patients' homes, a sponsor must have a high-quality system in place to accurately track the chain of custody, ensure patient-blinding and handle other logistical challenges. What You Will Learn Benefits and challenges associated with the Direct-to-Patient model Bellerophon's top considerations when implementing this trial design How IRT can equip study teams to successfully track chain of custody, ensure patient blinding, and handle logistical challenges
by Suvoda