Eli Lilly has reported positive findings from the Phase III MONARCH 2 clinical trial of Verzenio (abemaciclib) with fulvestrant to treat advanced or metastatic breast cancer.
Free Case Study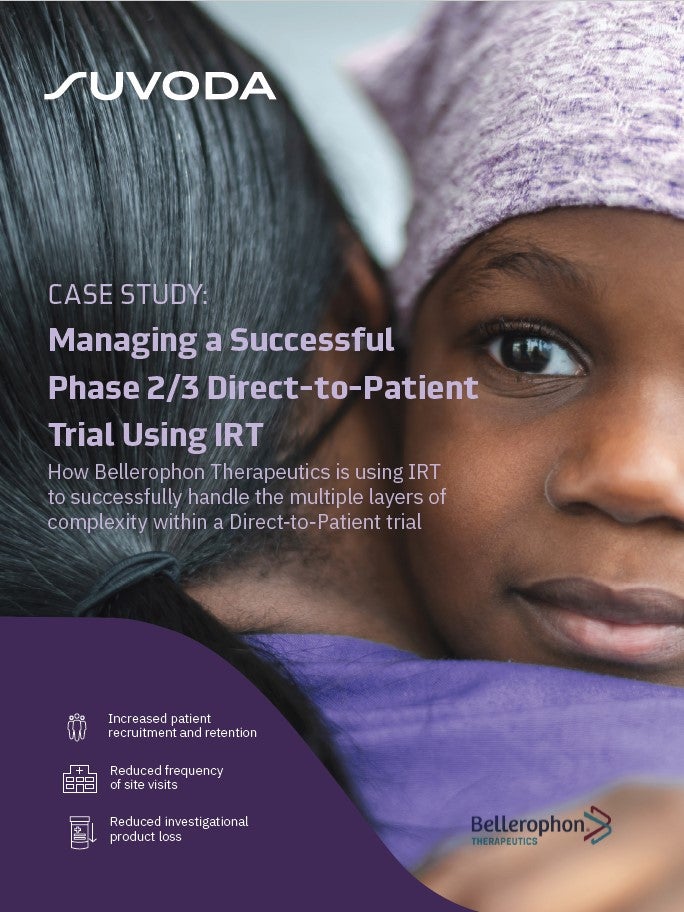 Direct-to-Patient Trials: How IRT Plays an Important Role in Bellerophon's Direct-to-Patient Trials
As the industry strengthens its focus on patient centricity, Direct-to-Patient clinical trials have emerged as a popular trial design that have the potential to increase patient recruitment and retention. IRT plays a crucial role in the success of a Direct-to-Patient trial. Because drug supplies are being managed and shipped from distribution facilities directly to patients' homes, a sponsor must have a high-quality system in place to accurately track the chain of custody, ensure patient-blinding and handle other logistical challenges. What You Will Learn Benefits and challenges associated with the Direct-to-Patient model Bellerophon's top considerations when implementing this trial design How IRT can equip study teams to successfully track chain of custody, ensure patient blinding, and handle logistical challenges
by Suvoda
A total of 669 pre/peri and postmenopausal women with hormone receptor-positive (HR+), human epidermal growth factor receptor 2-negative (HER2-) cancer participated in the study.
Interim data revealed statistically significant improvement in overall survival, a secondary endpoint.
The trial was previously found to meet its primary endpoint of a statistically significant improvement in progression-free survival.
Based on this prior data, the combination therapy secured approval in more than 50 countries.
In addition, the latest analysis did not show new safety signals and Verzenio's safety was observed to be consistent with its established profile.
Lilly Oncology late-stage development vice-president Maura Dickler said: "This definitive overall survival analysis from MONARCH 2 showed significant improvement in overall survival for women living with HR+, HER2- metastatic breast cancer, a complex disease that remains incurable.
"For many doctors and patients, overall survival is the most important endpoint. It's been difficult in the past to achieve meaningful improvements in this endpoint for women with advanced breast cancer, including those whose cancer progressed after prior endocrine therapy."
Verzenio is an oral inhibitor of cyclin-dependent kinases (CDK) 4 and 6, which are known to stimulate the retinoblastoma protein (Rb) phosphorylation, cell cycle progression, and cell proliferation.
The randomised, double-blind, placebo-controlled MONARCH 2 study involved patients who progressed on or within 12 months of prior treatment with endocrine therapy.
Verzenio and fulvestrant combination was compared to placebo plus fulvestrant until disease progression or unacceptable toxicity.
The primary endpoint of the trial was progression-free survival (PFS), while key secondary endpoints included overall survival (OS), objective response rate (ORR), and duration of response (DoR).
Free Case Study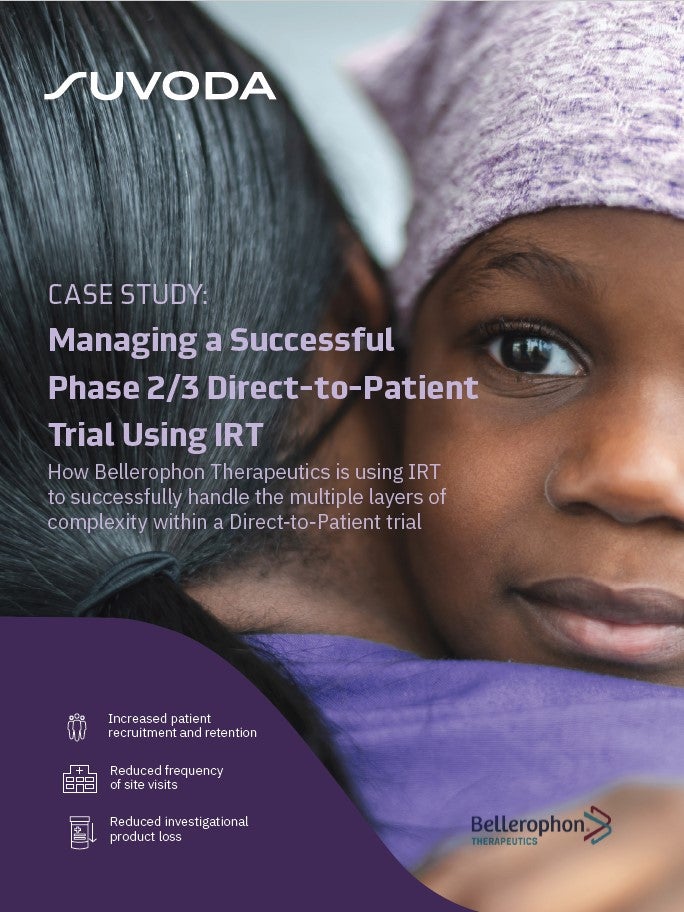 Direct-to-Patient Trials: How IRT Plays an Important Role in Bellerophon's Direct-to-Patient Trials
As the industry strengthens its focus on patient centricity, Direct-to-Patient clinical trials have emerged as a popular trial design that have the potential to increase patient recruitment and retention. IRT plays a crucial role in the success of a Direct-to-Patient trial. Because drug supplies are being managed and shipped from distribution facilities directly to patients' homes, a sponsor must have a high-quality system in place to accurately track the chain of custody, ensure patient-blinding and handle other logistical challenges. What You Will Learn Benefits and challenges associated with the Direct-to-Patient model Bellerophon's top considerations when implementing this trial design How IRT can equip study teams to successfully track chain of custody, ensure patient blinding, and handle logistical challenges
by Suvoda