Mallinckrodt has enrolled the first patient in the BRAVE Phase ll trial to evaluate the efficacy and safety of MNK-1411 (cosyntropin) to treat patients with Duchenne Muscular Dystrophy (DMD).
Free Case Study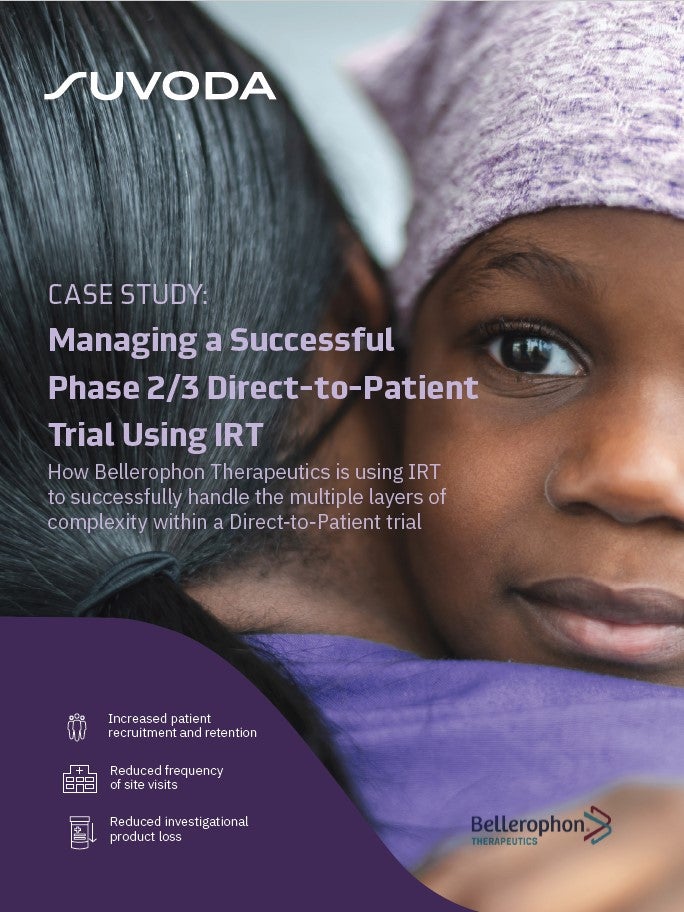 Direct-to-Patient Trials: How IRT Plays an Important Role in Bellerophon's Direct-to-Patient Trials
As the industry strengthens its focus on patient centricity, Direct-to-Patient clinical trials have emerged as a popular trial design that have the potential to increase patient recruitment and retention. IRT plays a crucial role in the success of a Direct-to-Patient trial. Because drug supplies are being managed and shipped from distribution facilities directly to patients' homes, a sponsor must have a high-quality system in place to accurately track the chain of custody, ensure patient-blinding and handle other logistical challenges. What You Will Learn Benefits and challenges associated with the Direct-to-Patient model Bellerophon's top considerations when implementing this trial design How IRT can equip study teams to successfully track chain of custody, ensure patient blinding, and handle logistical challenges
by Suvoda
The multicentre, randomised, parallel group, double blind, multiple dose, placebo controlled trial will include male DMD patients aged four to eight years.
As part of the trial, around 30 patients who have a diagnosis of DMD confirmed by complete dystrophin deficiency, or an identifiable mutation in the DMD gene, or complete dystrophin gene sequencing consistent with DMD will be enrolled.
To take part in the trial, the patients must have a typical clinical profile consistent with DMD.
The enrolled patients will be randomly assigned in a 2:1 ratio to receive one of two weight-based doses of MNK-1411, or volume-matched placebo, which will be administered subcutaneously two times a week for 24 weeks.
"Mallinckrodt is focused on meeting the unmet medical needs of patients, particularly those with rare diseases like DMD."
Upon completion of the 24-week, randomised, double-blind, placebo-controlled treatment period, patients will receive active treatment for an additional 24 weeks under an optional open-label extension phase.
The trial's key efficacy objectives comprise timed function tests such as a 10m walk/run, four-stair climb and rise from floor, and the NorthStar Ambulatory Assessment.
Mallinckrodt executive vice-president and chief scientific officer Steven Romano said: "Mallinckrodt is focused on meeting the unmet medical needs of patients, particularly those with rare diseases like DMD."
DMD, which is a genetic disorder characterised by progressive muscle degeneration and weakness, is caused by an absence of dystrophin protein that helps keep muscle cells intact.
It is one of nine types of muscular dystroph and its symptoms are seen in early childhood, usually between ages three and five.
Free Case Study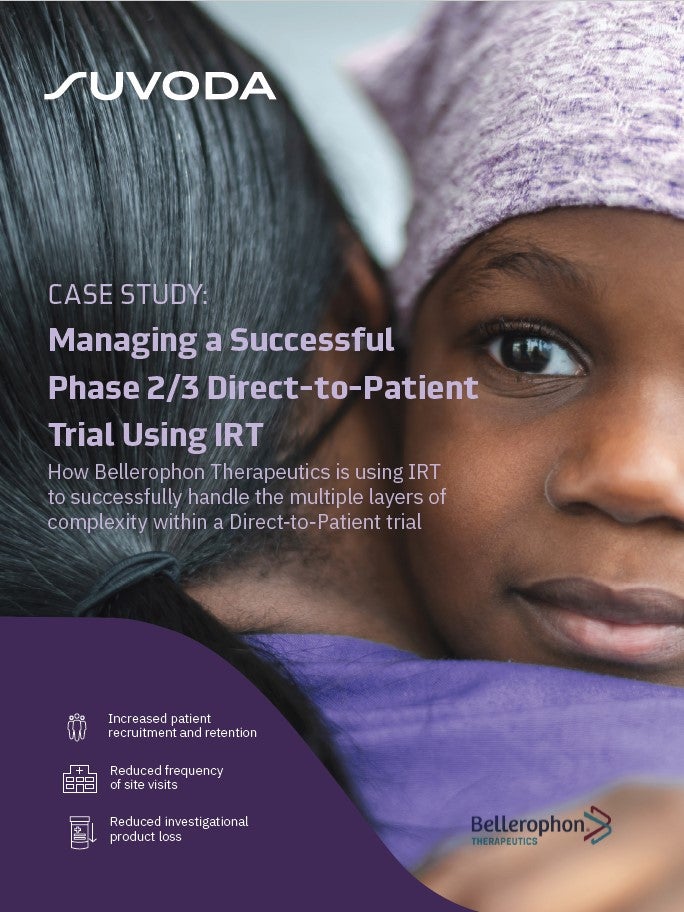 Direct-to-Patient Trials: How IRT Plays an Important Role in Bellerophon's Direct-to-Patient Trials
As the industry strengthens its focus on patient centricity, Direct-to-Patient clinical trials have emerged as a popular trial design that have the potential to increase patient recruitment and retention. IRT plays a crucial role in the success of a Direct-to-Patient trial. Because drug supplies are being managed and shipped from distribution facilities directly to patients' homes, a sponsor must have a high-quality system in place to accurately track the chain of custody, ensure patient-blinding and handle other logistical challenges. What You Will Learn Benefits and challenges associated with the Direct-to-Patient model Bellerophon's top considerations when implementing this trial design How IRT can equip study teams to successfully track chain of custody, ensure patient blinding, and handle logistical challenges
by Suvoda