The US Medical Device Innovation Consortium (MDIC) has published a report on how to improve medical device clinical trials by maximising patient input.
Free Case Study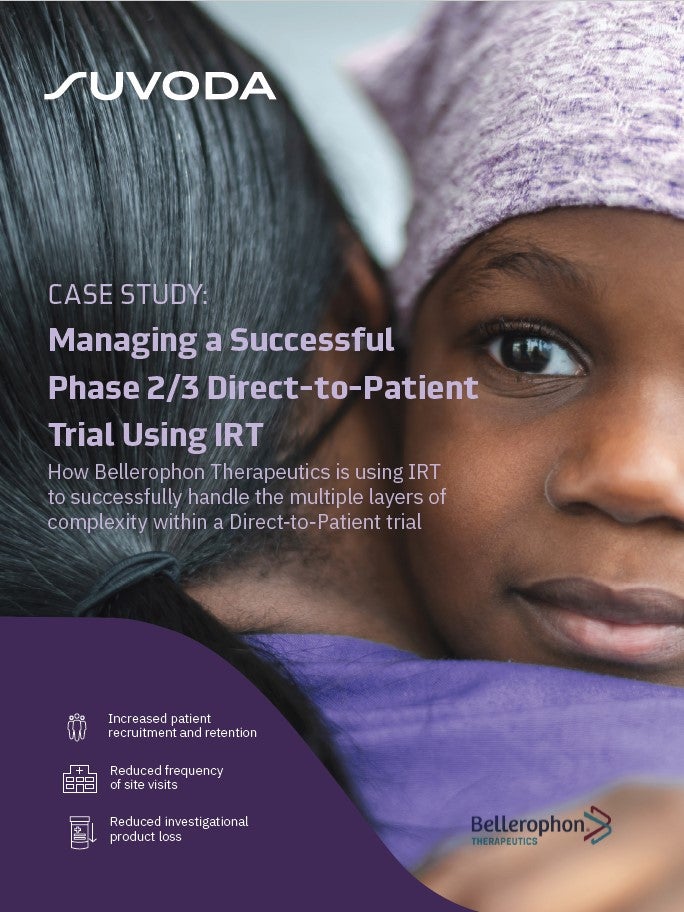 Direct-to-Patient Trials: How IRT Plays an Important Role in Bellerophon's Direct-to-Patient Trials
As the industry strengthens its focus on patient centricity, Direct-to-Patient clinical trials have emerged as a popular trial design that have the potential to increase patient recruitment and retention. IRT plays a crucial role in the success of a Direct-to-Patient trial. Because drug supplies are being managed and shipped from distribution facilities directly to patients' homes, a sponsor must have a high-quality system in place to accurately track the chain of custody, ensure patient-blinding and handle other logistical challenges. What You Will Learn Benefits and challenges associated with the Direct-to-Patient model Bellerophon's top considerations when implementing this trial design How IRT can equip study teams to successfully track chain of custody, ensure patient blinding, and handle logistical challenges
by Suvoda
The report, Maximizing Patient Input in the Design and Development of Medical Device Clinical Trials, was created by a working group made up of staff from the FDA's Center for Devices and Radiological Health, as well as from health systems, non-profits and companies including Exact Sciences, Johnson & Johnson, NSF International and the Patient-Centered Outcomes Research Institute.
Three MDIC surveys conducted between 2018 and 2019 found that patient insights are rarely used to inform the design of device and diagnostic clinical trials.
The consortium is now making the case to "engage early and engage often" with patients during clinical research.
The report maintains that patient engagement in medical device clinical trials can lead to faster completion of studies, higher retention and compliance, and more streamlined and relevant data.
MDIC states in the report that patient input can "help define unmet need, clarify patient preferences, develop endpoints that measure what matters to patients, assist in reducing burdensome study protocol requirements to enhance recruitment and retention, and establish information that can be used in the regulatory process and for postmarketing activities".
It also includes strategies for developing a patient engagement program and identifying patient representatives, as well as developing their role, building relationships and utilising patient input.
"Knowing which type of patient voice is most relevant to a development program can be challenging and is certainly not an 'exact science'," MDIC's report noted. "Product developers seeking patient input should be aware of the variations in patient experience and related input and aim to evaluate the extent to which the insights they receive are representative for the population under study."
The report follows 2019 draft guidance from the FDA aimed at promoting patient influence in clinical trial design.
MDIC is a US public-private partnership focused on advancing medical device regulatory science for the benefit of patients. The consortium, which was formed in 2012, brings together public sector organisations such as the FDA, the National Institutes of Health and the Centers for Medicare and Medicaid Services along with non-profit groups, patient organisations and private companies including Abbott, Roche, Thermo Fisher Scientific, Medtronic and Boston Scientific.
Free Case Study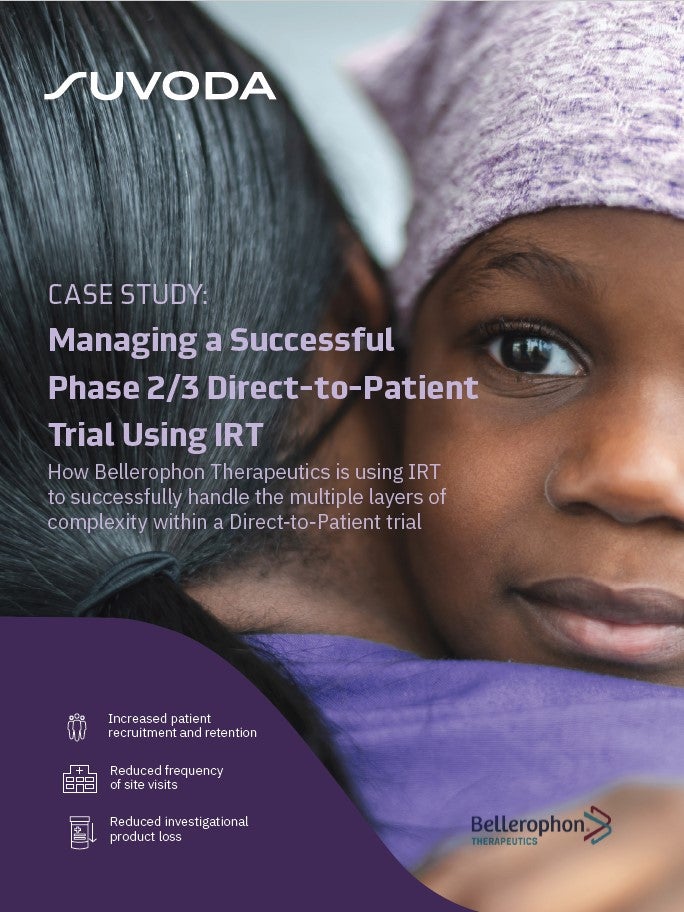 Direct-to-Patient Trials: How IRT Plays an Important Role in Bellerophon's Direct-to-Patient Trials
As the industry strengthens its focus on patient centricity, Direct-to-Patient clinical trials have emerged as a popular trial design that have the potential to increase patient recruitment and retention. IRT plays a crucial role in the success of a Direct-to-Patient trial. Because drug supplies are being managed and shipped from distribution facilities directly to patients' homes, a sponsor must have a high-quality system in place to accurately track the chain of custody, ensure patient-blinding and handle other logistical challenges. What You Will Learn Benefits and challenges associated with the Direct-to-Patient model Bellerophon's top considerations when implementing this trial design How IRT can equip study teams to successfully track chain of custody, ensure patient blinding, and handle logistical challenges
by Suvoda