Medable has collaborated with healthcare technology company Seqster to integrate real-world patient data streams in decentralised clinical trials platform.
Free Case Study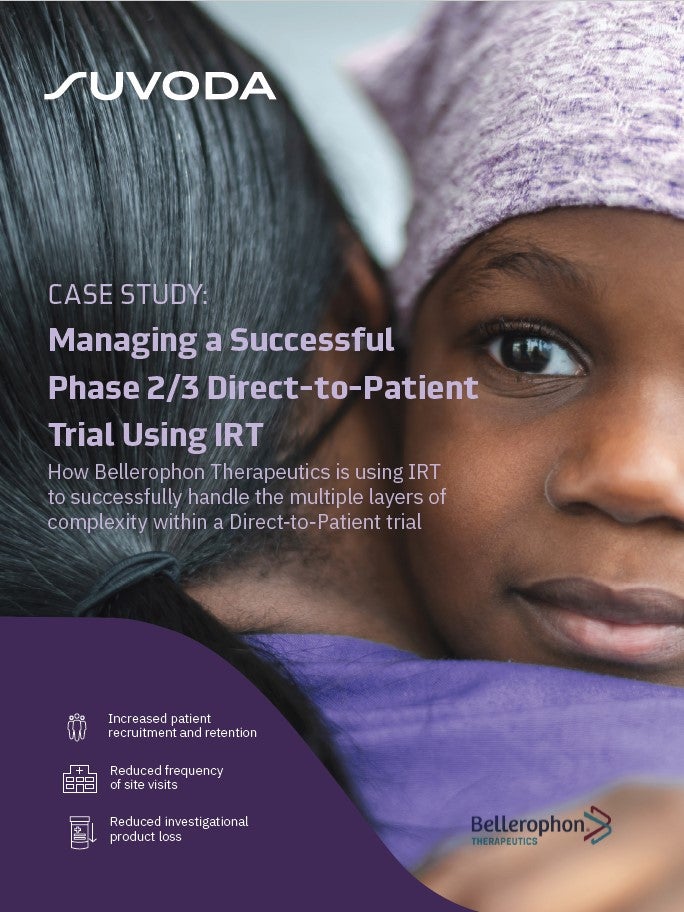 Direct-to-Patient Trials: How IRT Plays an Important Role in Bellerophon's Direct-to-Patient Trials
As the industry strengthens its focus on patient centricity, Direct-to-Patient clinical trials have emerged as a popular trial design that have the potential to increase patient recruitment and retention. IRT plays a crucial role in the success of a Direct-to-Patient trial. Because drug supplies are being managed and shipped from distribution facilities directly to patients' homes, a sponsor must have a high-quality system in place to accurately track the chain of custody, ensure patient-blinding and handle other logistical challenges. What You Will Learn Benefits and challenges associated with the Direct-to-Patient model Bellerophon's top considerations when implementing this trial design How IRT can equip study teams to successfully track chain of custody, ensure patient blinding, and handle logistical challenges
by Suvoda
Seqster has developed a patient-centric interoperability to access secure, longitudinal, and comprehensive real-world health data in real time.
These data sources include electronic health records (EHRs), genomic data (DNA), fitness wearables data, and social determinants of health (SDOH).
The company provides easy access to researchers with patient medical records, which will make it easier to recruit, consent and re-consent trial participants.
Medable will integrate Seqster's technology into its decentralised trial platform to streamline trial recruitment and participation, while maintaining data ownership, privacy, and security of the patient.
Medable CEO and co-founder Michelle Longmire said: "Patients want clinical trials to fit into their real-world experience, not the other way around.
"Working with Seqster, we can integrate more data sources and data streams to provide clinicians with a more holistic view of patient health, leading to higher-quality trial results while simplifying the patient experience."
Patients will be able to track their health data throughout the study and beyond, providing an integrated approach to outcomes analysis.
The FDA 21 CFR Part 11 compliant platform enables the secure delivery of EHR documents directly to regulated trial management systems and allows eConsent-based visualisation of participant data.
Both the companies also collaborate with Datavant to integrate and connect the de-identified data across the complete patient journey such as EHRs, claims, and diagnostics, and emerging sources including genomics, wearable devices, socioeconomic and behavioural data and more.
By combining real-time, real-world data streams that integrate an array of patient data sets with broader de-identified data pools, exciting new insights can be unlocked in the realm of personalised medicine.
Free Case Study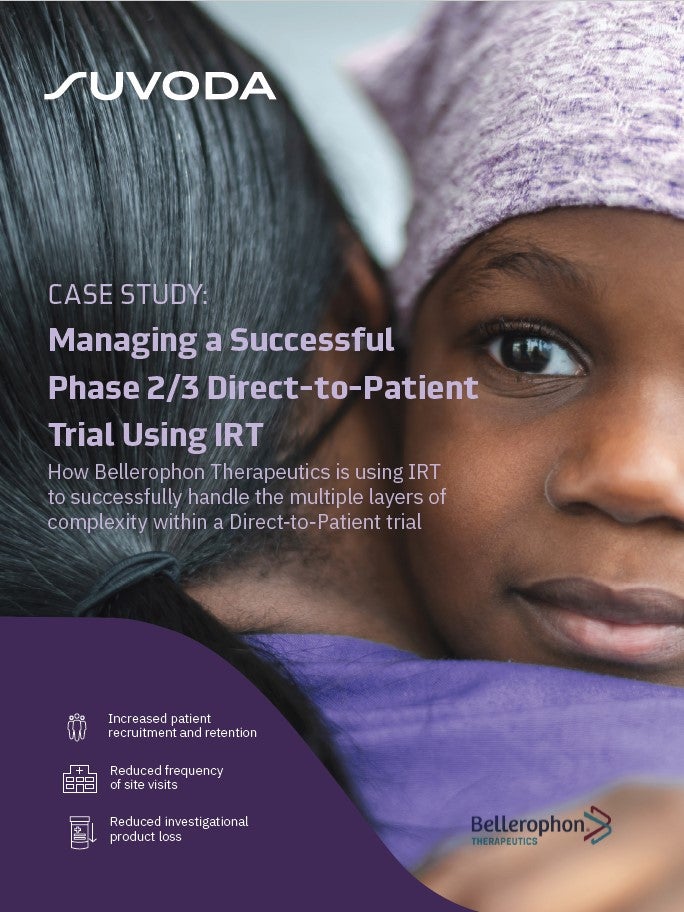 Direct-to-Patient Trials: How IRT Plays an Important Role in Bellerophon's Direct-to-Patient Trials
As the industry strengthens its focus on patient centricity, Direct-to-Patient clinical trials have emerged as a popular trial design that have the potential to increase patient recruitment and retention. IRT plays a crucial role in the success of a Direct-to-Patient trial. Because drug supplies are being managed and shipped from distribution facilities directly to patients' homes, a sponsor must have a high-quality system in place to accurately track the chain of custody, ensure patient-blinding and handle other logistical challenges. What You Will Learn Benefits and challenges associated with the Direct-to-Patient model Bellerophon's top considerations when implementing this trial design How IRT can equip study teams to successfully track chain of custody, ensure patient blinding, and handle logistical challenges
by Suvoda