Biopharmaceutical company MediciNova has plans to study its investigational drug, ibudilast (MN-166), to treat acute respiratory distress syndrome (ARDS) associated with Covid-19.
Free Case Study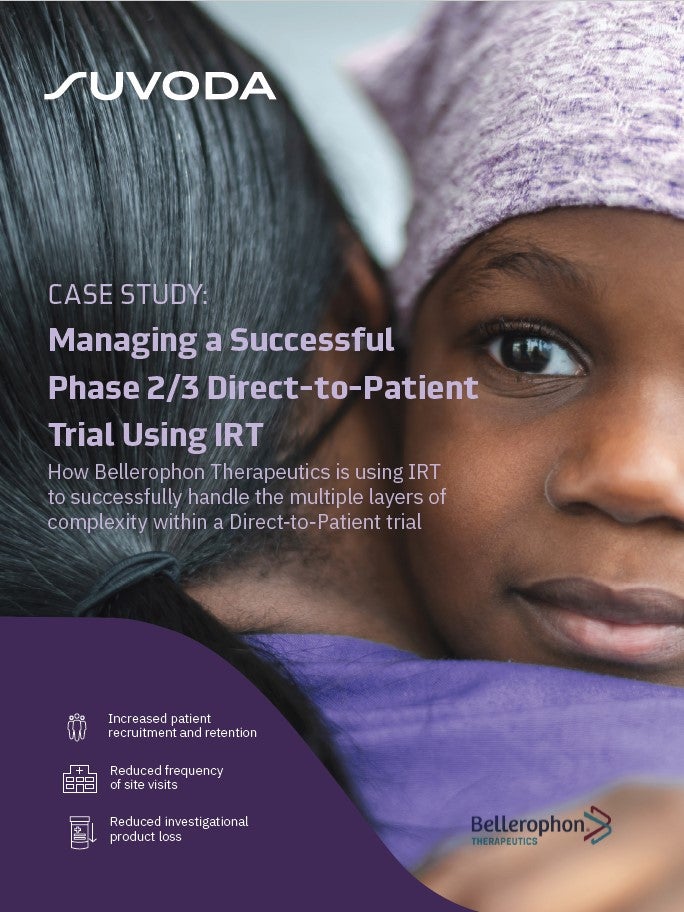 Direct-to-Patient Trials: How IRT Plays an Important Role in Bellerophon's Direct-to-Patient Trials
As the industry strengthens its focus on patient centricity, Direct-to-Patient clinical trials have emerged as a popular trial design that have the potential to increase patient recruitment and retention. IRT plays a crucial role in the success of a Direct-to-Patient trial. Because drug supplies are being managed and shipped from distribution facilities directly to patients' homes, a sponsor must have a high-quality system in place to accurately track the chain of custody, ensure patient-blinding and handle other logistical challenges. What You Will Learn Benefits and challenges associated with the Direct-to-Patient model Bellerophon's top considerations when implementing this trial design How IRT can equip study teams to successfully track chain of custody, ensure patient blinding, and handle logistical challenges
by Suvoda
Ibudilast is an oral, small-molecule inhibitor of macrophage migration inhibitory factor (MIF) and phosphodiesterase (PDE) -4 and -10. It inhibits pro-inflammatory cytokines and promotes neurotrophic factors.
In previous studies, the drug candidate led to a significant decrease in serum MIF level.
The company also added that ibudilast showed anti-neuroinflammatory and neuroprotective properties in preclinical and clinical studies for neurological diseases, including amyotrophic lateral sclerosis and progressive multiple sclerosis.
MediciNova president and CEO Yuichi Iwaki said: "We are very pleased to announce initiation of a clinical trial of MN-166 in ARDS caused by Covid-19.
"This study also will allow investigators to determine the optimal dose and route of administration in these very critical patients."
MediciNova expects that the drug candidate could mitigate the hyper-inflammation and ARDS found in severe cases of Covid-19 infection.
The planned study of ibudilast in Covid-19 patients will be performed by Yale's Advanced Therapies Group.
Yale's Advanced Therapies Group co-director Richard Bucala said: "This study is especially gratifying because MN-166's inhibition of MIF activity was discovered in Yale Pharmacology by Elias Lolis.
"We believe MN-166 has the potential to reduce the mortality of Covid-19 by limiting the hyper-inflammation and ARDS associated with severe cases."
In a separate development, Yale University said that its lung fibrosis drug candidate sobetirome may possess the potential to treat some life-threatening effects of Covid-19.
Sobetirome works by healing scarring and improving cell function in lungs. In a recent study, the drug also demonstrated promise in preventing and treating ARDS.
Researchers at the university are making preparations to study sobetirome in trials.
Free Case Study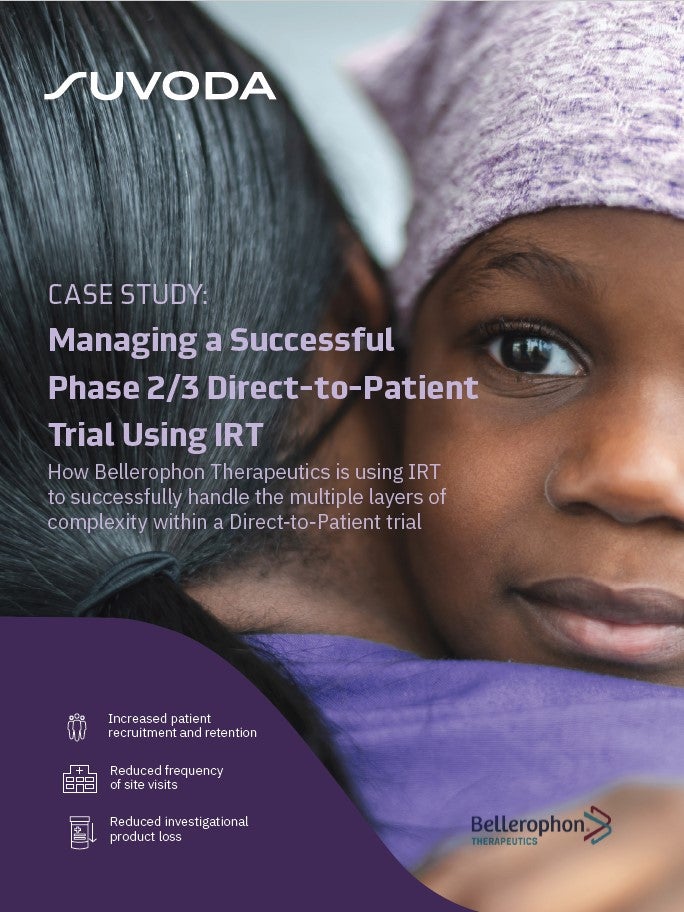 Direct-to-Patient Trials: How IRT Plays an Important Role in Bellerophon's Direct-to-Patient Trials
As the industry strengthens its focus on patient centricity, Direct-to-Patient clinical trials have emerged as a popular trial design that have the potential to increase patient recruitment and retention. IRT plays a crucial role in the success of a Direct-to-Patient trial. Because drug supplies are being managed and shipped from distribution facilities directly to patients' homes, a sponsor must have a high-quality system in place to accurately track the chain of custody, ensure patient-blinding and handle other logistical challenges. What You Will Learn Benefits and challenges associated with the Direct-to-Patient model Bellerophon's top considerations when implementing this trial design How IRT can equip study teams to successfully track chain of custody, ensure patient blinding, and handle logistical challenges
by Suvoda