Merck (MSD) has announced plans to suspend the dosing of subjects in the Phase II IMAGINE-DR clinical trial of MK-8507 in combination with islatravir (ISL) to treat HIV-1 infection.
Free Case Study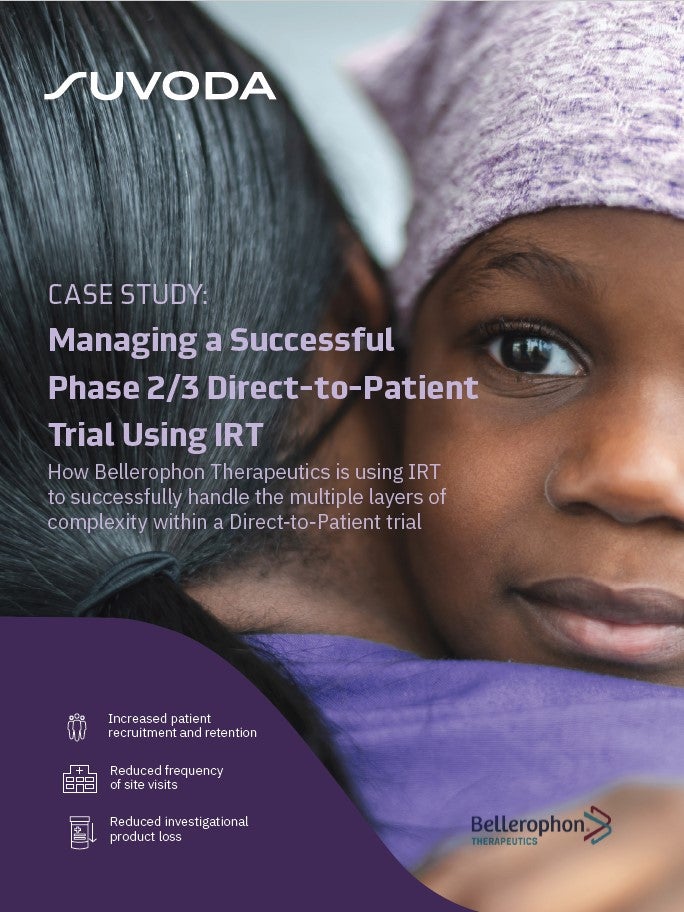 Direct-to-Patient Trials: How IRT Plays an Important Role in Bellerophon's Direct-to-Patient Trials
As the industry strengthens its focus on patient centricity, Direct-to-Patient clinical trials have emerged as a popular trial design that have the potential to increase patient recruitment and retention. IRT plays a crucial role in the success of a Direct-to-Patient trial. Because drug supplies are being managed and shipped from distribution facilities directly to patients' homes, a sponsor must have a high-quality system in place to accurately track the chain of custody, ensure patient-blinding and handle other logistical challenges. What You Will Learn Benefits and challenges associated with the Direct-to-Patient model Bellerophon's top considerations when implementing this trial design How IRT can equip study teams to successfully track chain of custody, ensure patient blinding, and handle logistical challenges
by Suvoda
The ongoing, randomised, double-blind, controlled, dose-ranging trial is analysing MK-8507 plus ISL, a weekly oral theory, in 161 adult HIV-1 patients.
These subjects were virologically suppressed for over or nearly six months on a once-daily dose of bictegravir/emtricitabine/tenofovir alafenamide (BIC/FTC/TAF).
MK-8507 is an inhibitor of non-nucleoside reverse transcriptase while ISL is a nucleoside reverse transcriptase translocation inhibitor.
The company found a reduction in total lymphocyte and CD4+ T-cell counts in trial subjects who received the combination treatment.
The external Data Monitoring Committee (eDMC) found that the decreased levels were linked to treatment with ISL plus MK-8507.
Furthermore, steep declines were reported in groups treated with the highest dosages of MK-8507.
Based on advice from the eDMC, Merck decided to stop subject dosing in the trial and will now monitor them.
The company has informed the investigators and paused MK-8507 development.
Merck Research Laboratories Global Clinical Development infectious diseases vice-president Dr Joan Butterton said: "Merck remains resolute in its commitment to help address the unmet needs of people living with HIV and continue to do our part in the global efforts to help end the HIV pandemic, which includes the ongoing development of islatravir.
"All clinical studies provide important learnings to help us in the fight against HIV, and we are grateful to the patients and investigators for their contributions."
Last week, Merck launched the Phase III VICTOR trial of Verquvo (vericiguat) in people with chronic heart failure who have reduced ejection fraction by 40% or less.
Recruitment of participants who have not experienced a recent worsening heart failure event is underway.
Free Case Study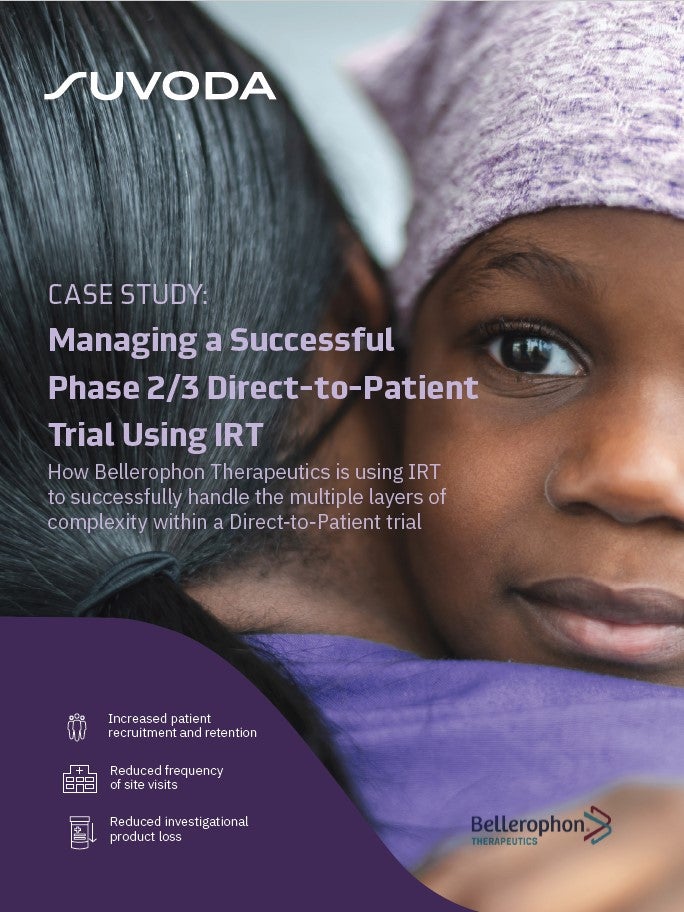 Direct-to-Patient Trials: How IRT Plays an Important Role in Bellerophon's Direct-to-Patient Trials
As the industry strengthens its focus on patient centricity, Direct-to-Patient clinical trials have emerged as a popular trial design that have the potential to increase patient recruitment and retention. IRT plays a crucial role in the success of a Direct-to-Patient trial. Because drug supplies are being managed and shipped from distribution facilities directly to patients' homes, a sponsor must have a high-quality system in place to accurately track the chain of custody, ensure patient-blinding and handle other logistical challenges. What You Will Learn Benefits and challenges associated with the Direct-to-Patient model Bellerophon's top considerations when implementing this trial design How IRT can equip study teams to successfully track chain of custody, ensure patient blinding, and handle logistical challenges
by Suvoda