Mesoblast has reported that its therapy, remestemcel-L, enhanced survival outcomes in ventilator-dependent Covid-19 patients suffering from moderate/severe acute respiratory distress syndrome (ARDS) in a trial.
Free Case Study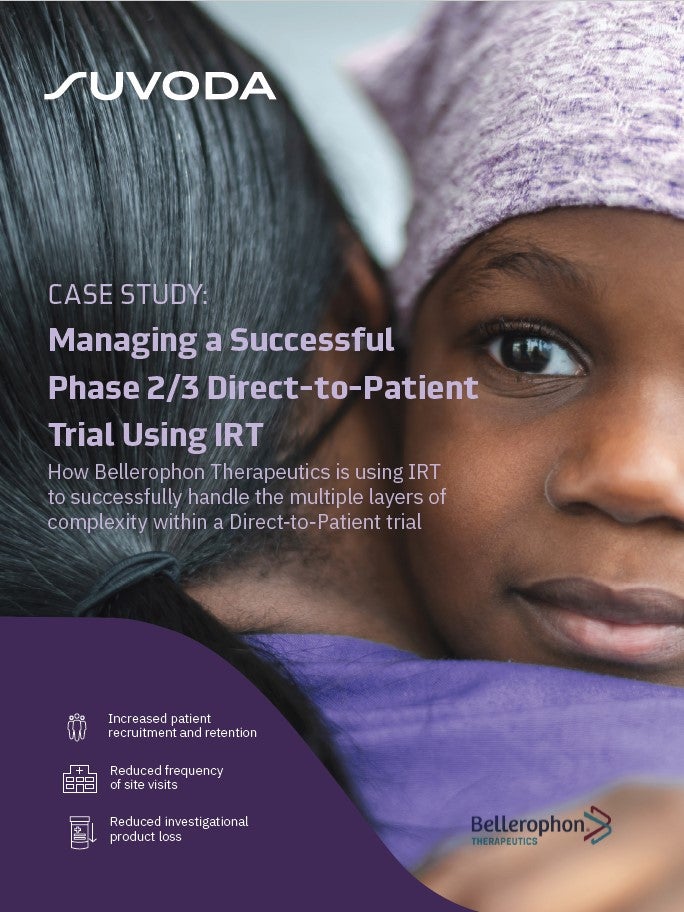 Direct-to-Patient Trials: How IRT Plays an Important Role in Bellerophon's Direct-to-Patient Trials
As the industry strengthens its focus on patient centricity, Direct-to-Patient clinical trials have emerged as a popular trial design that have the potential to increase patient recruitment and retention. IRT plays a crucial role in the success of a Direct-to-Patient trial. Because drug supplies are being managed and shipped from distribution facilities directly to patients' homes, a sponsor must have a high-quality system in place to accurately track the chain of custody, ensure patient-blinding and handle other logistical challenges. What You Will Learn Benefits and challenges associated with the Direct-to-Patient model Bellerophon's top considerations when implementing this trial design How IRT can equip study teams to successfully track chain of custody, ensure patient blinding, and handle logistical challenges
by Suvoda
The randomised, controlled trial enrolled a total of 222 subjects in the US.
Of these subjects, 217 were categorised in a 1:1 ratio to receive either two intravenous doses of remestemcel-L administered three to five days apart plus standard of care alone (SOC) or SOC alone.
Data from a pre-specified analysis of 123 subjects aged under 65 years showed that remestemcel-L decreased mortality by 48% at 90 days versus controls. This is comparable to the 46% decrease in mortality at 60 days, suggesting a durable therapeutic effect, the company noted.
In an exploratory analysis involving subjects on dexamethasone, the drug candidate led to a 77% reduction in mortality when compared to controls aged below 65 years on dexamethasone.
Furthermore, significant improvements with remestemcel-L were observed on secondary endpoints of ventilator-free days, respiratory function determined by ARDS severity and overall clinical improvement on a seven-point ordinal scale.
On day seven, the therapy enhanced respiratory function in subjects above 65 years but 97 treated participants did not experience a decrease in mortality.
Furthermore, remestemcel-L, along with SOC of dexamethasone, boosted respiratory function and improved clinical outcomes to an increased extent in subjects under 65 at days seven, 14, 21, and 30.
Earlier, Mesoblast reported that the trial failed to meet its goal of a 43% decline in overall mortality.
The therapy reduced mortality in 60 days in the pre-specified subgroup analysis of 123 subjects under 65, but not for those aged above 65.
Last year, Mesoblast signed a licence and partnership agreement with Novartis to develop, produce and market remestemcel-L focusing on treating ARDS, including that related to Covid-19.
The deal is subject to some closing conditions, which include time to evaluate the results from the Covid-19 ARDS trial.
In another development, YishengBio has obtained clearance from the UAE Ministry of Health & Prevention to carry out a Phase I trial of PIKA, its recombinant Covid-19 vaccine.
The vaccine showed the ability to stimulate quick and effective neutralising antibody production and cellular immunity against the existing prevalent SARS-CoV-2 variants, in preclinical clinal trials.
Free Case Study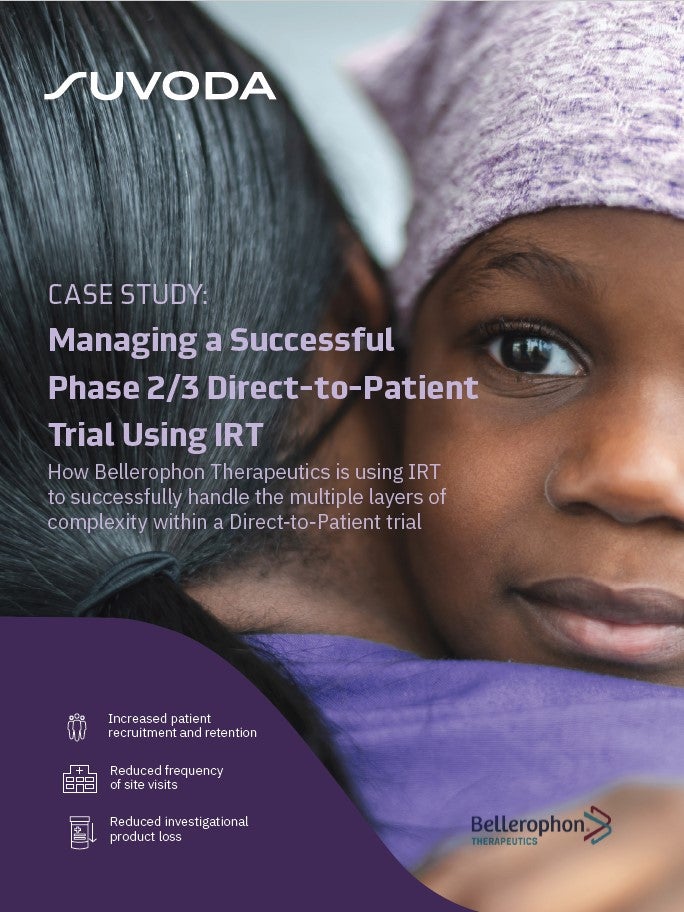 Direct-to-Patient Trials: How IRT Plays an Important Role in Bellerophon's Direct-to-Patient Trials
As the industry strengthens its focus on patient centricity, Direct-to-Patient clinical trials have emerged as a popular trial design that have the potential to increase patient recruitment and retention. IRT plays a crucial role in the success of a Direct-to-Patient trial. Because drug supplies are being managed and shipped from distribution facilities directly to patients' homes, a sponsor must have a high-quality system in place to accurately track the chain of custody, ensure patient-blinding and handle other logistical challenges. What You Will Learn Benefits and challenges associated with the Direct-to-Patient model Bellerophon's top considerations when implementing this trial design How IRT can equip study teams to successfully track chain of custody, ensure patient blinding, and handle logistical challenges
by Suvoda