MGC Pharmaceuticals (MXC) has received approval from the University of Notre Dame in Western Australia's (UNDA) Human Research Ethics Committee (HREC) to carry out a Phase II clinical trial to examine the effects of CogniCann for the treatment of patients with mild dementia and Alzheimer's disease.
Free Case Study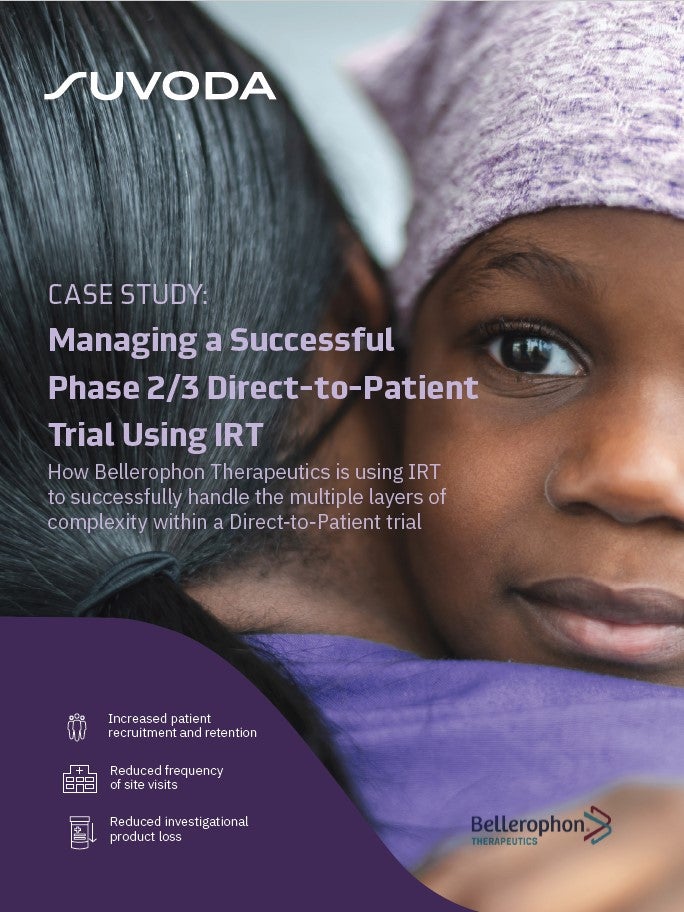 Direct-to-Patient Trials: How IRT Plays an Important Role in Bellerophon's Direct-to-Patient Trials
As the industry strengthens its focus on patient centricity, Direct-to-Patient clinical trials have emerged as a popular trial design that have the potential to increase patient recruitment and retention. IRT plays a crucial role in the success of a Direct-to-Patient trial. Because drug supplies are being managed and shipped from distribution facilities directly to patients' homes, a sponsor must have a high-quality system in place to accurately track the chain of custody, ensure patient-blinding and handle other logistical challenges. What You Will Learn Benefits and challenges associated with the Direct-to-Patient model Bellerophon's top considerations when implementing this trial design How IRT can equip study teams to successfully track chain of custody, ensure patient blinding, and handle logistical challenges
by Suvoda
The approval was granted following the completion of an ethical review by HREC, in line with Australia's National Statement on Ethical Conduct in Human Research rules.
Subject to Australia's Therapeutic Goods Administration (TGA) approval, the 16-week, randomised, double-blind, crossover, placebo-control trial is expected to start early next year.
UNDA's Institute for Health Research will conduct the trial, which is designed to investigate the behavioural changes, quality of life, and level of discomfort and pain in dementia patients staying at residential aged care facilities.
"Health research, especially into issues affecting those most in need within our community, is of the highest priority to Notre Dame."
The trial aims to enrol a total of 50 subjects aged 65 and older.
In addition, MGC Pharmaceuticals plans to carry out a number of pre and posttreatment surveys and focus groups to evaluate the patients and their family member's knowledge and perceptions towards the use of CogniCann.
University of Notre Dame Australia Institute for Health Research director Jim Codde said: "Health research, especially into issues affecting those most in need within our community, is of the highest priority to Notre Dame.
"Research initiatives into dementia is also a national priority, so we are very excited to work with MXC and the aged care sector to trial this novel approach to improve the quality of life for the almost 350,000 Australians suffering this disease that currently has no cure."
CogniCann is part of MGC Pharmaceuticals ' medical cannabis pharmaceutical products featuring a THC:CBD ratio specifically developed for the treatment of major dementia symptoms and improve certain cognitive functions.
Free Case Study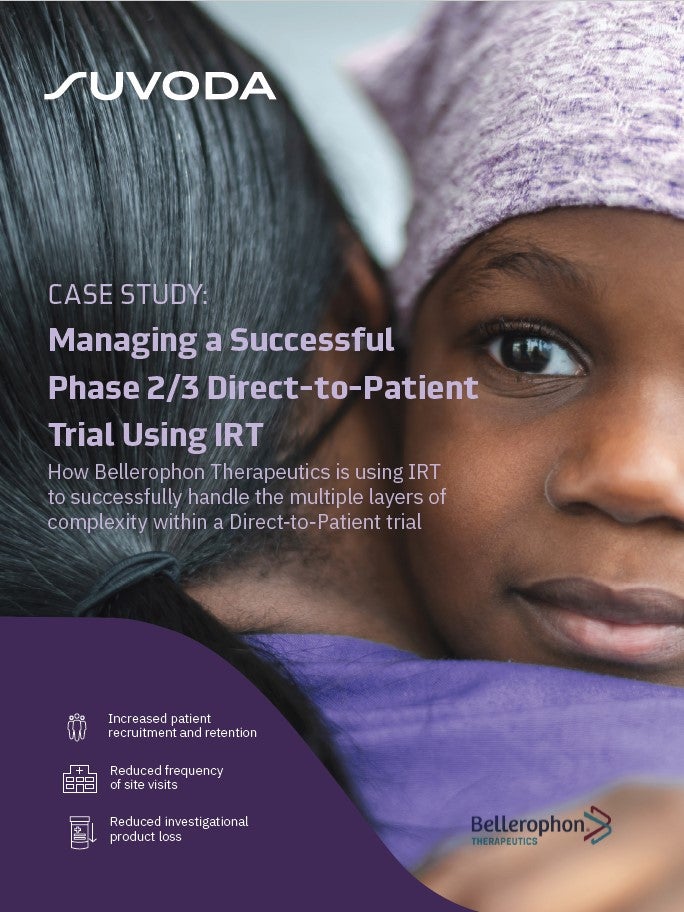 Direct-to-Patient Trials: How IRT Plays an Important Role in Bellerophon's Direct-to-Patient Trials
As the industry strengthens its focus on patient centricity, Direct-to-Patient clinical trials have emerged as a popular trial design that have the potential to increase patient recruitment and retention. IRT plays a crucial role in the success of a Direct-to-Patient trial. Because drug supplies are being managed and shipped from distribution facilities directly to patients' homes, a sponsor must have a high-quality system in place to accurately track the chain of custody, ensure patient-blinding and handle other logistical challenges. What You Will Learn Benefits and challenges associated with the Direct-to-Patient model Bellerophon's top considerations when implementing this trial design How IRT can equip study teams to successfully track chain of custody, ensure patient blinding, and handle logistical challenges
by Suvoda