The UK Medicines and Healthcare Products Regulatory Agency (MHRA) has granted approval for Avrobio's clinical trial application (CTA) to begin a Phase I/II clinical trial of gene therapy AVR-RD-05 in infants with Hunter syndrome.
Submitted by collaborators of Avrobio at the University of Manchester (UoM), UK, the CTA also received approval from the Research Ethics Committee (REC) and the Health Research Authority (HRA).
The first-in-human, non-randomised, 24-month, open-label, paediatric trial will enrol up to five children aged between three months or above and 12 months or below.
It will assess the tolerability, safety, pharmacodynamic, and clinical efficacy of the gene therapy.
The first trial subject is anticipated to be dosed in the first half of next year.
AVR-RD-05 is an investigational, autologous hematopoietic stem cell (HSC) gene therapy.
It can convert autologous HSCs ex vivo using a lentiviral vector that encodes for a brain-targeted iduronate-2-sulfatase (IDS) enzyme.
This gene therapy has obtained rare pediatric disease and orphan drug designations from the US Food and Drug Administration (FDA).
Avrobio president and CEO Geoff MacKay said: "Hunter syndrome causes complications throughout the body, including severe neurological, cardiac, and respiratory dysfunction, skeletal malformations, and hearing impairment.
"This investigational HSC gene therapy, which includes CNS-targeted gene expression, has been designed to express supra-physiological levels of the IDS enzyme in transduced HSCs, with the intent to correct both the systemic and neurological manifestations of this disease."
Also called neuronopathic mucopolysaccharidosis type II (nMPS-II), Hunter syndrome is a rare ailment that mainly impacts young males.
In May this year, the company reported positive interim data from a Phase I/II trial of investigational gene therapy AVR-RD-04 for cystinosis.
Cell & Gene Therapy coverage on Clinical Trials Arena is supported by Cytiva.
Editorial content is independently produced and follows the highest standards of journalistic integrity. Topic sponsors are not involved in the creation of editorial content.
Free Whitepaper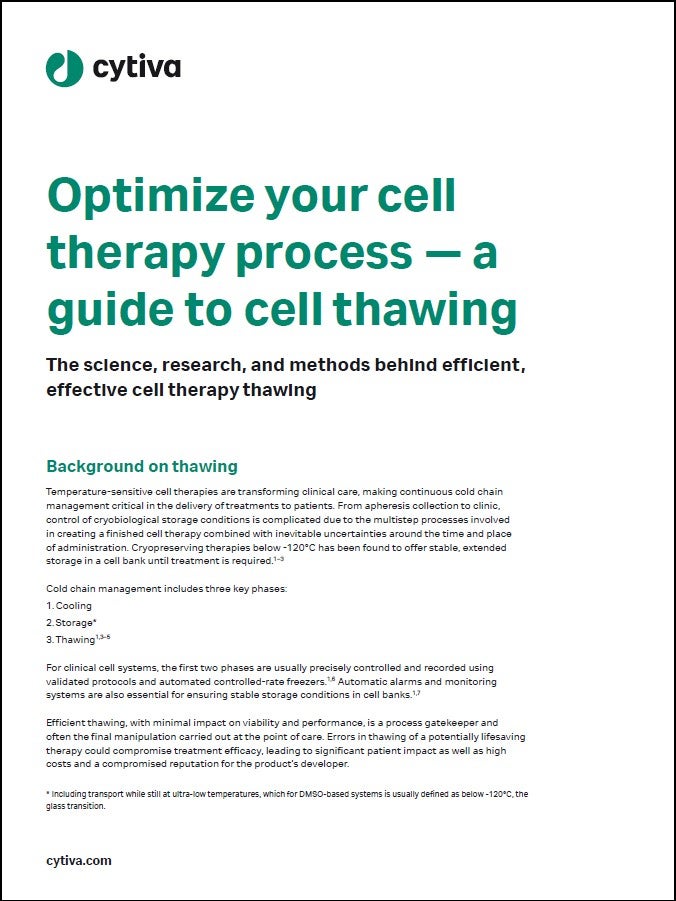 Optimise your cell therapy process: a guide to cell thawing
Typically carried out at the point of care, errors in cell therapy thawing could compromise treatment efficacy, leading to significant patient impact as well as high costs and a compromised reputation for the product's developer. This guide addresses how cell thawing has historically developed into the new techniques used today, along with the physical and biological implications of key metrics and components such as warming rate and ice structure. Also included are reviews of key studies from scientific literature and a consideration of the interactions between cooling and warming rates, as applicable to cell and gene therapies.
by Cytiva Thematic
By clicking the Download Free Whitepaper button, you accept the terms and conditions and acknowledge that your data will be used as described in the Cytiva Thematic privacy policy By downloading this Whitepaper, you acknowledge that we may share your information with our white paper partners/sponsors who may contact you directly with information on their products and services.

Visit our privacy policy for more information about our services, how we may use, process and share your personal data, including information on your rights in respect of your personal data and how you can unsubscribe from future marketing communications. Our services are intended for corporate subscribers and you warrant that the email address submitted is your corporate email address.