Biopharmaceutical firm MiMedx Group has obtained approval from the US Food and Drug Administration (FDA) for the initiation of its investigational new drug (IND) Phase IIb clinical trial of AmnioFix Injectable in patients with osteoarthritis of the knee.
Free Case Study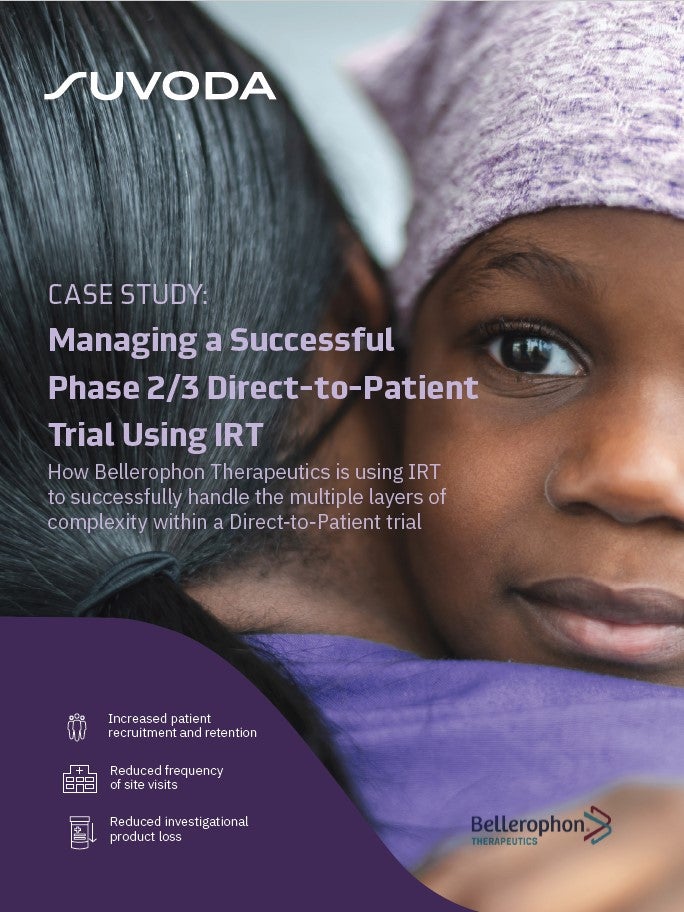 Direct-to-Patient Trials: How IRT Plays an Important Role in Bellerophon's Direct-to-Patient Trials
As the industry strengthens its focus on patient centricity, Direct-to-Patient clinical trials have emerged as a popular trial design that have the potential to increase patient recruitment and retention. IRT plays a crucial role in the success of a Direct-to-Patient trial. Because drug supplies are being managed and shipped from distribution facilities directly to patients' homes, a sponsor must have a high-quality system in place to accurately track the chain of custody, ensure patient-blinding and handle other logistical challenges. What You Will Learn Benefits and challenges associated with the Direct-to-Patient model Bellerophon's top considerations when implementing this trial design How IRT can equip study teams to successfully track chain of custody, ensure patient blinding, and handle logistical challenges
by Suvoda
AmnioFix Injectable is a micronised dehydrated human amnion chorion membrane altered minimally for the protection of collagen matrix and its natural properties.
Being developed to decrease formation of scar tissue and improve healing, the investigational candidate is processed through the firm's Purion Process, which combines cleaning, dehydration, and sterilisation.
The prospective, double-blinded, randomised Phase IIb trial will compare the safety and effectiveness of the injectable to saline (0.9% sodium chloride) placebo.
With plans to commence enrolment in the next quarter, the trial will include around 318 subjects.
MiMedx Group CEO Parker Petit said: "This knee osteoarthritis study is the fourth IND trial conducted by MiMedx for our AmnioFix Injectable.
"This knee osteoarthritis study is the fourth IND trial conducted by MiMedx for our AmnioFix Injectable."
"We are pleased to receive the FDA's notification that we can proceed with another IND study in the Orthopedic/Sports Medicine area.
"We are excited about our progress in moving our focus into the biopharmaceutical market, and we look forward to keeping our shareholders apprised on our future study results."
The trial's primary efficacy endpoints are changes in the Visual Analogue Scale (VAS) score and Western Ontario and McMaster Universities (WOMAC) osteoarthritis index between baseline and day 90.
During the 12 months after injection, the trial will evaluate primary safety endpoint as the proportion of AmnioFix-related adverse events, serious adverse events, and unanticipated adverse events.
Free Case Study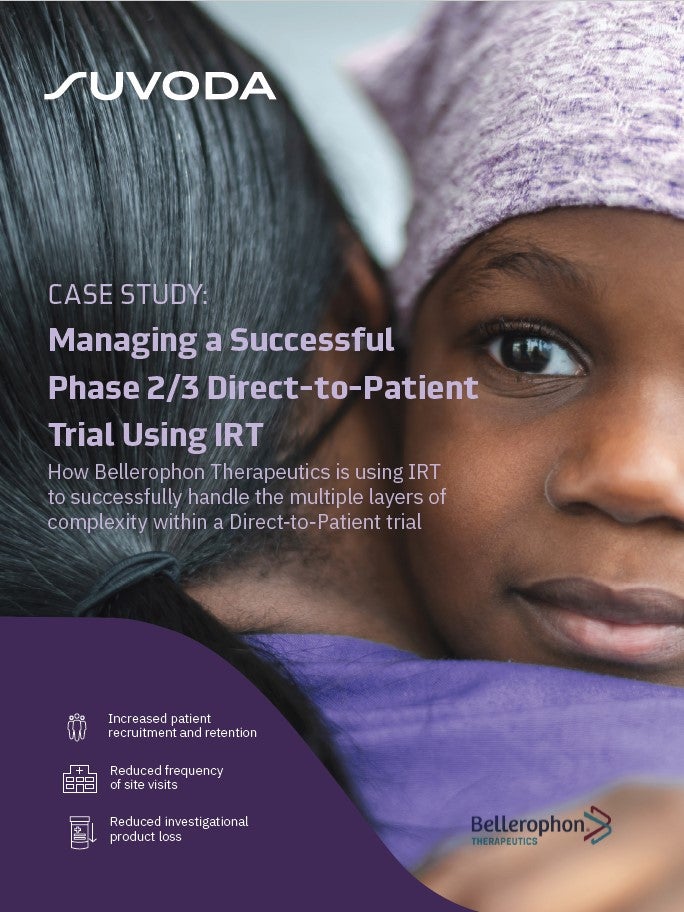 Direct-to-Patient Trials: How IRT Plays an Important Role in Bellerophon's Direct-to-Patient Trials
As the industry strengthens its focus on patient centricity, Direct-to-Patient clinical trials have emerged as a popular trial design that have the potential to increase patient recruitment and retention. IRT plays a crucial role in the success of a Direct-to-Patient trial. Because drug supplies are being managed and shipped from distribution facilities directly to patients' homes, a sponsor must have a high-quality system in place to accurately track the chain of custody, ensure patient-blinding and handle other logistical challenges. What You Will Learn Benefits and challenges associated with the Direct-to-Patient model Bellerophon's top considerations when implementing this trial design How IRT can equip study teams to successfully track chain of custody, ensure patient blinding, and handle logistical challenges
by Suvoda