UK-based MiNA Therapeutics has started the Phase I clinical trial (TIMEPOINT) of MTL-CEBPA for the treatment of patients suffering with advanced solid tumours.
Free Case Study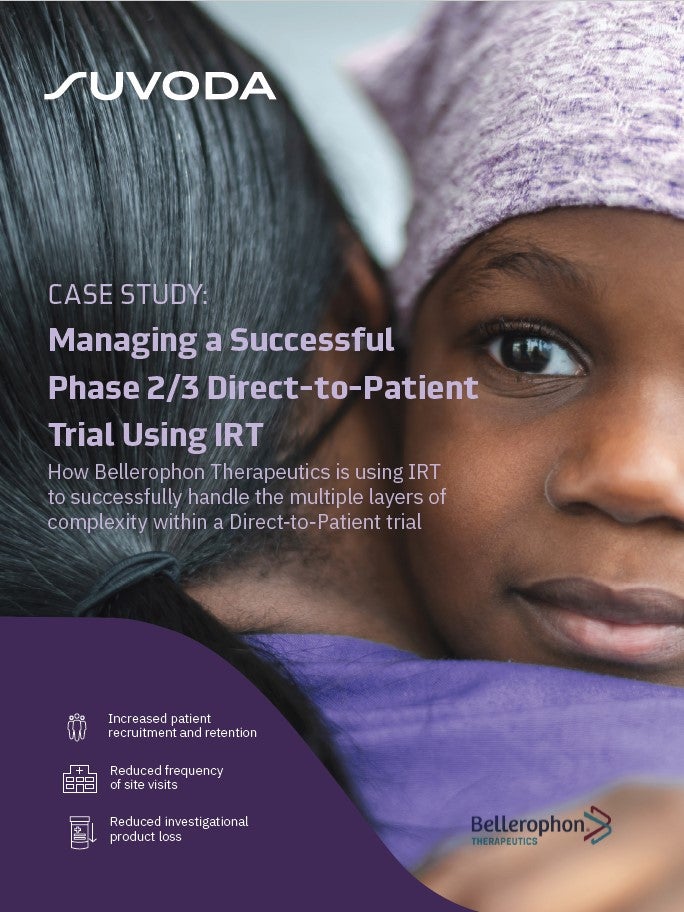 Direct-to-Patient Trials: How IRT Plays an Important Role in Bellerophon's Direct-to-Patient Trials
As the industry strengthens its focus on patient centricity, Direct-to-Patient clinical trials have emerged as a popular trial design that have the potential to increase patient recruitment and retention. IRT plays a crucial role in the success of a Direct-to-Patient trial. Because drug supplies are being managed and shipped from distribution facilities directly to patients' homes, a sponsor must have a high-quality system in place to accurately track the chain of custody, ensure patient-blinding and handle other logistical challenges. What You Will Learn Benefits and challenges associated with the Direct-to-Patient model Bellerophon's top considerations when implementing this trial design How IRT can equip study teams to successfully track chain of custody, ensure patient blinding, and handle logistical challenges
by Suvoda
TIMEPOINT is a global Phase I/Ib clinical trial is designed to assess the safety and tolerability of MTL-CEBPA, an saRNA restoring the expression of C/EBP-a, in patients with advanced solid tumour.
The clinical study is being conducted in combination with anti-PD1 checkpoint inhibitor pembrolizumab in these patients.
The MTL-CEBPA is composed of a double-stranded RNA formulated into a SMARTICLES liposomal nanoparticle, and is intended to activate the CEBPA gene, which encodes the CCAAT / enhancer binding protein alpha (C/EBP-a).
MiNA Therapeutics noted that the drug is also being investigated in an ongoing multi-centre Phase Ib study in patients suffering with advanced liver cancer and is being conducted in combination with sorafenib.
MiNA Therapeutics CEO Robert Habib said: "Initiation of the Phase I TIMEPOINT clinical trial emphasises the continued exploration of MTL-CEBPA, the first drug candidate that targets C/EBP-α, a master regulator of immune cells that play a critical role in tumour resistance.
"We are excited to take the next step and test MTL‑CEBPA in additional cancer populations in a potentially synergistic combination with an anti-PD1 checkpoint inhibitor."
According to the company, the TIMEPOINT trial comprises a dose-escalation followed by a dose expansion.
MTL‑CEBPA will be administered as an intravenous infusion once a week for three weeks, followed by one week of rest between each cycle.
The pre-clinical studies of the drug candidate have demonstrated that the anti-tumour activity of anti-PD1 checkpoint inhibition has been shown to reduce immune suppression from dysregulated myeloid cells.
In June 2016, MiNA Therapeutics started the Phase I human clinical study (OUTREACH) of MTL-CEBPA for the treatment of patients with advanced liver cancer.
Free Case Study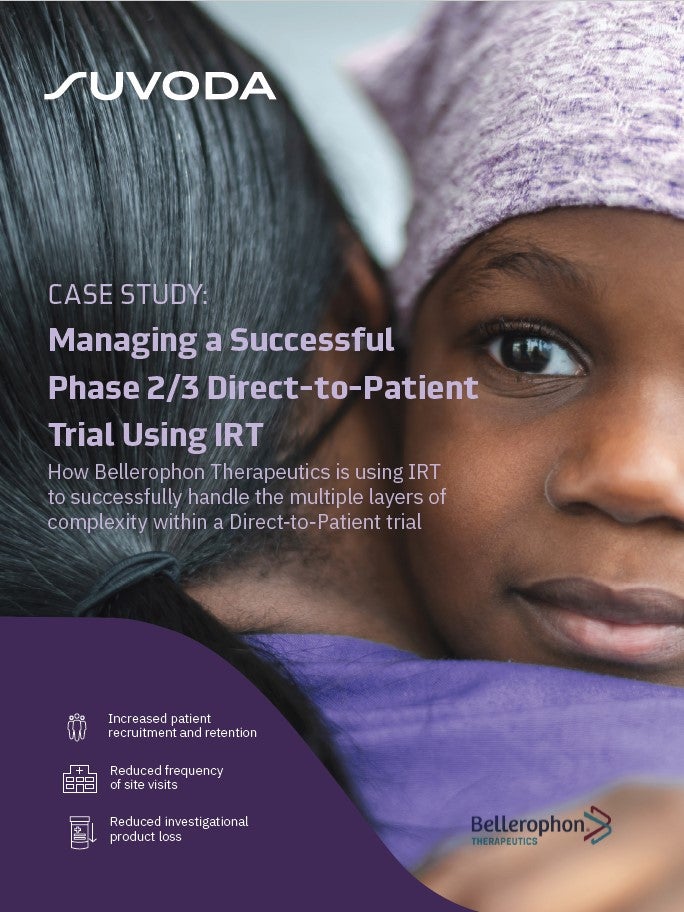 Direct-to-Patient Trials: How IRT Plays an Important Role in Bellerophon's Direct-to-Patient Trials
As the industry strengthens its focus on patient centricity, Direct-to-Patient clinical trials have emerged as a popular trial design that have the potential to increase patient recruitment and retention. IRT plays a crucial role in the success of a Direct-to-Patient trial. Because drug supplies are being managed and shipped from distribution facilities directly to patients' homes, a sponsor must have a high-quality system in place to accurately track the chain of custody, ensure patient-blinding and handle other logistical challenges. What You Will Learn Benefits and challenges associated with the Direct-to-Patient model Bellerophon's top considerations when implementing this trial design How IRT can equip study teams to successfully track chain of custody, ensure patient blinding, and handle logistical challenges
by Suvoda