Moderna has reported that the Phase II/III KidCOVE clinical trial of its Covid-19 vaccine, mRNA-1273, in children aged six months to under six years met the primary endpoint.
Free Case Study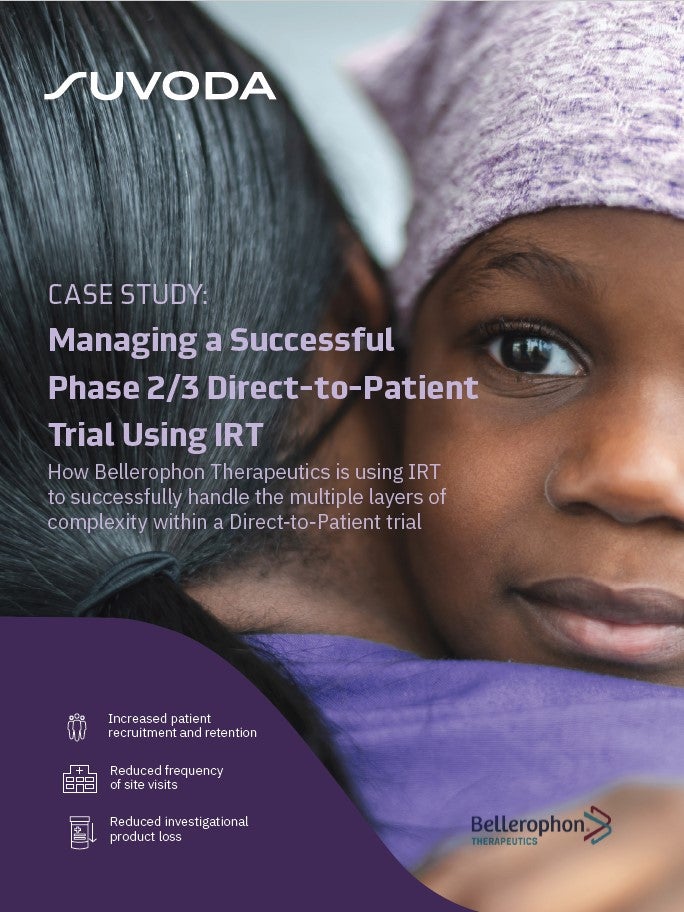 Direct-to-Patient Trials: How IRT Plays an Important Role in Bellerophon's Direct-to-Patient Trials
As the industry strengthens its focus on patient centricity, Direct-to-Patient clinical trials have emerged as a popular trial design that have the potential to increase patient recruitment and retention. IRT plays a crucial role in the success of a Direct-to-Patient trial. Because drug supplies are being managed and shipped from distribution facilities directly to patients' homes, a sponsor must have a high-quality system in place to accurately track the chain of custody, ensure patient-blinding and handle other logistical challenges. What You Will Learn Benefits and challenges associated with the Direct-to-Patient model Bellerophon's top considerations when implementing this trial design How IRT can equip study teams to successfully track chain of custody, ensure patient blinding, and handle logistical challenges
by Suvoda
The randomised, observer-blind, placebo-controlled trial has been designed to analyse the safety, tolerability and immunogenicity of two vaccine doses in healthy children administered at a gap of 28 days.
In the trial, subjects were categorised into three age groups: six to under 12 years, two to under six years and six months to under two years.
Nearly 11,700 paediatric subjects were enrolled in the trial in the US and Canada and comprised nearly 4,200 children of the age two to six years and around 2,500 children aged six months to under two years.
The latest data is from subject groups aged six months to under two years and two to under six years.
According to the positive interim analysis data, a strong neutralising antibody response was observed in both these groups following dosing with a 25µg two-dose vaccine regimen as well as an encouraging safety profile.
Based on these findings, the company intends to seek authorisation for the 25μg two-dose vaccine regimen for use in children aged six months to under six years from the US Food and Drug Administration (FDA) and various other regulatory agencies soon.
Furthermore, the tolerability profile of the vaccine in these age groups was in line with those seen in individuals aged six years and above.
Most of the adverse events were observed to be mild or moderate in nature without any new safety issues reported in both subject groups.
The immunogenicity offered by two 25µg vaccine doses in both age groups were similar to a 100µg two-dose vaccine regimen in adults aged 18 to 25 years, meeting the non-inferiority and immunobridging criteria.
On the trial's secondary endpoint of vaccine efficacy, statistically significant but reduced efficacy against Covid-19 infection was reported, which was anticipated due to the Omicron variant of the SARS-CoV-2 virus.
Moderna CEO Stéphane Bancel said: "We now have clinical data on the performance of our vaccine from infants six months of age through older adults.
"Additionally, after consultation with the US FDA, we have initiated a submission for emergency use authorization of our Covid-19 vaccine in children ages six to 11 years old and are updating our submission to the FDA for emergency use authorization of mRNA-1273 in adolescents ages 12 to 17 years with additional follow-up data." 
The latest development comes after the company entered an agreement with Japan to supply an additional 70 million doses of the Covid-19 booster vaccine or an updated booster vaccine candidate.
Free Case Study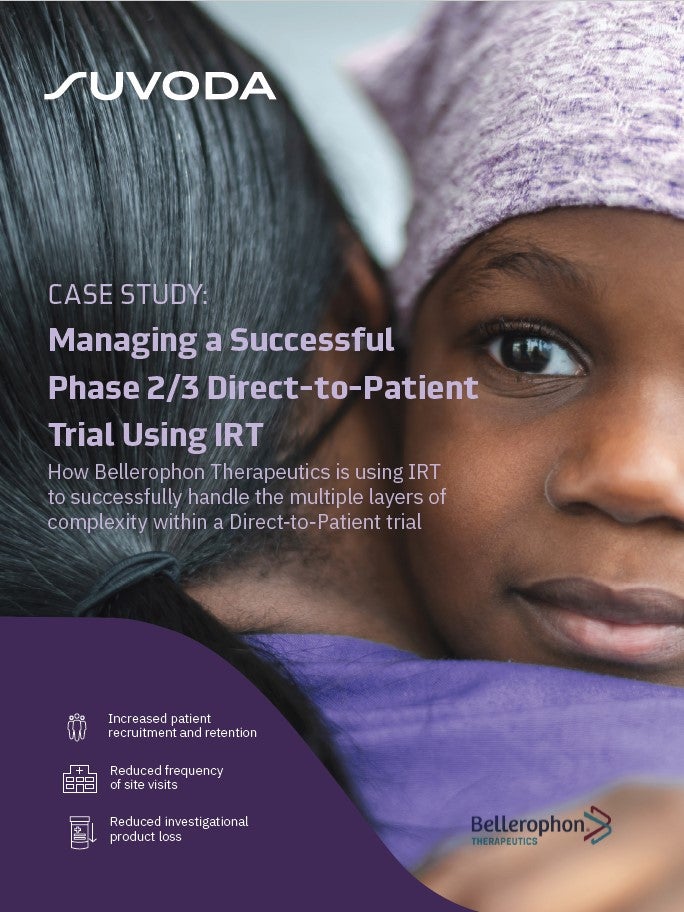 Direct-to-Patient Trials: How IRT Plays an Important Role in Bellerophon's Direct-to-Patient Trials
As the industry strengthens its focus on patient centricity, Direct-to-Patient clinical trials have emerged as a popular trial design that have the potential to increase patient recruitment and retention. IRT plays a crucial role in the success of a Direct-to-Patient trial. Because drug supplies are being managed and shipped from distribution facilities directly to patients' homes, a sponsor must have a high-quality system in place to accurately track the chain of custody, ensure patient-blinding and handle other logistical challenges. What You Will Learn Benefits and challenges associated with the Direct-to-Patient model Bellerophon's top considerations when implementing this trial design How IRT can equip study teams to successfully track chain of custody, ensure patient blinding, and handle logistical challenges
by Suvoda