Nectin Therapeutics has announced a $5.4m investment from the Cancer Focus Fund for a Phase I clinical trial of its anti-PVR targeted immunotherapy, NTX1088, to treat patients with locally advanced and metastatic solid tumours.
Free Case Study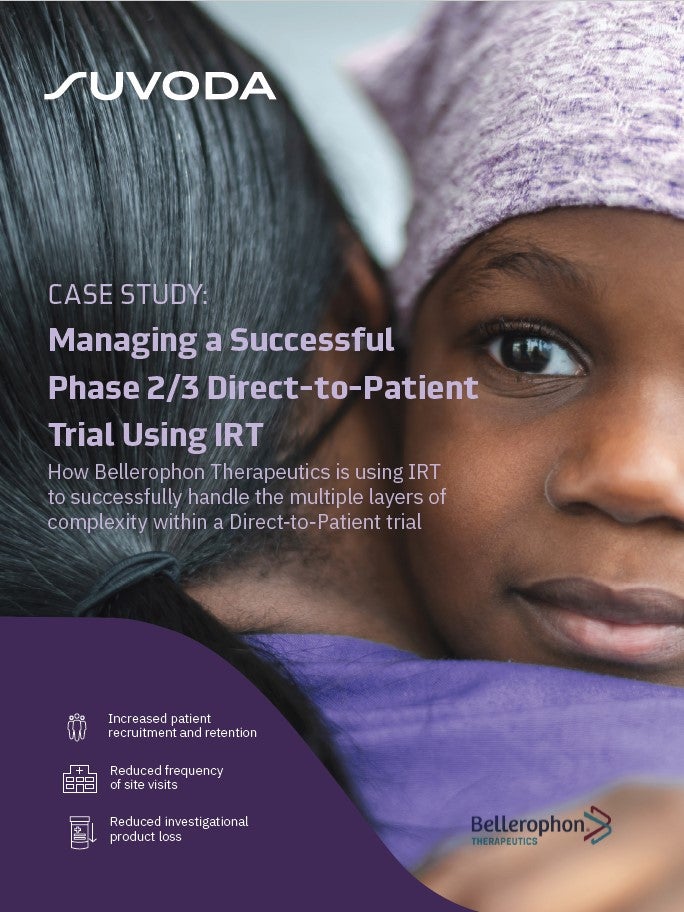 Direct-to-Patient Trials: How IRT Plays an Important Role in Bellerophon's Direct-to-Patient Trials
As the industry strengthens its focus on patient centricity, Direct-to-Patient clinical trials have emerged as a popular trial design that have the potential to increase patient recruitment and retention. IRT plays a crucial role in the success of a Direct-to-Patient trial. Because drug supplies are being managed and shipped from distribution facilities directly to patients' homes, a sponsor must have a high-quality system in place to accurately track the chain of custody, ensure patient-blinding and handle other logistical challenges. What You Will Learn Benefits and challenges associated with the Direct-to-Patient model Bellerophon's top considerations when implementing this trial design How IRT can equip study teams to successfully track chain of custody, ensure patient blinding, and handle logistical challenges
by Suvoda
Cancer Focus Fund was established in partnership with The University of Texas MD Anderson Cancer Center to offer financial support and clinical capabilities to progress cancer treatments.
A high-affinity monoclonal antibody that targets an immune checkpoint ligand called PVR, NTX1088 possesses a triple mechanism of action.
It attaches to PVR and hinders the signalling of TIGIT and CD96 immune checkpoint receptors.
The latest investment will back the Phase I trial carried out at MD Anderson to evaluate NTX1088 as a tumour treatment. 
The first-in-human, two-stage, open-label trial will enrol 90 subjects to study NTX1088 as monotherapy and along with a PD1 inhibitor.
Analysing the safety and tolerability, as well as detecting recommended dose that is safe and effective are the primary objectives of the dose-escalation stage of the trial.
The antibody's safety and tolerability will again be assessed in the expansion stage of the trial.
Furthermore, preliminary efficacy measures and exploratory analyses of pharmacodynamic and predictive biomarkers will be studied in this stage that will aid in subject stratification in the future.
The company anticipates commencing subject enrolment during the middle of this year.
Nectin will make equity and future payments to Cancer Focus Fund on meeting some clinical and commercial milestones.
Nectin Therapeutics CEO Fabian Tenenbaum said: "Nectin Therapeutics is developing a portfolio of innovative anticancer compounds directed at highly differentiated targets within the nectin family of immune checkpoints.
"We welcome the financial support from Cancer Focus Fund and clinical expertise of MD Anderson in facilitating the Phase I study for this promising new approach to helping patients mount an effective immune response to their cancer."
Free Case Study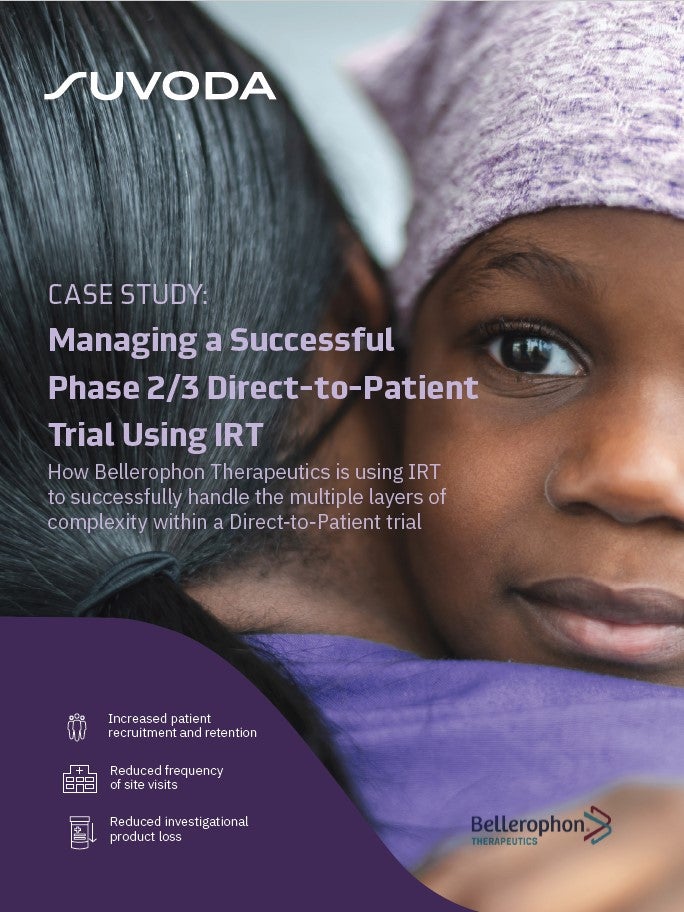 Direct-to-Patient Trials: How IRT Plays an Important Role in Bellerophon's Direct-to-Patient Trials
As the industry strengthens its focus on patient centricity, Direct-to-Patient clinical trials have emerged as a popular trial design that have the potential to increase patient recruitment and retention. IRT plays a crucial role in the success of a Direct-to-Patient trial. Because drug supplies are being managed and shipped from distribution facilities directly to patients' homes, a sponsor must have a high-quality system in place to accurately track the chain of custody, ensure patient-blinding and handle other logistical challenges. What You Will Learn Benefits and challenges associated with the Direct-to-Patient model Bellerophon's top considerations when implementing this trial design How IRT can equip study teams to successfully track chain of custody, ensure patient blinding, and handle logistical challenges
by Suvoda