Neurocrine Biosciences has reported that the Phase III KINECT-HD clinical trial of its valbenazine met the primary goal of decreasing chorea severity in adults with Huntington disease (HD), a hereditary neurodegenerative disorder.
Free Case Study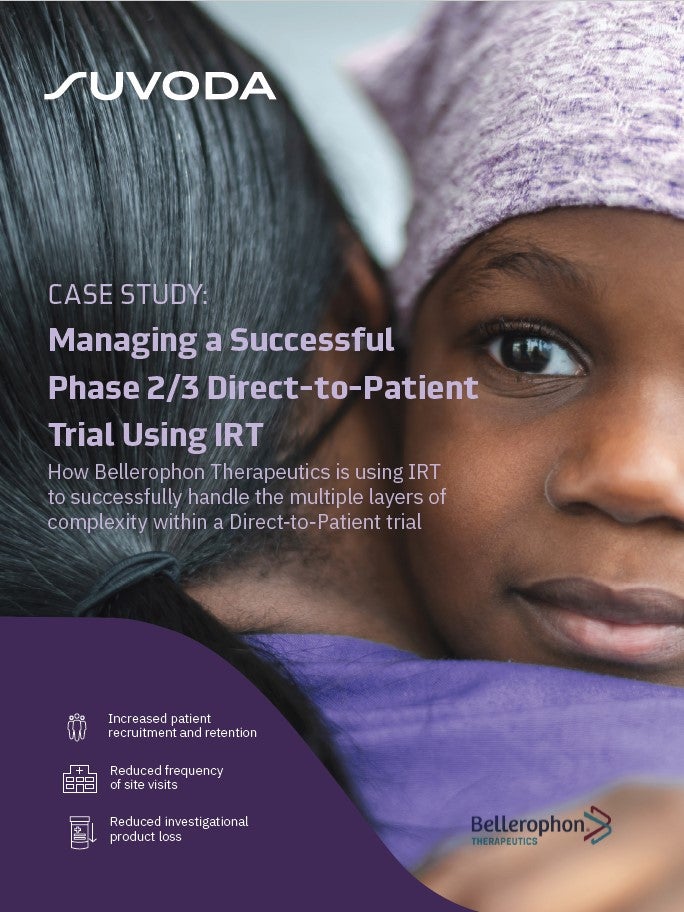 Direct-to-Patient Trials: How IRT Plays an Important Role in Bellerophon's Direct-to-Patient Trials
As the industry strengthens its focus on patient centricity, Direct-to-Patient clinical trials have emerged as a popular trial design that have the potential to increase patient recruitment and retention. IRT plays a crucial role in the success of a Direct-to-Patient trial. Because drug supplies are being managed and shipped from distribution facilities directly to patients' homes, a sponsor must have a high-quality system in place to accurately track the chain of custody, ensure patient-blinding and handle other logistical challenges. What You Will Learn Benefits and challenges associated with the Direct-to-Patient model Bellerophon's top considerations when implementing this trial design How IRT can equip study teams to successfully track chain of custody, ensure patient blinding, and handle logistical challenges
by Suvoda
A selective inhibitor of vesicular monoamine transporter 2 (VMAT2), valbenazine is being examined as a once-daily therapy for HD-linked chorea.
The double-blind, randomised, placebo-controlled trial analysed the efficacy of a once-a-day dose of valbenazine to reduce chorea and its safety and tolerability in people with HD.
It enrolled a total of 128 adult subjects aged 18 to 75 years with motor manifest HD and have substantial symptoms of chorea.
A cardinal motor feature in HD, chorea was assessed by variation in the Unified Huntington's Disease Rating Scale (UHDRS) Total Maximal Chorea (TMC) score to the average score from baseline at weeks ten and 12.
Findings showed that valbenazine offered statistically significant improvement in chorea, with a mean decline of 3.2 units in the TMC score.
In addition, valbenazine showed a statistically significant Clinical Global Impression of Change (CGI-C) Response Status and Patient Global Impression of Change (PGI-C) Response Status, the secondary goals of the trial.
Treatment-emergent side effects of valbenazine in the trial were in line with the already reported safety profile.
Furthermore, no cases of suicidal behaviour or deterioration of suicidal ideation were noted in subjects who received valbenazine.
KINECT-HD2, another open-label trial of the therapy, is currently dosing subjects. This study will assess the long-term safety and tolerability of valbenazine to treat HD-associated chorea.
Neurocrine Biosciences chief medical officer Eiry Roberts said: "The positive results of the KINECT-HD study move us closer to bringing valbenazine as a potential treatment option to patients in the US living with chorea, one of the most common symptoms of Huntington disease.
"We will review the complete data and begin preparing a supplemental new drug application (sNDA) for submission to the US Food and Drug Administration next year."
In June 2020, Neurocrine and Takeda Pharmaceutical partnered to develop and market therapeutic compounds in the psychiatry pipeline.
Free Case Study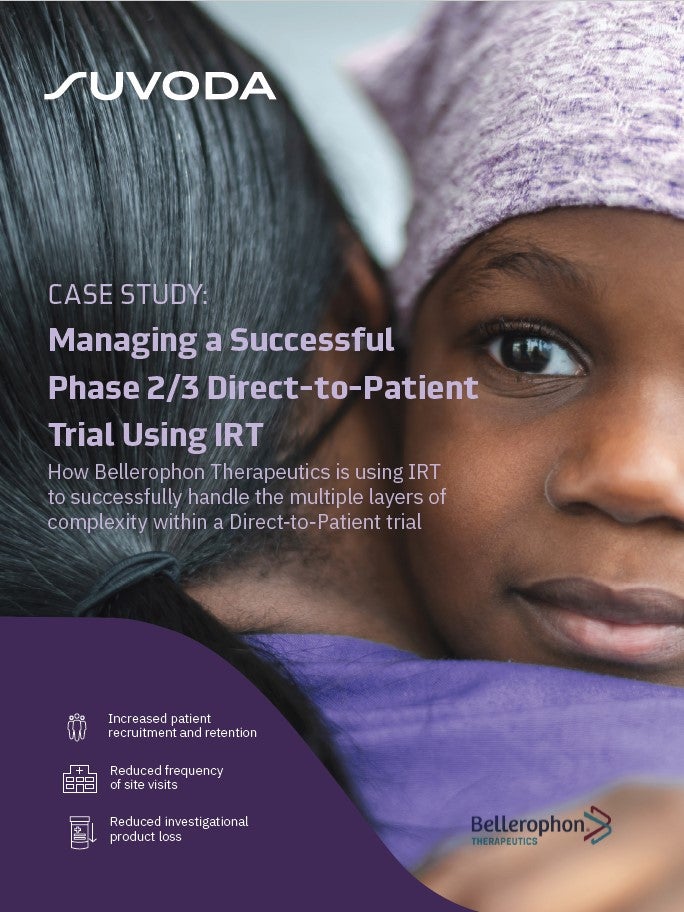 Direct-to-Patient Trials: How IRT Plays an Important Role in Bellerophon's Direct-to-Patient Trials
As the industry strengthens its focus on patient centricity, Direct-to-Patient clinical trials have emerged as a popular trial design that have the potential to increase patient recruitment and retention. IRT plays a crucial role in the success of a Direct-to-Patient trial. Because drug supplies are being managed and shipped from distribution facilities directly to patients' homes, a sponsor must have a high-quality system in place to accurately track the chain of custody, ensure patient-blinding and handle other logistical challenges. What You Will Learn Benefits and challenges associated with the Direct-to-Patient model Bellerophon's top considerations when implementing this trial design How IRT can equip study teams to successfully track chain of custody, ensure patient blinding, and handle logistical challenges
by Suvoda