NeuroSense Therapeutics is set to commence a Phase I pharmacokinetic study of its combination therapy, PrimeC, for amyotrophic lateral sclerosis (ALS) in healthy adult subjects in the US.
Free Case Study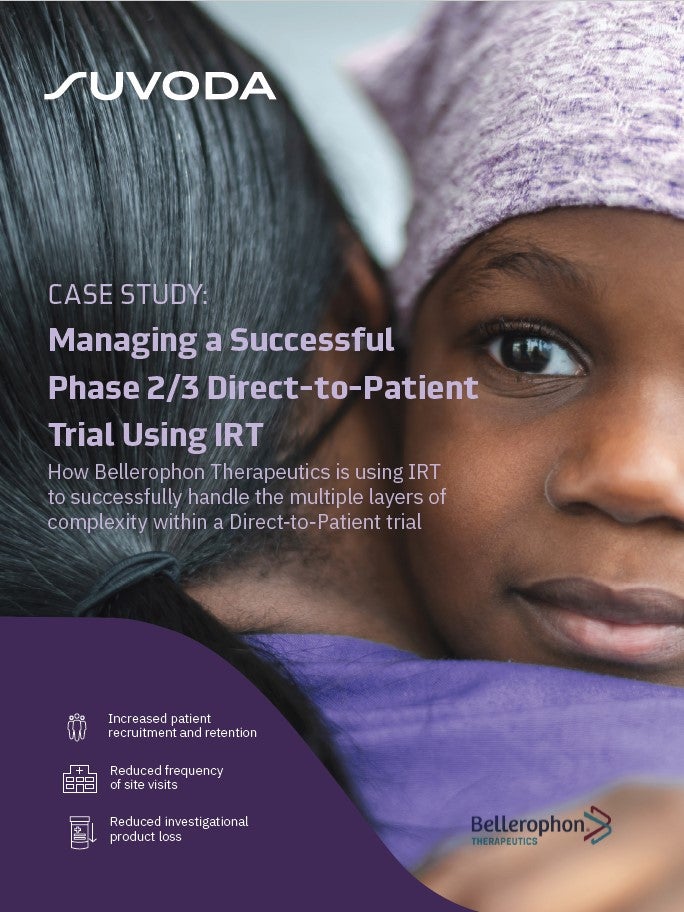 Direct-to-Patient Trials: How IRT Plays an Important Role in Bellerophon's Direct-to-Patient Trials
As the industry strengthens its focus on patient centricity, Direct-to-Patient clinical trials have emerged as a popular trial design that have the potential to increase patient recruitment and retention. IRT plays a crucial role in the success of a Direct-to-Patient trial. Because drug supplies are being managed and shipped from distribution facilities directly to patients' homes, a sponsor must have a high-quality system in place to accurately track the chain of custody, ensure patient-blinding and handle other logistical challenges. What You Will Learn Benefits and challenges associated with the Direct-to-Patient model Bellerophon's top considerations when implementing this trial design How IRT can equip study teams to successfully track chain of custody, ensure patient blinding, and handle logistical challenges
by Suvoda
The move comes after the company obtained clearance for its Investigational New Drug application (IND) from the US Food and Drug Administration (FDA).
A new extended-release oral formulation, PrimeC consists of a fixed-dose cocktail of ciprofloxacin and celecoxib drugs, which are approved by the FDA.
It can synergistically act on various crucial mechanisms of ALS that cause degeneration of motor neurons, inflammation, build-up of iron and impaired regulation of ribonucleic acid (RNA).
This approach potentially aids in hindering ALS progression.
The randomised, open-label, single-dose, three treatment, three-period crossover pharmacokinetic trial will analyse the effect of food on PrimeC's bioavailability versus bioavailability of ciprofloxacin plus celecoxib in 12 healthy adult participants.
A Phase IIa trial of PrimeC concluded recently had met the safety and efficacy endpoints including lowering functional and respiratory deterioration.
PrimeC also offered statistically significant changes in ALS-associated biological markers signifying the oral therapy's biological activity.
The company intends to commence a multinational, double-blind, placebo-controlled Phase IIb trial of an optimised dose and updated formulation of PrimeC in the second quarter of this year.
NeuroSense CEO Alon Ben-Noon said: "Data from our Phase IIa clinical study confirmed that PrimeC is a novel therapy with the potential to help people with ALS and address a $3bn market in need of a more effective treatment.
"As we prepare to initiate our Phase IIb study in the next few months, the goal of our pharmacokinetic study under FDA IND is to generate additional data on the bioavailability of PrimeC as it relates to food intake in healthy individuals."
An incurable neurodegenerative ailment, ALS leads to complete paralysis and death within two to five years of diagnosis.
Free Case Study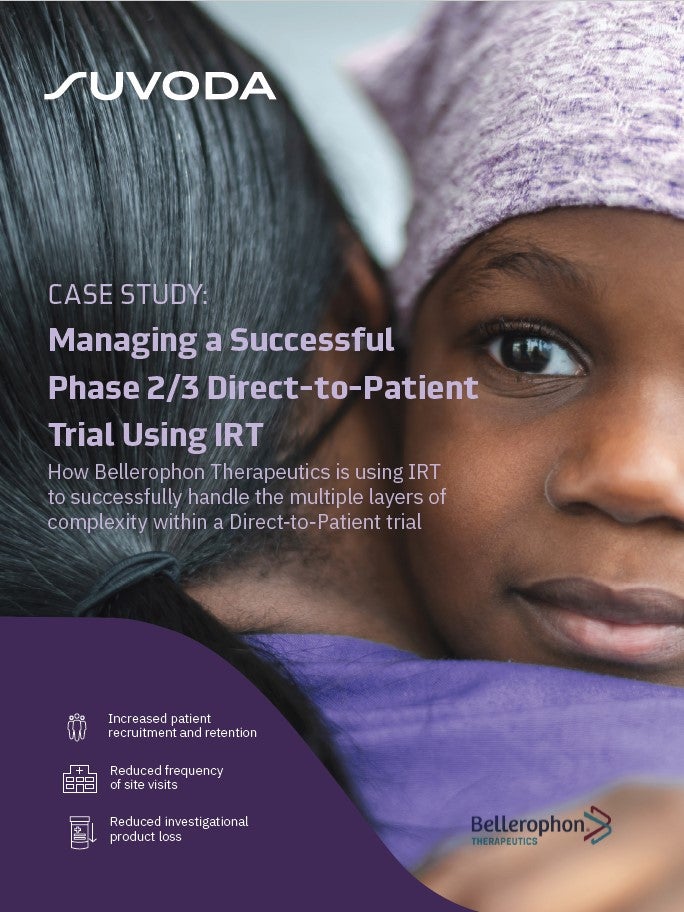 Direct-to-Patient Trials: How IRT Plays an Important Role in Bellerophon's Direct-to-Patient Trials
As the industry strengthens its focus on patient centricity, Direct-to-Patient clinical trials have emerged as a popular trial design that have the potential to increase patient recruitment and retention. IRT plays a crucial role in the success of a Direct-to-Patient trial. Because drug supplies are being managed and shipped from distribution facilities directly to patients' homes, a sponsor must have a high-quality system in place to accurately track the chain of custody, ensure patient-blinding and handle other logistical challenges. What You Will Learn Benefits and challenges associated with the Direct-to-Patient model Bellerophon's top considerations when implementing this trial design How IRT can equip study teams to successfully track chain of custody, ensure patient blinding, and handle logistical challenges
by Suvoda